Best Cucumber Salad Recipe
This Tasty Cucumber Corn Salad is Always the Most Popular Dish in A Pot Luck Meal

It's the best cucumber salad recipe because everybody loves it.  I didn't exaggerate it.  Every time when I make this salad, everybody will have at least 2 servings.  Whoever tries it the first time always asks me for the recipe.  My mother-in-law will take this easy side dish recipe for everyday lunch or dinner.  That how delicious this salad is.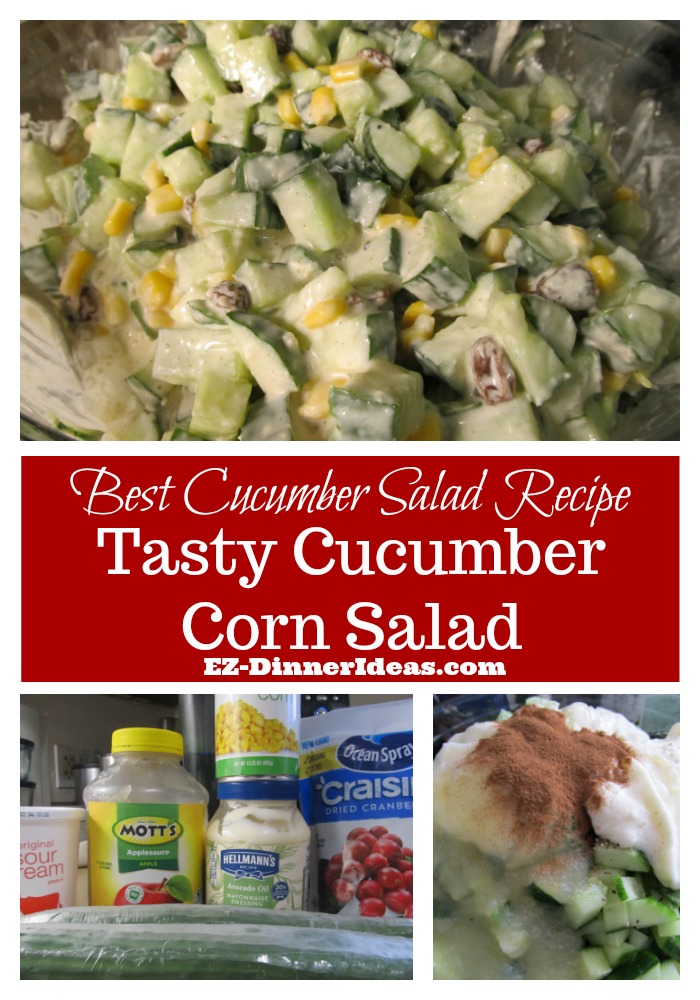 Total Time: 20 Minutes
Prep Time: 20 Minutes  
Active Cook Time: ZERO  
Inactive Cook Time: ZERO  
Serving: 4-6


I love seedless cucumber (a.k.a. European cucumber).  One of the reasons is that my mom always used seedless cucumber to make these fancy looking pickles.  Believe me, you can't find them anywhere.  It is homemade.  

The first few times making this salad recipe, I always diced the cucumbers on the cutting board.  It felt like forever, especially when this salad is getting more and more popular in the family that I mostly double the quantity when I make it now.  

I am so happy that I am able to use the onion chopper now. This gadget helps me to get this recipe done like a snap.

This salad can also be a kid recipe.  My son has started helping me to make this salad when he was 3.  Now, he can tell me what I need to add into the mixing bowl without looking at anything or getting any hints from me.  In fact, it was his idea that we add mixed dried berries sometimes.

Anyway, I hope you will enjoy this salad as much as my family and friends do.  But I can't guarantee that you won't get addicted to it like them.

CHEF NOTES
Yes, you can double this best cucumber salad recipe.  If you do, double every ingredient, except the corn kernels.

Chill it in the fridge overnight.  It tastes much better.

Feel free to use the fat free sour cream and mayo.  You can also replace these 2 ingredients with whipped salad dressing.

The quantity of the ground cinnamon may not be a lot.  But it is actually the star of this salad recipe.  It makes the flavor pop.  So, make sure that you add it into the dressing.


Best Cucumber Salad Recipe and Instructions

Ingredients
2 Seedless Cucumbers (diced; about ¼ inches each side)
1 Can (14 ounces; drained) Sweet Corn Kernels
¼ cup Raisins, Cransins, or any mixed dried berries
Dressing Ingredients
½ Cup Apple Sauce
½ Cup Sour Cream
½ Cup Mayonnaise
1/8 tsp Ground Cinnamon
1 pinch of Salt
1 pinch of Black Pepper

Combine all ingredients and dressing in one big mixing bowl.  Toss to coat.
Let it chill in the fridge for at least 10 minutes and enjoy!


Tasty Cucumber Corn Salad Steps with Photos
---

Recipe Ingredients and Tools

---

You May Also Be Interested In:

---
Home > Easy Side Dish Recipes > Best Cucumber Salad Recipe | Tasty Cucumber Corn Salad