Low Carb Keto Chicken Salad Lettuce Boats
A Very Healthy and Versatile Meal
Great For Busy Families
Low Carb Keto Chicken Salad Lettuce Boats is not only a great easy weight loss meal, but also a kid-friendly go-to meal.  It is perfect for lunch.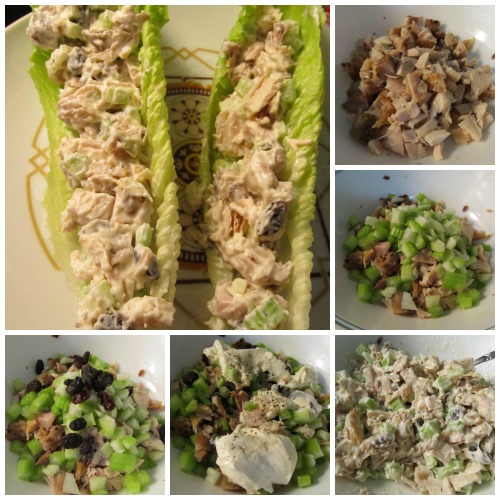 Total Time: 15-20 Minutes
Prep Time: 15-20 Minutes  
Active Cook Time: ZERO  
Inactive Cook Time: ZERO  
Serving: 2-4


Who doesn't like chicken?  Yes, I do love to make DIY rotisserie chicken because I get to control the cut of meat and flavor.  Even though I always like to have the leftover to add into other dishes.  You just want to change sometimes.
Honestly, I am not the kind of person like having salad for the main course of my meal.  I know, I know...many people love that, including my mother-in-law.
This is one of those recipes that I make out of my comfort zone.  And it turned out to be marvelous and I just can't get enough of it.  I hope you enjoy it as much as I do.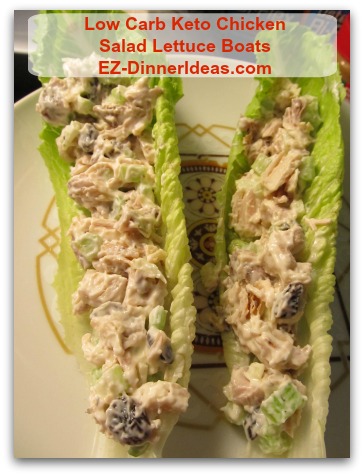 CHEF NOTES

Note that this recipe was specifically created for low carb diet.  So, the raisins and nuts are in super small portions.  But if you don't have that concern, feel free to add more per your preference.
You can also serve this salad along with endives or other lettuce leaves.  I chose romaine because it is Keto-diet friendly.
Pack the salad and lettuce separately, it is an awesome and healthy lunch as well.
Low Carb Keto Chicken Salad Lettuce Boats Recipe
Ingredients

2 cups Small dice chicken leftover (store bought/homemade rotisserie chicken or canned chicken drained)
1 stalk Celery rib (small dice)
1 tbsp Dried Raisins or cranberries (feel free to add more)
1 tbsp Toasted Almonds or any nuts of your preference (optional)
1/2-3/4 cup Olive Oil or Avocado Oil based Mayo
Salt and Pepper to taste
1 head Romaine Lettuce or endives (separated into leaves)
In a mixing bowl, combine the first 5 ingredients together, salt and pepper to taste
Put it aside and get lettuce boats ready (Preferably chill salad overnight which tastes much better)
Rinse romaine lettuce boats well and dry them with paper towel
Serve chicken salad along with lettuce boats
Low Carb Keto Chicken Salad Lettuce Boats Steps with Photos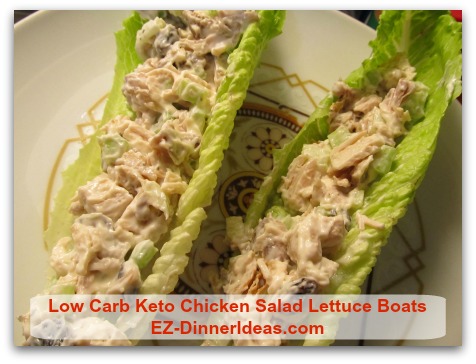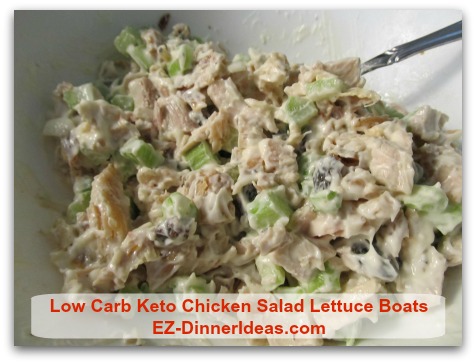 Chill salad in fridge for at least a couple hours for better flavor. Otherwise, you still can serve it immediately
---

Recipe Ingredients and Tools

---

You May Also Be Interested In:

---
Home > Chicken Recipes > Low Carb Keto Chicken Salad Lettuce Boats