Easy No Cook Snack
Bunless Open Face
Cucumber Chicken Sandwich with
Avocado Cream Cheese

This easy no cook snack is not only no-cook, but also low carb and crunchy.  What not to love, right?

It is great for after school snack and party finger food.  You can even have your little ones to help you, too.

Total Time: 15-18Minutes  Prep Time: 15-18Minutes
Cook Time: ZERO   Serving: 2-8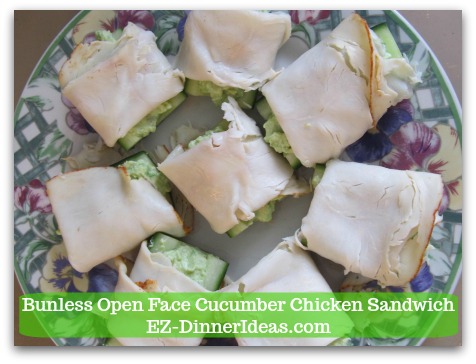 CHEF NOTES
My little one and I love spicy food.  So, both cream cheese and chicken lunch meat are hot and spicy flavored.  Do feel free to use plain cream cheese and regular chicken deli meat.  Or, serve along with Sriracha sauce or Tabasco sauce so everyone has the freedom to make the adjustment per his/her preference.

This easy no cook snack can also be lunch which makes 2 servings.  In fact, the first time I made this recipe, I enjoyed it as lunch.  

You can also double, triple or even quadruple the quantity.  But do remember that it will multiply everything, i.e. ingredients and prep time.
Easy No Cook Snack Recipe and Instructions
Ingredients
1 Seedless/European Cucumber
1 Avocado (cored and mashed)
2 tbsp Cream Cheese (I use jalapeño flavored.  Use your choice of preference)
12-14 slices Chicken Lunch Meat (I use Cajun flavored one.  Use your choice of preference)
Salt and pepper to taste

Mix both avocado and cream cheese together with a folk, salt and pepper to taste
Trim both ends of cucumber; cut into chunks, about 3-4 inches long
Cut each chunk into halves lengthwise
Cut slits on either side along the seeds
Use a spoon to scoop out seeds along the slits to make a trench for avocado cream cheese
Use knife to fill the cucumber trench with cream cheese mixture
Fold each slice of chicken deli meat into halves or 1/3 and wrap it around on each cucumber to make an open face sandwich and enjoy!
Easy No Cook Snack Steps with Photos
---

Recipe Ingredients and Tools

---

You May Also Be Interested In:

---
Home > Chicken Recipes > Easy No Cook Snack