Pina Colada Popsicle
Sounds Fancy, But Super Easy
2 Ingredients, 1 Delicious Dessert
Pina Colada Popsicle...a super, super easy dessert recipe.  Anybody can step into the kitchen to make it.  Yes, anybody.  Age from 3 - 99.  No kidding.  You think I exaggerated it?!  Let's find out.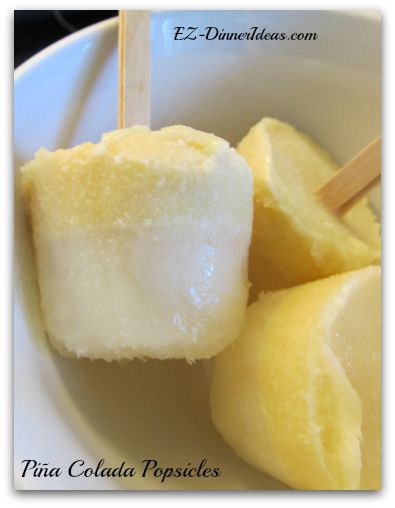 Prep Time: 5-20 Minutes   Inactive Cook Time: 4 Hours   Serving: 8-12

Like, Share & Comment
If you like any recipes on this website, please like, share and comment.  This will help other people like you to find them here.  Thank you very much for your support!

Your Variations

Since this dessert recipe was created for family, I didn't add any alcohol on purpose.  But please feel free to add variation as below:

1) Rum
2) Sweetened shredded coconut, or
3) Small diced pineapple

More Tips

Instead of using a Popsicle mold, I used paper cups in order to stretch out the number of serving.  Pretty good money saving tip, huh?  If you are going to do it in this way,

check out the step-by-step instructions in the Old Glory Popsicle recipe.  There are also pictures which will show you how to make the Popsicle sticks standing up.

This simple, cheap and easy recipe will be a big hitter in the party.  So, double the quantity.  When I served it the first time, almost everybody had 2 servings.  It will be
gone in no time.  ENJOY!

Ingredients

1 Can (15oz) Coconut Cream
2-6 oz Cans Pineapple Juice
Popsicle Molds or 3-oz Paper Cups and Popsicle sticks

Whisk everything together in a mixing bowl until combined
While you are transferring the mixture into the molds or paper cups, stir it occasionally)
Pour the mixture into the molds (or follow the directions in the Old Glory Popsicle recipe if using paper cups as molds)
If you use paper cups, just fill each cup 3/4 full (about 1/4 cup)
Chill it in the freezer for 4 hours until frozen and serve
You May Also Be Interested In:

Return from Pina Colada Popsicles Recipe page to Dessert Recipes page

Return to Easy Dinner Ideas Homepage