No-Bake 5-Minute Canned Chicken Dip Keto Low-Carb Style
Super Quick and Easy to Make

This canned chicken dip can be so many things.  Super easy to make.  It is low carb.  Perfect for entertainment or a super busy worker to snack and re-energize throughout the day.


Total Time: 5 Minutes
Prep Time: 5 Minutes  
Active Cook Time: ZERO  
Serving: 6-12


I always think of something to snack on, especially something with tons of fiber.  But just vegetables could be boring after a while.  There needs to be something mixed up to have some flavors.  That was how this recipe created.

This dip is perfect for outing.  Bring it along as a snack.  It will fill you with a lot of energy.

CHEF NOTES
I like celery that not only it has tons of fiber, but also it acts like a spoon that hold up a big chunk of dip very well.

You can add endives, bell peppers, other vegetables and/or tortilla chips on the side.
I like Avocado mayo.  Feel free to replace with any kind, such as regular or olive oil mayo.

This canned chicken dip is very versatile.  You can kick it up a notch by adding Buffalo seasoning, ranch, Buffalo ranch or totally skip it and the cayenne pepper.

Use celery, bell peppers and/or chips for easy spooning up the dip
---

Recipe Ingredients and Tools

---

Canned Chicken Dip Recipe and Instructions

Ingredients
1 can (12.5oz) Chicken Meat (drained well)
1 Avocado (seeded and diced)
2 tbsp Bacon Bits (divided)
1/2 cup Avocado Mayo
1/2 cup Sour Cream
A dash of Cayenne Pepper (optional)
Salt and pepper to taste

In a mixing bowl, use a fork to mash and combine everything together.  Make sure to reserve 1 tbsp bacon bits for garnish later.
When it is combined, transfer to a dipping bowl and serve with any kind of vegetables.

Canned Chicken Dip Steps with Photos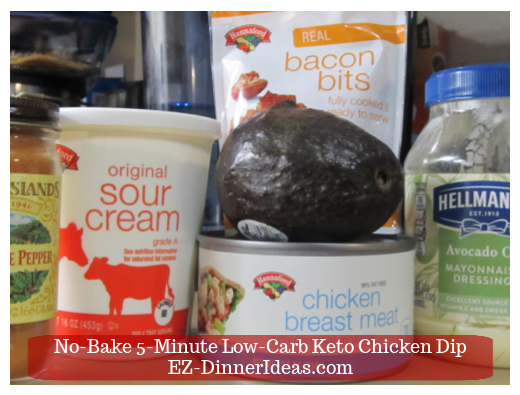 5 ingredients and 5 minutes are all you need.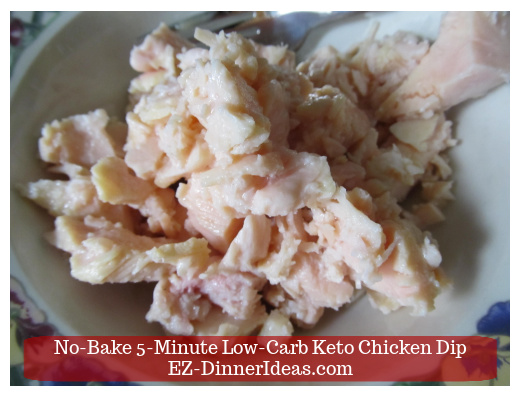 Drain one can of chiken
Dice an avocado, discard pit and skin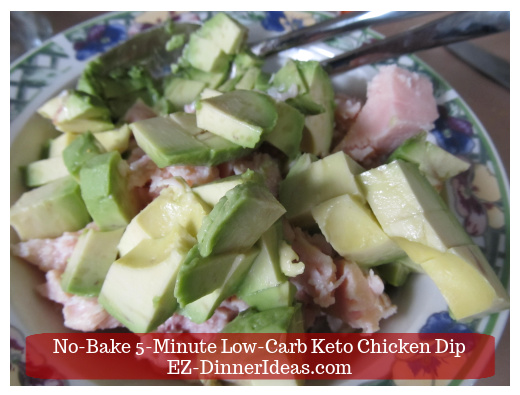 Transfer diced avocado into the same bowl with chicken
Add sour cream and mayo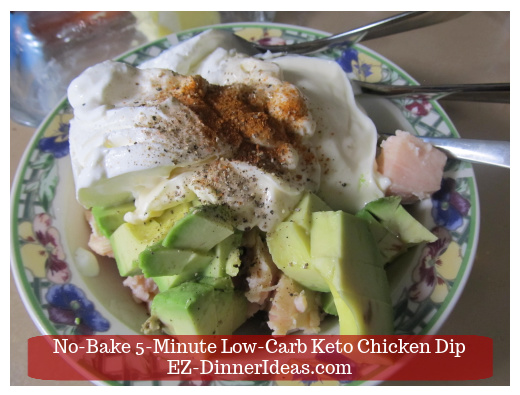 Add cayenne pepper (optional), salt and pepper to taste
Add real bacon bits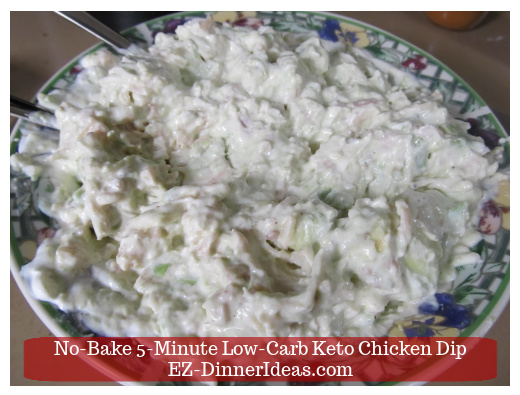 Mash and mix all ingredients together
Garnish with more bacon bits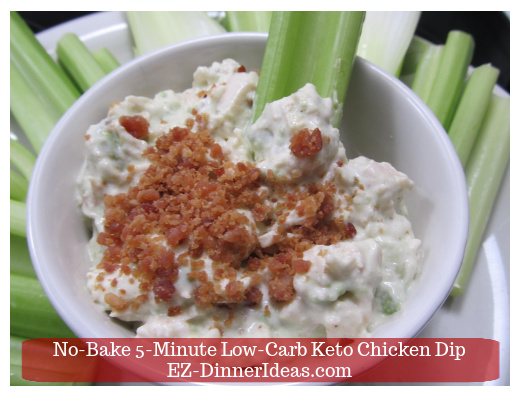 ENJOY with celery, other vegetables and chips
---

You May Also Be Interested In:

---
Home > Chicken Recipes > No-Bake 5-Minute Canned Chicken Dip Keto Style