Spooky Worm Halloween Jello
A Fun, Creative Kid Recipes
Great For Family Bonding Time
My son loves to make jello, especially when it comes to our turn to serve family dinner at our house.  He always likes to think of what we can do with jello to make dessert for everybody.  And I love to encourage him to have his imagination running wild.  

He has been participating and enjoying the cooking process which is great for the cognitive and motor development for a toddler to youth.  This is just a recommendation for you to make this recipe "Halloweeny".  Encourage your child to think of something else and see if they can come up some better ideas or a brand new recipe.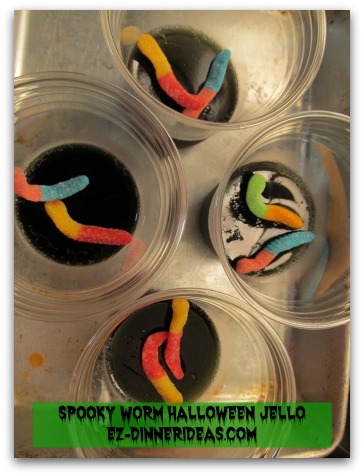 Prep Time: 10-15 Minutes   Cook Time: ZERO   Serving: 8
Tips - Spooky Worm Halloween Jello

Prep time showing here as 10-15 minutes which includes the time that you need to hand everything to your chil(ren) to do it.  Like when you make a measurement of a cup of water, you child, like my 7-year-old, would love to pour that cup of water into a bowl instead of you doing it.  Everything takes longer when you cook in the kitchen with your little one.  But eventually, it will pay off.  You learn and gain something together.


Let jello chill in fridge for an hour before adding gummy worms will make them look like swimming in the middle of the "slim".
See the spooky worm at the bottom. Believe it or not, the texture of that worm candy will turn into jello, too.
Noted that a lot of candies that you may add in this recipe are gummy candies which are prohibited by a lot of dentists.  What we learned during the process here was that when the candies are put into the jello while it was still a bit warm, the candies eventually turn its texture into jello without changing the candy shape and color. 
In other words, everything of the candies is still intact, but the texture.  A perfect example when my mother-in-law had this jello, she saw it but she couldn't feel it.  Several of our family members told us the same thing.  If having your child chewing gummy candies is your concern, hope this will ease it.
Spooky Worm Halloween Jello Recipe

Ingredients
2 Bags of Snake / Worm-liked candies
1 Box (6oz) Lime Gelatin Mix
1 Box (6oz) Grape Gelatin Mix
8 (9 oz each) Clear Disposable Cups

In 2 separate bowls, mix lime and grape gelatin separately according to packing instructions
Equally divide the gelatin mixture into 4 cups for each color
Add snake / worm-liked candies into each cup and chill for at least 4 hours and serve
(With purple jello, try your best to put the "worms" on the side where people can see them)

Recipe Ingredients and Tools


You May Also Be Interested In:

Return from Spooky Worm Halloween Jello Recipe page to Holiday Recipes page

Return to Easy Dinner Ideas Homepage