Quick Easy Dinner

No Prep Stir-Fry Vegetable Noodles
Better Than Take-Out
Make Your Own Version
Vegan, Vegetarian and Meat-Eaters All Welcome
This quick easy dinner is much better than any Chinese takeout in many ways.  There are healthy store-bought help.  You can also allow your guests to assemble their own version of Chinese noodles.  

Of all the beautiful factors of this recipe, you still can make this No prep stir-fry vegetable noodles ready in 30 minutes to feed 8 people or more.  Amazing, huh?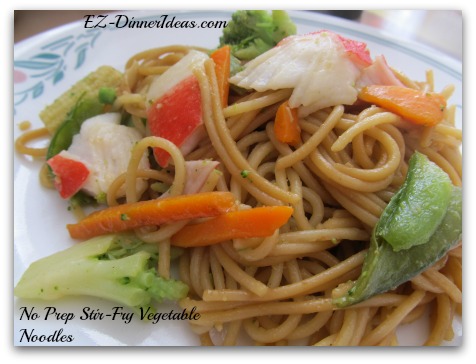 Total Time: 25-30 Minutes
Prep Time: ZERO  
Active Cook Time: 25-30 Minutes  
Serving: 4-6


You and I know that Chinese take-out is way cheaper than anywhere else.  But this recipe is even better.  The money you spend on one serving in the Chinese joint makes 4-6 servings at home.

CHEF NOTES
You can either use spaghetti or linguine.  Why use linguine?  It reminds me of a different kind of Chinese noodles in China which is commonly used as "lo mein" (the authentic one, not the kind in American Chinese restaurants)

Using frozen vegetables save tons of time in the cutting process.  But if you prefer fresh vegetables, please feel free to do so.

In this quick easy dinner recipe, I added a Japanese ingredient, imitation crab meat.  Wait till you see it....This easy family meal can be Chinese, Asian fusion or Japanese theme.  The whole dinner will be very interesting and have a lot of fun.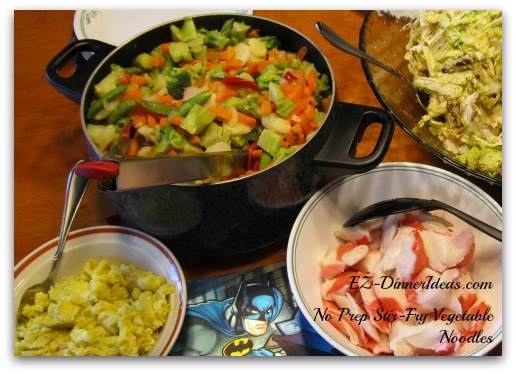 Side Options
I have scrambled eggs and imitation crab meat on the side for my guests.  In fact, you can replace or add the following as the sides for this no-prep stir-fry vegetable noodles as well:

1) Sriracha Hot Sauce
2) Crushed peanuts or cashews
3) Sesame seeds
4) Chinese pickles (cut into matchsticks)

If you come up more ideas of the side options, please share with me and the community.

---
This ebook will teach you to cook authentic Chinese food in a healthy way. It will also show you how to get the beautiful colors, texture and taste you get from your favorite Chinese restaurants.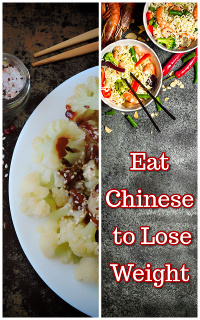 Quick Easy Dinner Recipe and Directions

Ingredients
1 pound spaghetti or linguine
2 pounds frozen stir-fry vegetables (unthawed)
4-6 scallion (diced)
1 (8 oz) Japanese Imitation crab meat (optional)
3-4 eggs (beaten and optional)

Pot of water
3 teaspoons + 3 tablespoons Canola Oil (divided)
1 teaspoon Superior Light Soy Sauce
1 tablespoon Superior Dark Soy Sauce
2 teaspoons Salt (divided)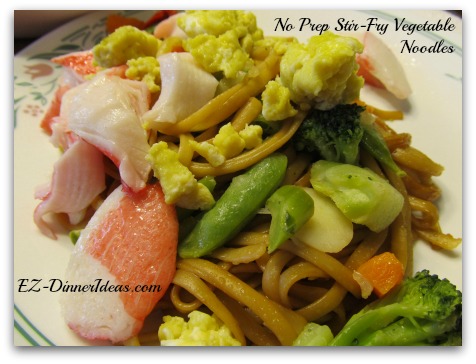 Directions
Bring a pot of water to boil
Add 1 teaspoon salt, 1 tablespoon oil and frozen vegetables into the boiling water
Use slotted spoon to take out the vegetables immediately and transfer to plate, put them aside for later.
When water boils again, add pasta and cook until al dente and drain
Use the same pot and add 2 teaspoon of oil and cook the eggs and scramble until your desired doneness
Transfer to a small serving bowl and put it aside
In the same pot, add 1 teaspoon oil and imitation crab meat (the main purpose is to take the chill off and serve it warm)
Stir it regularly to have the meat warm through and break apart the big chunks into bite size pieces
Using the same pot at high heat with 2 tablespoons oil and stir in vegetables
Add soy sauces, salt and pasta and toss to coat
Add scallion to garnish and serve scrambled eggs and imitation crab meat on the side for guests to create their version of No-prep Stir-Fry Vegetable Noodles
---

You May Also Be Interested In:

---
Home > Pasta Recipes > Quick Easy Dinner | No Prep Stir-Fry Vegetable Noodles