Quick and Easy Chicken Meal
Quick and Easy Chicken Meal
Low Carb Keto Chinese Chicken Noodle Bowl
Quick Fix For Carb Lovers
When Craving Strikes
This delicious quick and easy chicken meal is awesome for anybody loves Chinese and comfort food.  It is low carb.  Yes, you heard me right.  It is low carb.  How could it be possible?  Great question.  Thanks to Shirataki, a Japanese noodles made from konjac yam (find out more from Wikipedia).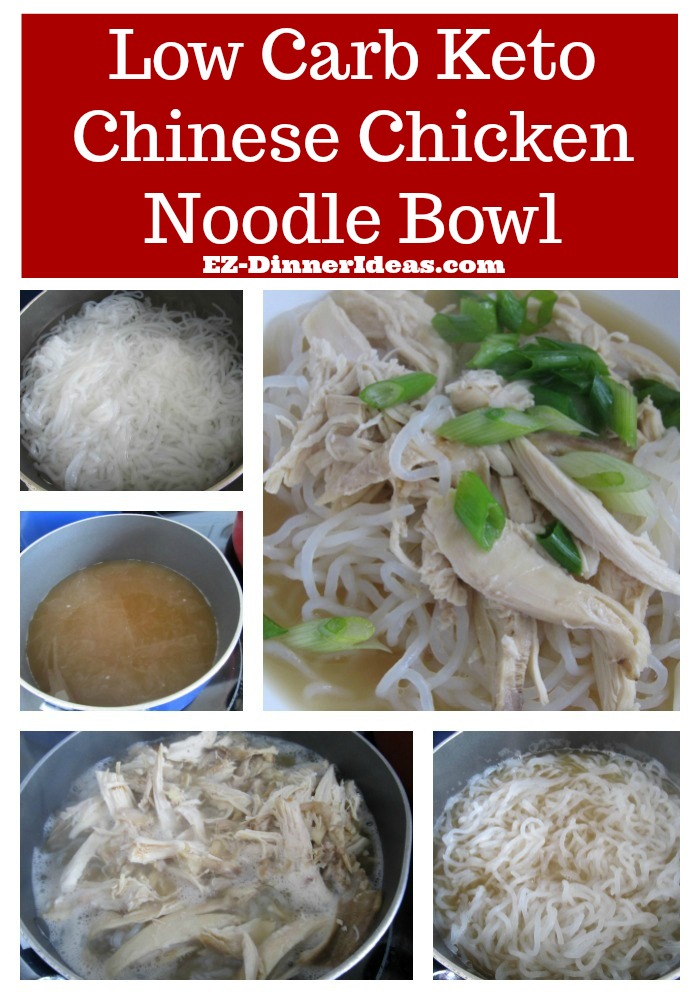 Total Time: 20 Minutes
Prep Time: 5 Minutes  
Active Cook Time: 15 Minutes  
Serving: 2-3


The texture of Shirataki is very similar to Chinese glass noodles (a.k.a. Bean Vermicelli).  The thread of Shirataki is much thicker and it is impossible to overcook. 
What I meant about "overcook" is that if you cook Chinese glass noodles for too long, they will get soggy.  But this doesn't happen with Shirataki.   After so many times of experimenting of this ingredient, I can confirm that.  In fact, if you have any leftover of this low carb keto Chinese chicken noodle bowl, don't worry about the noodles absorbing all the soup.  The soup will still be there and the noodles keep its texture intact.  It's pretty amazing.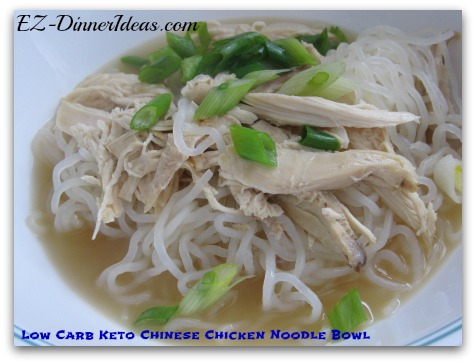 I remember trying Shirataki more than 10 years ago and it was not even known by most people then.  The odor was the reason that I swore I would never touch it again.
Well, since starting the Keto diet in Sep 2018, I cut down all my carbs from grains.  Although I have one cheat meal a week, it is still very tough when the craving strikes in the middle of the week.  

Because of that, it pushed me to give Shirataki a second chance.  I tried many recipes that I found online.  But due to its special texture, it just doesn't cook the way like any noodles or pasta.  I was able to get rid of the odor.  But the Shirataki noodles hold so much water that it is very difficult to get rid of the excess liquid.  Worst of all, due to the moisture level, flavor and sauces don't stick well on this ingredient.

Then, a light bulb moment happened one day.  

My mom always teaches me this traditional method.  Use its enemy to solve the problem coming from within.  In this case, our "enemy" is water, i.e. the extra moisture in the noodles.  So, we are using water to solve the problem that comes along with it.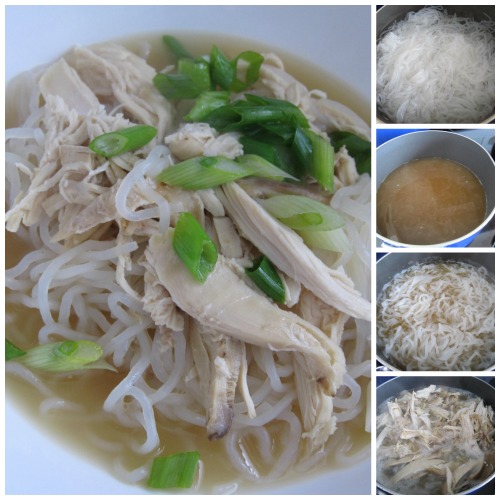 CHEF NOTES: How To Prepare Shirataki For Any Dishes?

Here are the steps to tackle the challenges of Shirataki presents:
Drain Shirataki into a strainer
Rinse the noodles with running cold tap water (the rule of thumb is 30 seconds for 8 oz)
Bring a medium sauce pan of water to a boil and add Shirataki 
When water boils again, drain Shirataki through strainer one more time.  Then, the noodles are ready for use in any dishes.

Types of Shirataki

Because of its increasing popularity, this kind of low carb noodles has more and more types and shapes in the market nowadays.  Many of them are made of tofu.  They tend to have a regular egg noodles' yellowish color.  The 2 main shapes of Shirataki are spaghetti and fettuccine. So, you can imagine the look and the thickness of these  noodles.

But for this specific low carb keto Chinese chicken noodle bowl, I use the kind called "Traditional Shirataki" which is semi-translucent in color.  The shape is like a kind of traditional Chinese noodles called "Lai Fen".  In short, it is very similar to spaghetti, but not its color.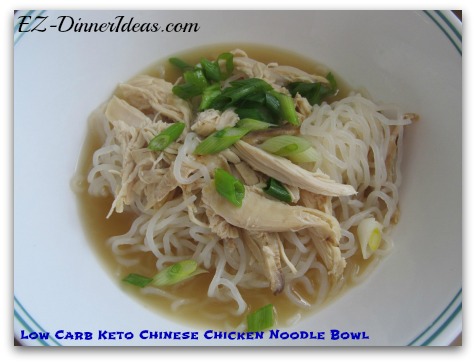 Options for Carb Eaters

As I mentioned earlier, it took me a long time to get used to the texture of Shirataki.  So, I can understand that some may share the same opinions like me.  If you are not on diet, this quick and easy chicken meal presents many options for you.  You can use any type of noodles of your preference.


Options for Families with Carb Eaters and Members on Diet

For families having both members on diet and carb eaters, you can certainly serve this quick and easy chicken meal with different types of noodles.  Rice sticks would be the best option.  It is because both Shirataki recommended here and rick sticks cook about the same time.  Follow the instructions below:
Double the quantity of boiling water  
Once the water boils, half goes to a bowl to soak the rice sticks  
Keep the other half in the pot to boil the Shirataki
Then, while you are waiting for the hot water to do its magic on the rice sticks, you can re-direct your attention to prepare this quick and easy chicken meal.  Dinner will be ready for everyone at the same time.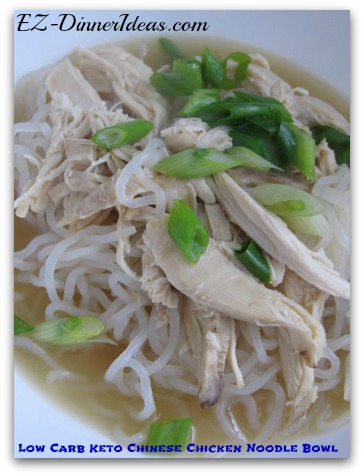 Want More Keto/Low-Carb Recipes?!
This ebook will teach you to cook authentic Chinese food in a healthy way. It will also show you how to get the beautiful colors, texture and taste you get from your favorite Chinese restaurants.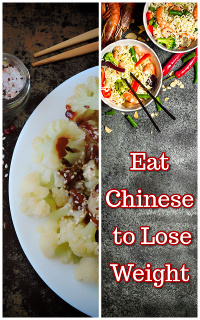 Quick and Easy Chicken Meal Recipe and Directions
Ingredients

2 pack (8 oz each) Shirataki
2 cup Chicken Bone Broth
1 (about 8oz) Cooked Chicken Breast (Shredded.  Any leftover chicken or rotisserie chicken would work.  You can also make your own rotisserie chicken.)
1 slice Ginger (optional) or 1/2 tsp Ginger Powder
1-2 Scallion (optional; chopped)
1 Medium Saucepan of Water
Salt and Pepper to taste 
Directions
Bring a medium sauce pan of water to a boil
While waiting, drain Shirataki through a strainer and run cold tap water for about a minute
Transfer Shirataki into boiling water
When water starts boiling again, drain noodles and put them aside for now
Use the same saucepan and bring bone broth to a boil
Add ginger (optional) and noodles into the boiling broth
When broth starts to simmer, add cooked chicken into the sauce pan and warm up (about a minute)
Salt and pepper to taste; garnish with chopped scallions (optional) and serve immediately.
---

Quick and Easy Chicken Meal Steps with Photos

---

Recipe Ingredients and Tools

---

You May Also Be Interested In:

---
Home > Chicken Recipes > Quick and Easy Chicken Meal