One-Pot Cheesy Chicken
TGI Fridays Sizzling Chicken and Cheese, A Restaurant Remake Recipe in One Pot.  Unbelievably Amazing!!!

One-pot cheesy chicken dinner is date-night and family-friendly easy dinner.  It gets protein, fiber, beautiful colors and all the goodness in one pot.

Total Time: 28-30 Minutes
Prep Time: 10 Minutes  
Active Cook Time: 8-10 Minutes  
Inactive Cook Time: 10 Minutes  
Serving: 2


When I have an adventure day with my son, I always make sure that I eat low-carb lunch or snacks. It is because high-carb food makes me get sleepy. It won't be safe to drive if I fall asleep. So, it is for the safety reason.  This restaurant remake dish was one of those that I enjoyed so much and grateful for.  As soon as I got back home, I jumped right into making it.  I was so thrilled when it came out of the oven.  It was super gorgeous to begin with, not to mention how great it tasted.  I must say that the pictures cannot do its justice.

CHEF NOTES
Low moisture mozzarella cheese could be hard to find. Use regular one is ok. If that is the case, you want to drain the liquid after cooking down the vegetables. Or, the regular mozzarella cheese will give you some watery chicken dish. It is not a big deal. But if you have some picky eaters at home, you know what it means.

At the time of developing this recipe, I had jumbo chicken breasts.  So, I only needed to cut it into 2 halves crosswise.  If you have regular size chicken breasts, I recommend you to butterfly them because it is easier to cook it through.

Yes, you can double this one-pot chessy chicken recipe.  If you have a bigger pan to single layer the meat, it will take the same cook time.  Or, you will need to double the cook time in the oven to make sure everything is cooked through.
The restaurant version used the cast iron skillet as serving platter.  If you have a couple or more smaller cast iron skillets, consider to serve it for each person.  If so, cook everything in a bigger skillet first.  Before transferring the chicken into the oven, divide all ingredients equally among the smaller skillets.  

Also, there is a side came with this one-pot cheesy chicken recipe in the restaurant.  I chose steamed broccoli.  You can serve it with rice, pasta, fries or steamed broccoli.  But in my opinion, there is plenty of food in this one-pot dinner already.  Feel free to skip the side.


Less Splatter, Less Mess

Here is a new tip that I have been testing for several months.  We normally like to add oil into a hot pan and put meat on top.  As a result, the splatter is everywhere.  Sometimes it gets to you and hurt you.  The worst is the big mess that you need to clean up.

So instead of adding oil into the pan, I rub it thoroughly on the meat.  As a result, you will only preheat the hot pan or skillet and add the greased meat onto the dry pan.  I found that it keeps most of the moisture in the meat instead of losing it.  I experimented this several months now and love it so much.  I highly recommend you to give it a try and share with me your thoughts.
---

Recipe Ingredients and Tools

---
One-Pot Cheesy Chicken Recipe and Directions

Ingredients
2 (8 oz each) Boneless Skinless Chicken Breasts (cut into halves crosswise)
2 lbs Frozen Stir-fry Mix (pepper and onion mix)
8oz Low Moisture Mozzarella Cheese (shredded)
2 tsp Dry Parsley Flakes (optional; for garnish only)
2 tbsp Extra Virgin Olive Oil (divided)
Salt and pepper to taste

Directions

Preheat oven at 400F.
To cut chicken breasts into halves crosswise, use a pairing knife and start cutting it from the thickest part while your other hand presses it down to keep the meat stable on a cutting board. It's like butterfly the chicken. But at the end you will cut through it.
Add 1 tbsp extra virgin olive oil, salt and pepper to taste on the chicken, massage and mix the seasoning while rubbing on the meat.
Preheat a cast iron skillet on high heat.
Add seasoned chicken on the the hot non-greased pan, cook 2-3 minutes each side. Transfer to a plate and put it aside. Chicken will continue to cook through in the oven later.
Add another tablespoon of extra virgin olive oil into the same skillet and stir in frozen vegetables. Stir occasionally until vegetables are thawed out, but not cooked through. Leave the liquid there. It will keep the chicken moist and not burning the cheese.
Top it with mozzarella cheese and transfer chicken back on top.
Transfer the entire cast iron of vegetables, cheese and chicken into the oven and bake for 10 minutes uncovered until chicken is cooked through.
Garnish with parsley and enjoy this one-pot cheesy chicken dinner immediately.
Want More Keto/Low-Carb Recipes?!
This ebook will teach you to cook authentic Chinese food in a healthy way. It will also show you how to get the beautiful colors, texture and taste you get from your favorite Chinese restaurants.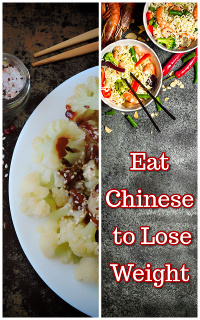 ---
One-Pot Cheesy Chicken Steps with Photos
Shredded mozzarella cheese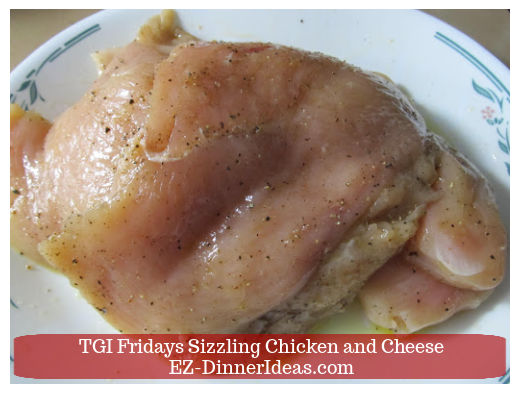 Chicken breasts seasoned with oil, salt and pepper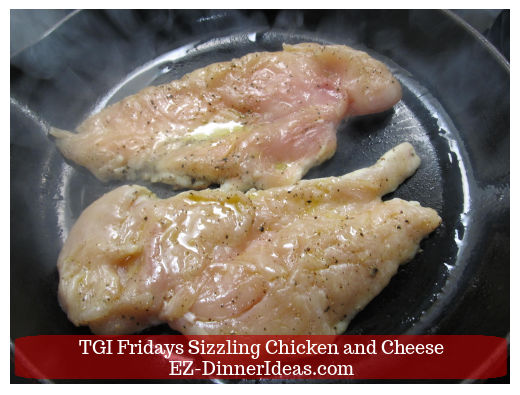 Cook chicken on a hot, dry pan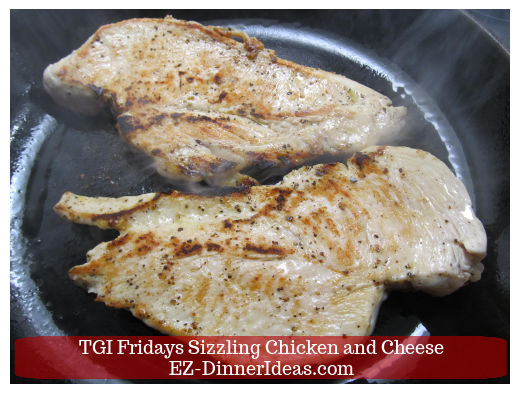 Cook 2-3 minutes each side
Add frozen vegetables into the same pan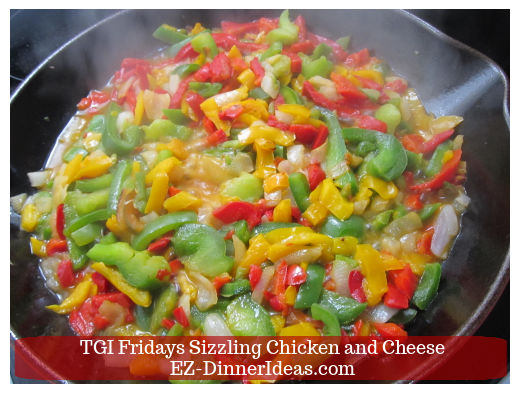 Cook to thaw vegetables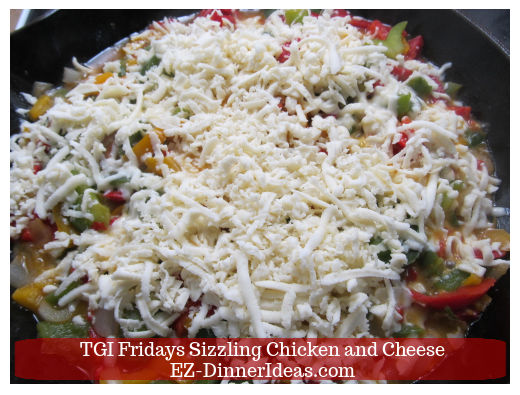 Add shredded cheese on top of vegetables
Add chicken on top of cheese and bake in the oven
Garnish chicken with dry parsley flakes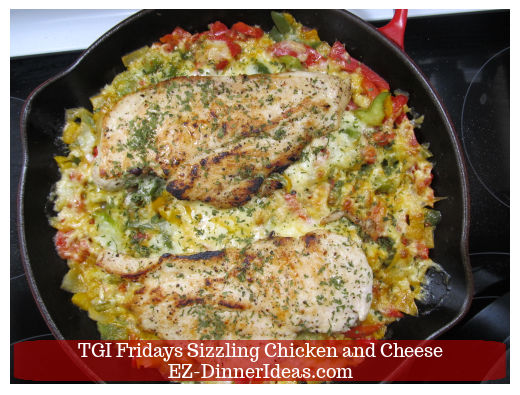 Serve cheesy chicken with cast iron skillet as in the restaurant version
Or enjoy cheesy chicken on plate
---
Serve This With: 

---

You May Also Be Interested In:

---
Home > Chicken Recipes > One-Pot Cheesy Chicken | TGI Fridays Sizzling Chicken and Cheese