Chicken Scampi Spaghetti
Restaurant Remakes Recipes
A Memory of A Romantic Trip
To Thousand Islands
This chicken scampi spaghetti recipe was inspired by the menu in the restaurant, Cavallario's Steak and Seafood, when we went to 1,000 Islands for our 6th wedding anniversary. To learn more about this famous NY attraction, click here.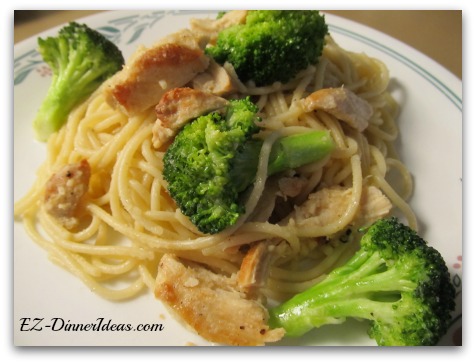 Prep Time: 15 Minutes   Cook Time:25-30 Minutes   Serving: 4-6
I love shrimp scampi. But I realized that certain people, like some of my husband's relatives, are not big on seafood. When I first saw the menu, I thought, "How smart is this!"
For me, instead of just chicken and pasta, I put a lot of vegetables in this dish and reduce the amount of pasta to make it healthier and delicious at the same time.

What great about this restaurant remakes recipe is that you can use store-bought or DIY rotisserie chicken.  Better yet, you can use some leftover from your favorite chicken recipes.  I changed my original chicken scampi spaghetti recipe a little bit to make it more figure-friendly.
Ingredients
1 Rotisserie Chicken (shredded; discard bones and skin), make your own or 2-3 cups of cooked chicken leftover
2-3 Heads of Broccoli Crowns (depends on the size of the crown; about 1 pound; cut in florets)
1 1lb (454g) Spaghetti
1 Clove Garlic (minced)
2 tablespoons Butter

Seasonings
4 tablespoons Extra Virgin Olive Oil
1 teaspoon Onion Powder
1 teaspoon Garlic Salt
1 teaspoon Salt
¼  teaspoon Black Pepper
1 tablespoons Canola Oil
1 Pot of Water


Bring a pot of water to a boil
Add 1 teaspoon salt, 1 tablespoon Canola oil and broccoli in

Boil broccoli when it boils again, about 4-5 minutes, take it out with slotted spoon (This process is to help to quicken the cooking time of the vegetable later.  But do not cook the broccoli through at this stage in order to keep it crisp tender)
Add spaghetti into the same pot of boiling water

Reserve about a cup of pasta water
Cook until al dente and drain
Use the same pot or Dutch oven

Add butter and extra virgin olive oil, garlic, onion powder, garlic salt, black pepper and ¼ cup (2oz / 59g) of pasta water
Add chicken and broccoli

Stir well; cook about 4-5 minutes
Add more extra virgin olive oil and pasta water if the bottom of the skillet is bone dry; 1 tablespoon of each at a time

Add spaghetti and toss to coat
Serve immediately

You May Also Be Interested In:

Return from Chicken Scampi Spaghetti Recipe page to Restaurant Remakes Recipes page

Return to Easy Dinner Ideas Homepage