Peanut Butter French Toast
A Quick And Easy Dinner Recipe
Made Out Of Your Pantry Staples
This peanut butter French toast recipe is very, very popular in my hometown, Hong Kong.  People have it for breakfast, lunch, tea time and dinner.  We make it at home or enjoy it in the mom-and-pop cafe.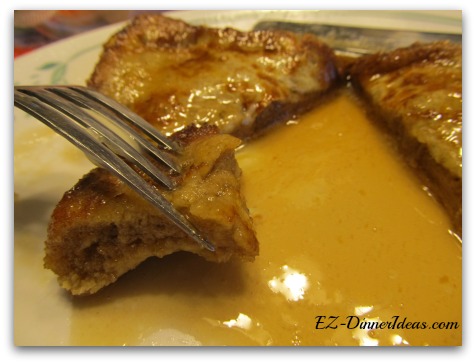 Prep Time: 8 Minutes   Cook Time: 10 Minutes  Serving: 2-4
Even if you are going to use up the entire loaf of bread and a dozen of eggs in one meal, it costs less than $10 to feed a crowd over 10 people.  For a family of 4, dinner will be ready in less than 20 minutes.  How can you beat that, huh?

In this recipe, I want to emphasize one thing.  Unlike making the Authentic French Toast, when you dip the bread into the egg mixture (a.k.a. custard), make it quick.  It is because the bread will get soaked in a matter of seconds.  You don't want the French toast come out being too soggy.

This recipe is for 4 serving.  If you need to make more than that, keep the French toast in a 170F warm oven.
Peanut Butter French Toast Recipe and Instructions
Ingredients
8 Slices Bread (I always use the Freihofer's Split Top Wheat Bread which has the perfect texture.  Whole wheat or whole grain bread doesn't give that great texture, in my opinion.  Any white bread will do, too.)
3 Eggs (Beaten)
3 tablespoon Milk
4 tablespoon Peanut Butter (divided)
2 tablespoon Butter (divided)
2 tablespoon Canola Oil or Light Cooking Oil (divided)
1 pinch of Salt
Spread a tablespoon of Peanut Butter on a slice of bread and top with another slice to make a sandwich
Repeat the last step to make 4 peanut butter sandwiches in total
Whisk salt, egg and milk together in a shallow bowl
Add a tablespoon of each butter and light cooking oil into a big skillet at medium to medium high heat
Dip the sandwich in the egg mixture to coat both sides
Transfer sandwich to the skillet (should able to cook 2 sandwiches at a time) to brown; 2-3 minutes each side; transfer to serving plate
Repeat the last 3 steps for the rest of the sandwiches
Serve the peanut butter French toast along with butter and pancake syrup on the side
Tips

Pair it with banana and apples
You can also slice up ½ to 1/3 of a banana and put the slices between the sandwiches before turning them into French toast.
Feel free to replace peanut butter with Nutella or fruit preserves
Can be doubled or tripled

You May Also Be Interested In:

Return from Peanut Butter French Toast Recipe page to Breakfast Recipes page

Return to Easy Dinner Ideas Homepage