Meatballs and Cabbage Recipe
Meatballs and Cabbage Recipe
How To Get A Fabulous Korean Kimchi Inspired Meatball Soup On A Tight Budget
Meatballs and cabbage recipe is a budget-friendly, low-carb, fiber-packed, quick and easy dinner.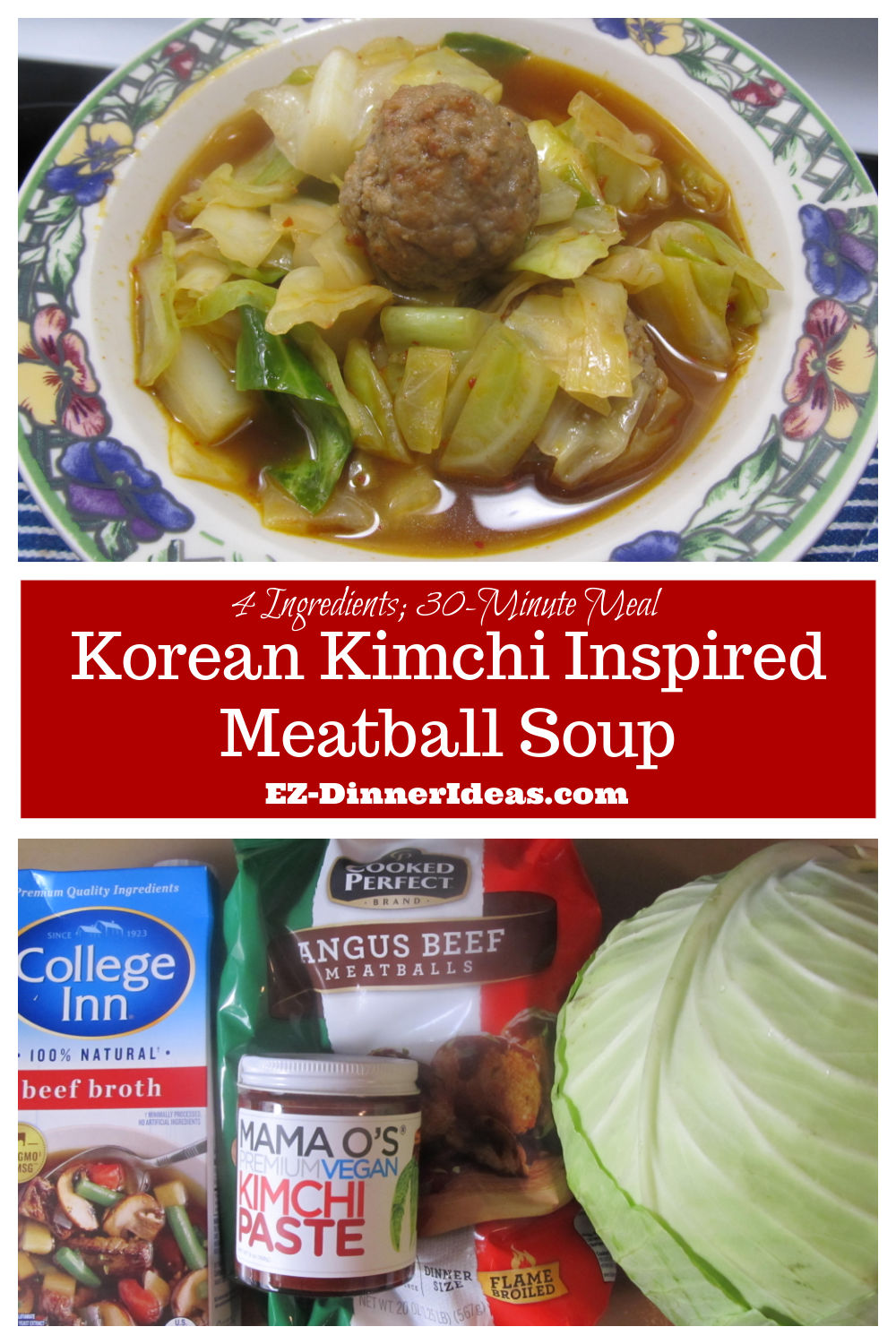 Total Time: 30 Minutes
Prep Time: 5-8 Minutes  
Active Cook Time: 30 Minutes (Prep time included)  
Serving: 4-6


WOW....that soup recipe sounds too good to be true. In fact, it is as great as it sounds. First off, let's check out some chef notes and tips.

CHEF NOTES

I purposefully chose beef meatballs because it made me think of Korean BBQ and how good the beef coming out of the grill. But you can choose different meat combination for meatballs.
A tablespoon of Kimchi paste may sound a lot. But with such a big pot of soup, it adds just enough spiciness into the dish. When you use this ingredient, be aware of the people who you are going to share this delicious meal with. Adjust to the heat level that everybody is comfortable with.
Why didn't I buy a container of kimchi and dump into the soup? There are several reasons. First of all, Kimchi is a condiment. To bump up the volume of the soup, you most likely need to add the entire jar or container of Kimchi in it. It depends on the package size you get. If you do so, the spiciness would be totally out of control. Besides, meatballs and cabbage recipe was created with the mind of having a tight budget to feed a big family. Buying a couple jars of kimchi for this recipe does not fit the bill.
Why did I choose green cabbage instead of other kinds of cabbages? Kimchi uses Napa cabbage which is a really nice vegetable that is commonly used in many Asian cuisines. However, it costs 3 times more than regular green cabbage price. Also, Napa cabbage leaves wilted as soon as it is cooked or made for Kimchi. Regular green cabbage keeps about the same volume even after it is cooked down. So, from another economic point of view, green cabbage is the best choice. But by all means, if budget is allowed, use Napa cabbage.
You may want to know what you are going to do with that big jar of Kimchi paste. Well, I got more recipes coming up to use it up. So, no worry and stay tuned. For now, let's get cooking.
---

Recipe Ingredients and Tools

---
Meatballs and Cabbage Recipe and Directions

Ingredients
1-1.5 lbs Green Cabbage (cut into bite size; about 1" square)
1 bag (18-20 oz) Beef Frozen Meatballs
4 cups Beef Broth
1 tbsp Korean Kimchi Paste
A splash of Light Soy Sauce (no more than a tablespoon)
2 tbsp Extra Virgin Olive Oil
Directions

In a big soup pot, heat 2 tbsp extra virgin olive oil at medium high heat; stir in kimchi paste to infuse the oil.
Turn heat down to low. Chop and drop cabbages and stir to combine vegetables with infused oil.
Stir in frozen meatballs and beef broth. Turn up heat to high and cover the soup pot with lid.
When soup boils, stir to make sure vegetables are crisp tender and meatballs are cooked through.
Stir in soy sauce, salt to taste. If you need more spiciness, add more kimchi paste 1 tsp at a time and enjoy immediately.
Want More Keto/Low-Carb Recipes?!
This ebook will teach you to cook authentic Chinese food in a healthy way. It will also show you how to get the beautiful colors, texture and taste you get from your favorite Chinese restaurants.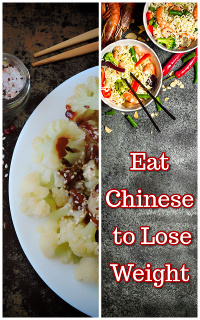 ---
Meatballs and Cabbage Recipe Steps with Photos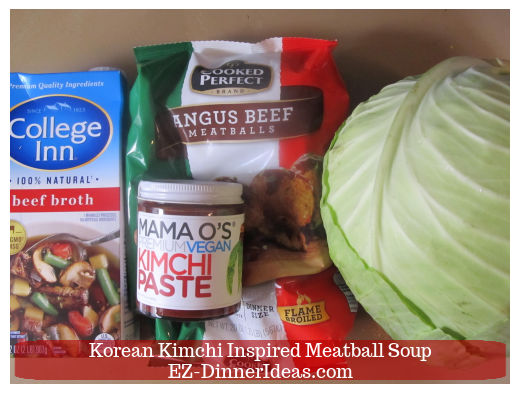 4 ingredients are all you need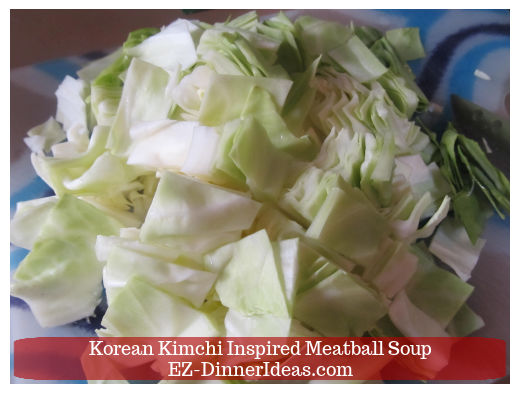 Cut cabbage into bite size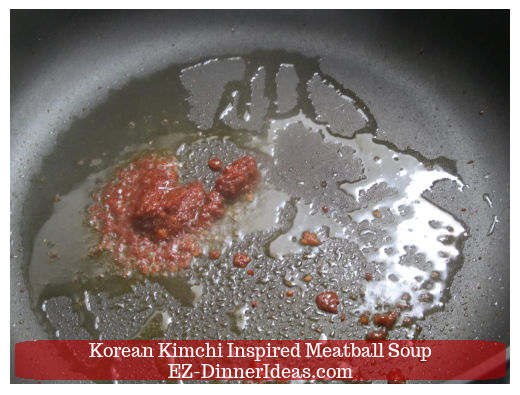 Stir in Kimchi paste into the heated oil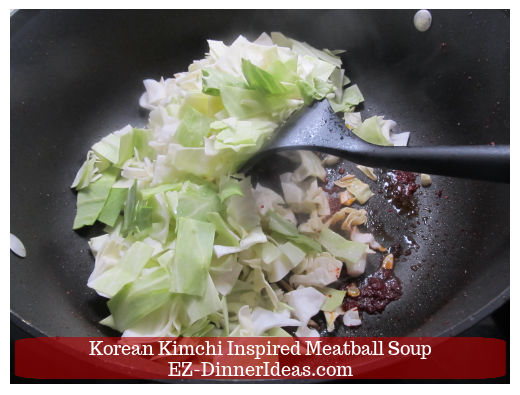 Stir in cabbages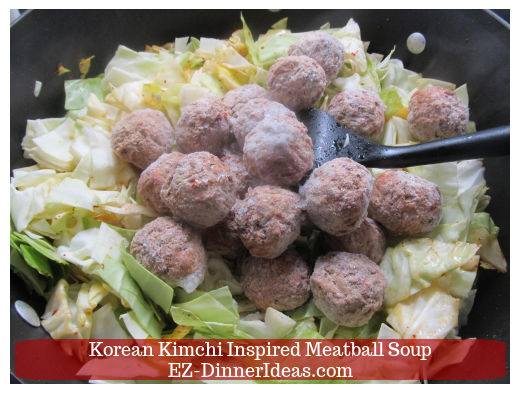 Add frozen meatballs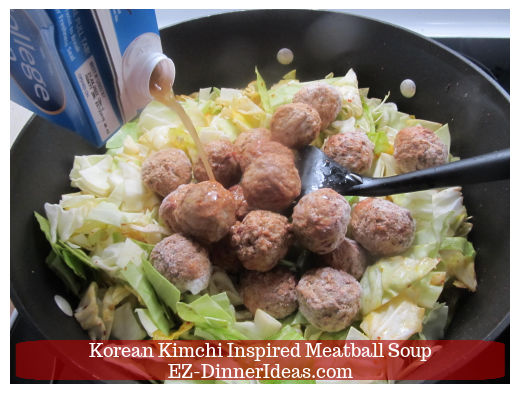 Add beef broth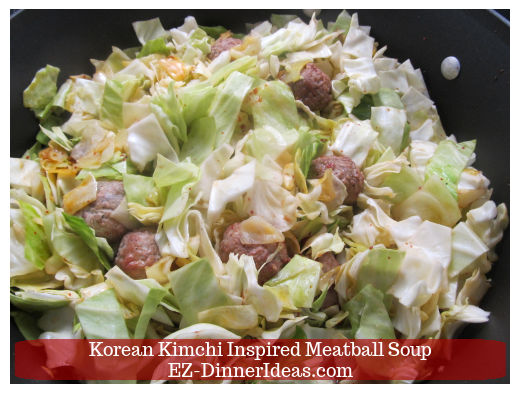 Stir to combine and cover with lid to cook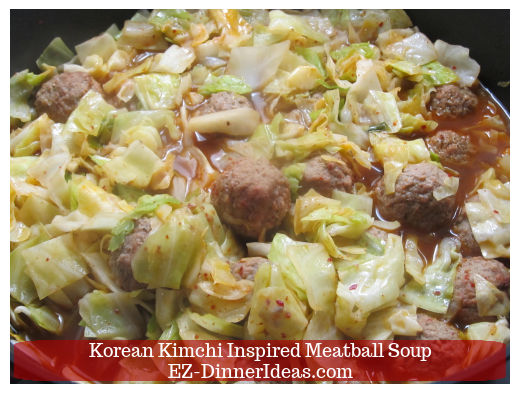 Adjust seasonings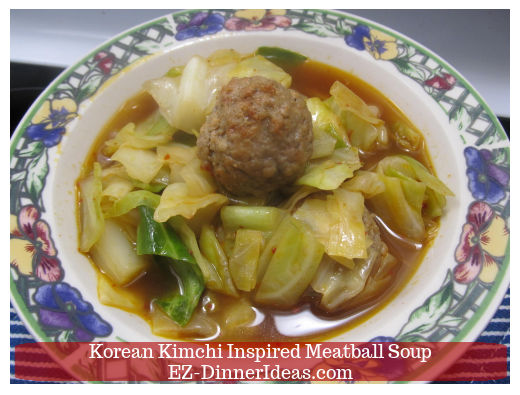 ENJOY!
---

You May Also Be Interested In:

---
Home > One Pot Dinner Recipes > Meatballs and Cabbage Recipe | Korean Kimchi Inspired Meatball Soup