A Pantry Recipe
Orange Tuna Pasta
Quick, Easy and Cheap Dinner
This orange tuna pasta was inspired by the orange tuna filet in the package.  You may already have all the ingredients in your pantry.  So, no special trip to the supermarket and you can put the dinner on the table under 30 minutes.  AWESOME!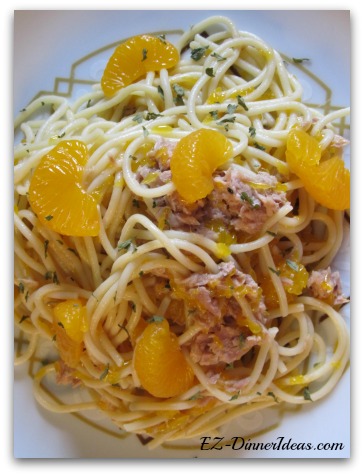 Prep Time: ZERO   Cook Time: 20-25 Minutes   Serving: 4
You can either use the tuna packed in water or olive oil. My preference is the later one. It is slightly more expensive. But it is packed with big chunk of good quality tuna fish.

Besides, I always cook with the olive oil from the can which is very flavorful. But if you think that it is too fishy for you, you can drain the oil and replace it with 2
tablespoon of extra virgin olive oil.

Also, the frozen orange concentrate can be replaced with half a juiced orange or a splash of orange juice. Although orange marmalade thickens up quickly, it may be too sweet for this tuna pasta recipe. Of course, feel free to use it. Then, adjust the sweetness with some vinegar.

If you have none of the above, it is perfectly ok. The dinner is still very delicious. The orange concentrate just helps to intensify its flavor.
Ingredients
2 Cans (5.5 ounces each) Tuna in Olive Oil or 4 Cans (5 ounces each; drained) Tuna in Water
2 Clove Garlic (minced)
1 pound Spaghetti or any kind of long pasta
2 Cans (14 ounces) Mandarin Orange (drained; save 10-12 pieces of mandarin orange segments for garnish)
1 tablespoon Frozen Orange Concentrate (transfer the concentrate leftover in an air tighter container and store it in the freezer for future use)
¼ - ½ teaspoon Dried Parsley Flakes (optional; for garnish)
1 pinch of Crushed Red Pepper (optional)

Seasonings
2 teaspoon Salt (divided)
¼ teaspoon Ground Black Pepper
1 tablespoon Canola Oil
1 Pot of Water
Bring a pot of water to a boil
Add 1 teaspoon salt, 1 tablespoon canola oil and pasta
Quick stir and let it cook until al dente and drained
Use the same pot and preheat at medium to medium high heat
Add tuna with olive oil, garlic, crushed red pepper, 1 teaspoon salt & ¼ teaspoon ground black pepper
Stir to combine
Add mandarin orange and orange concentrate
Keep stirring until orange falling apart and concentrate melted
Put spaghetti in and keep tossing so that all the juice is absorbed
Transfer to serving plate and garnish with the orange segments you saved earlier
Sprinkle dried parsley flakes on top and serve

You May Also Be Interested In:

Return from Orange Tuna Pasta Recipe page to Pasta Recipes page

Return to Easy Dinner Ideas Homepage