No Prep
Quick, Easy and Tasty Japanese Style
Stir-Fry Spinach and Crab Noodles
In this Japanese style stir-fry spinach and crab noodles, there are 2 ingredients which may be new to you.  But if you pay attention, you may have already come across them and didn't realize it.

They are the Japanese imitation crab meat and the Japanese Tamari soy sauce.

First of you, let me ask you 2 questions?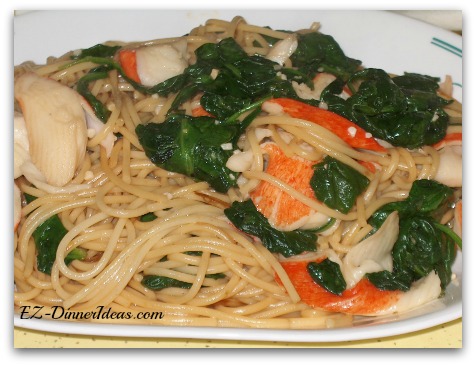 Prep Time: ZERO   Cook Time: 25 Minutes   Serving: 4
Have you ever tried the old Subway Crab and Seafood Salad sub?  It had been several years that they stopped serving it.  I was a big fan of that sub.  If you tried that before, that means you tried the Japanese imitation crab meat. 

In fact, it is not crab meat.  It is fish.  If you are on diet, just beware of that it does bring a lot of sugar into your body.  Some come into a package that has already pre-cut the imitation crab meat into bite size for you. 
You may also find imitation lobster meat which has about the same look.  In my opinion, they taste the same.

Since it is pre-cooked, you can add it into salad or other cold dishes.  Or just eat it out of the bag.

My second question is…have you ever tried sushi?  If not, did you try the sushi dipping soy sauce?  If so, you tried the Japanese Tamari soy sauce.  It is very, very different from the regular Chinese soy sauces.

The Tamari soy sauce is much lighter in taste and sweeter, too.  When you use it for cooking, you add a whole lot more than using the Chinese soy sauces.

This spinach and crab noodles recipe is purely my creation or concoction (whatever you want to call it).  I chose to use spaghetti instead of any kind of Asian noodles.  It is not only because it is one of the easiest ingredients you can find, but also the texture can absorb the Tamari soy sauce very well.  

Another great advantage of this recipe is that NO preparation at all.  Everything is ready in the package for you.  All you need to do is to cook and serve the tasty Asian dish.  Isn't that great?
Ingredients
1 pound Spaghetti
½ pound Baby Spinach (Pre-washed)
½ pound Imitation Crab Meat (cut into bite size; it is usually available by the seafood counter in your grocery store)
1 Clove Garlic (minced)

Seasonings
¼ cup Japanese Tamari Soy Sauce (I use the Kikkoman brand.  It is always in the Asian aisle)
1 ½ teaspoons Salt (divided)
3 tablespoons Canola Oil (divided)
1 Pot of Water
Bring a big pot of water to a boil
Add 1teaspoon salt, 1 tablespoon oil and spaghetti
Quick stir and let it cook

Slightly under cook the pasta and drain
Preheat a big deep skillet or Dutch oven at medium high heat
Add 2 tablespoons oil, garlic, ½ teaspoon salt and spinach
Stir to combine
When spinach wilted down to ½ of the original volume, add crab meat
Stir to cook for about a minute
Add spaghetti and Japanese Tamari soy sauce

Keep stirring until the pasta absorbs all the sauce and serve

You May Also Be Interested In:

Return from Japanese Style Stir-Fry Spinach and Crab Noodles Recipe page to Pasta Recipes page

Return to Easy Dinner Ideas Homepage