One-Pot Beef Taco Salsa
Black Bean Spaghetti
An Alternative, But Healthy
Way To Eat Taco
One-pot beef taco salsa black bean spaghetti.....I know I don't usually have such a long, tongue-tied recipe name.  But I have been thinking and searching what is the best name to give to this dish.  I love it.  I am excited about sharing it.  So, that was my final decision.

Anyway....Have you ever heard of or tried black bean spaghetti before?  I know some people will be bothered by its color.  I had black pasta in the past made with squid ink which I love, love it.  So, seeing the black bean spaghetti, I want to try it right away.  I am very comfortable with the color.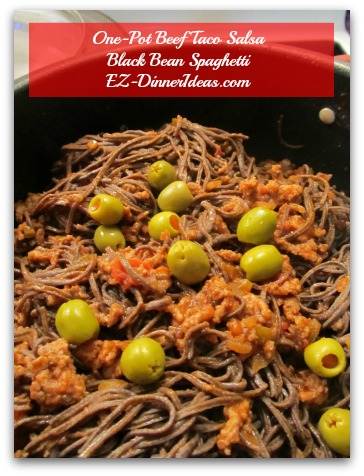 Prep Time: ZERO   Cook Time: 30 Minutes   Serving: 4-6
What Is Black Bean Spaghetti?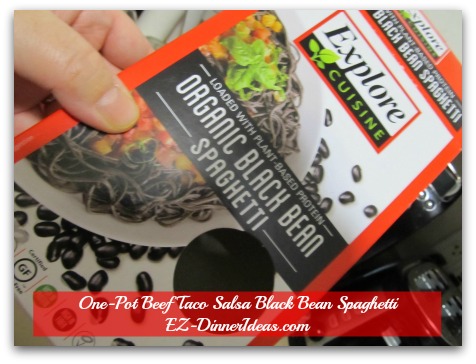 You may still be skeptical about this spaghetti.  So, let me share with you my discoveries:

Smell
I was surprised that there was no smell.  I originally anticipated some smell like what whole grain pasta would give out.
Texture
I know that this is one of the most important things that most people care about.  It could be a deal breaker to some people.  I must say that the texture of black bean spaghetti is very similar to whole grain long pasta.  If you like that kind of noodles/pasta, you will like this one, too.  Although it is called spaghetti, the thickness is closer to angel hair.
Taste
Without any seasoning, it is very blah.  So, you must season it very, very well.  You may end up putting more than usual to give the flavor to this spaghetti.
Filling
This is the best part.  I must say that the black bean spaghetti is very filling.  What I love about it is that when I felt so full after having this dinner, I didn't feel like, "omg....I am going to pop." 
Instead, I felt like very satisfied and my body just told me, "You had enough."  (It sounds like the black bean spaghetti has some kind of intelligence, right?  But it was how I felt when I was enjoying this recipe.) It was an awesome feeling of being filled.  I can tell you that when I went to bed that night, I felt Super.
Cook Time
One thing I do realize is the cooking direction.  If you follow what it said in the package, you could easily overcook the pasta.  As of right now, the package said to simmer for 6-8 minutes.  I would suggest 4-6 minutes.
One-Pot Beef Taco Salsa Black Bean Spaghetti Recipe

Ingredients
1-1.25lbs 90% Lean Ground Beef
1 pack Taco Seasoning
1 jar (16 oz) Salsa (I picked mild because some people in my family can only take very little heat.)
2 Boxes (8 oz each) Black Bean Spaghetti
Spanish Olives (optional; for garnish only)
Fresh/Dried Cilantro (optional; for garnish only)
Salt and pepper to taste
1 tsp Extra Virgin Olive Oil

1 pot of Water
1 tsp Salt
1 tbsp Canola Oil

Bring a pot of water to boil
Add 1 tsp Salt, 1 tbsp Canola Oil and black bean spaghetti
Stir well and under cook slightly and drain
Use the same pot and add 1 tsp Extra Virgin Olive Oil
Cook ground beef at high heat
Use spatula to break up the meat into pieces
Add taco seasonings and 2/3 cup water, let it simmer per package direction
Stir in salsa until well combined
Toss to coat spaghetti, garnish with Spanish olives and/or cilantro serve immediately
Halloween Version - A Distorted Mummy
Instead of toss in spaghetti into the sauce, put spaghetti directly into plate
Top it with sauce
Use 2 small dollops of sour cream to create 2 eyes and draw a cross to make a mummy's mouth
Put an olive on top of each dollop of sour cream to make a mummy face

Recipe Ingredients and Tools


You May Also Be Interested In:

Return from One-Pot Beef Taco Salsa Black Bean Spaghetti Recipe page to
Pasta Recipes page

Return to Easy Dinner Ideas Homepage