Cooking for Two

2 Ingredients; 5-Minute Zucchini Noodles With Italian Dressing
Cooking for two could be challenging.  You can spare 5 minutes and use 2 ingredients to make this healthy and delicious dinner like a snap.  Try this 5-minute zucchini noodles with Italian dressing.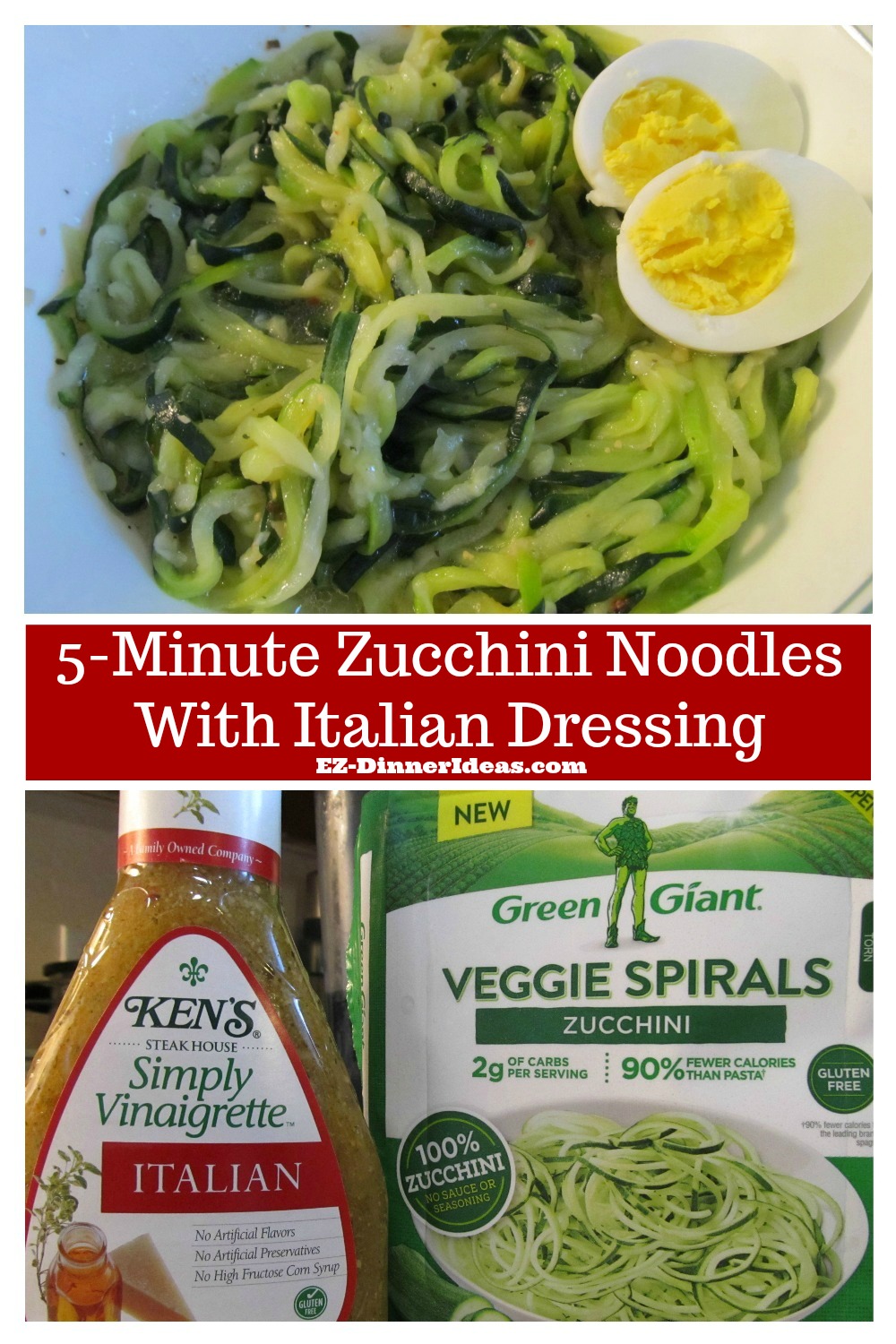 Total Time: 5 Minutes
Prep Time: ZERO  
Active Cook Time: 5 Minutes  
Serving: 1-2


5-Minute Zucchini Noodles With Italian Dressing, yep, that's all it takes with 2 ingredients.  Have you ever tried zoodles (a.k.a. Zucchini noodles/spirals) before?

I remember buying a gadget to make fresh zoodles.  Unfortunately, it is one of those you saw in infomercial with the result not coming out as great as you expected.  Even though I could make zoodles out of that gadgets.  It took me more than 15 minutes to get all zoodles ready for cooking.

Since then, I just forget that gadgets.  Time is priceless.  I would rather cut up my zucchini the way how I always do in order to save time.  Until....I saw the frozen zucchini spirals in the supermarket.  Frozen vegetables are my best friends.  Of course, I got to give it a try for this new product.

In the week that I was super busy to prepare my little one's birthday party, I made a quick lunch to bring back to work.  Man...wasn't that easy and yummy?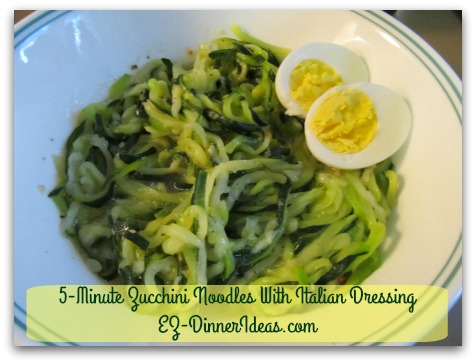 CHEF NOTES

Yes, the package does say to steam it in the microwave.  I try my best to skip the microwave and go for the traditional route in order to keep all the nutrients, instead of killing them.

You can use any vinaigrette dressing.  There are tons of options out there in the market or make your own.

Hard-boiled egg in this recipe is for additional protein.  Feel free to use store-bought hard boiled eggs in the supermarket.  They usually come in 2 eggs per package.  If you want to make this recipe super easy and hassle free, store-bought option may work for you.

This is a very versatile recipe.  You can replace Italian dressing with leftover chili which I tried it once.  And it was absolutely out of this world.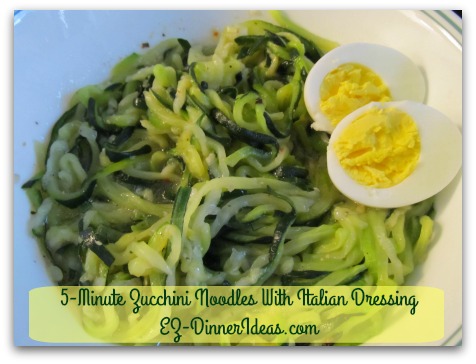 Cooking for Two Recipe and Instructions

Ingredients

2 (12oz / 340g each) Frozen Zucchini Spirals (not thawed)
1/4 cup (2oz / 50g) Store-bought Italian Dressing
1 Hard Boiled Egg (optional)
1 pot Water
Salt and pepper to taste

Bring a pot of water to boil.
Add frozen zucchini noodles.
Stir with tongs.
Once they are loosened, strain noodles with a strainer.
Transfer to a big mixing bowl.
Add 1/4 cup (2oz / 50g) Italian dressing.
Toss to coat.
Salt and pepper to taste.
Garnish with 2 halves of a hard-boiled egg (optional).
Serve immediately or in room temperature.
Cooking for Two Steps with Photos
---

Recipe Ingredients and Tools

---
Serve This With: 

---

You May Also Be Interested In:

---
Home > Vegetarian Recipes > Cooking for Two | 5-Minute Zucchini Noodles With Italian Dressing