Quick And Thin Crepe-Like Pancakes
Quick And Thin Crepe-Like Pancakes
A Fix-It-And-Forget-It Recipe
Quick And Thin Crepe-Like Pancakes...this recipe is one of those fix-it-and-forget-it.  Yep, it is as easy as that.  Save your money buying pancake mix from the store.  Just forget it.  Everything is from your pantry staples.  You will not believe how easy to make a delicious dish starting from scratch is.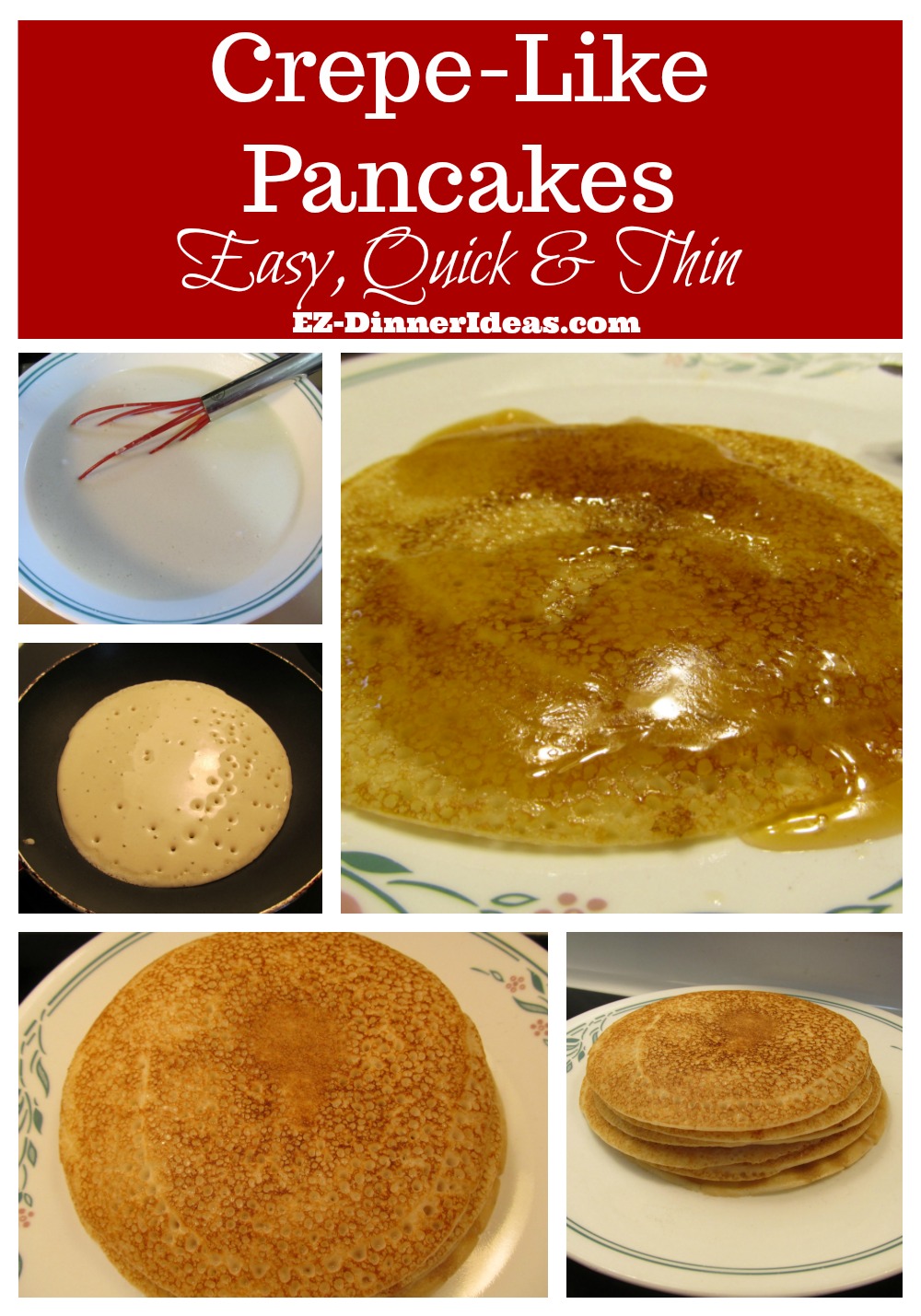 Total Time: 17-20 Minutes
Prep Time: 5 Minutes  
Active Cook Time: 12-15 Minutes  
Serving: 3-4


I can't remember how I came up this recipe.  But I still remember that I have been making it since 2002.  At that time, my (fiance then) husband and I just moved in and lived together.  I made this pancake recipe for brunch one day.   Since then, it got stuck with him that when it comes to pancakes, it must be like this.  His family loves it.  Even our little one loves it, too.

After this recipe, I played with it and paired it with many other ingredients.  After a while, it earned me a nickname from my sister-in-law, "pancake queen".  (I promise that I will share with you later about some other recipes expanded from this original pancake recipe.) But for now, let's check this out and enjoy.

CHEF NOTES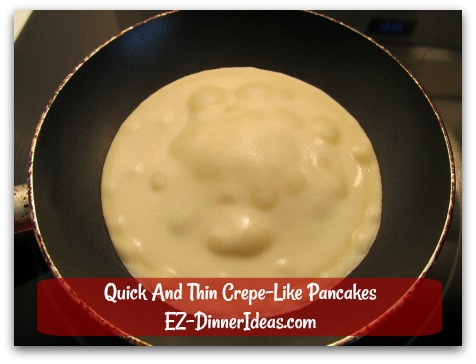 The very first one may not look good.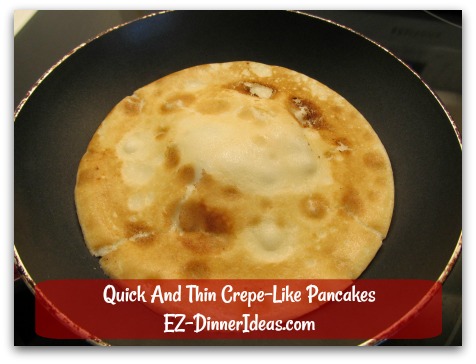 It is still edible. Once you pass the first pancake, you are good to go.
Although I make this quick and thin crepe-like pancakes recipe countless time, I still find the first pancake could be the most challenging one.  Sometimes, the first pancake may not turn out as good as it is supposed to be.  So, don't get discouraged.  It may need more time to cook.  It may be over cooked. 
In my situation, that first one is usually not cooked enough to let it form the shape.  Then, when I flip it over, it gets all wrinkled up.  But it is still edible.  Once I pass that first one, it will be fine.  The point is....if I can do it, so do you.

I sometimes mix the pancake batter the night before because my schedule is too tight to wait for it sitting 30 minutes.  Don't be surprised.  After a night, the batter will separate into layers which are oil, water and flour.  So, it looks brownish yellow. 
No worry.  There is nothing wrong with the batter.  All you need to do is to whisk to combine everything together again.  Then, you are good to go.  Have fun cooking.
P.S. Can be doubled.
Quick And Thin Crepe-Like Pancakes Recipe and Instructions

Ingredients
1 cup All Purpose Flour
1 Egg
1 cup Whole Milk
1 cup Water
1 pinch  Salt
1/2 cup Canola Oil
1 tsp Vanilla Extract
Butter
Maple syrup

In a mixing bowl, whisk all ingredients together (there should be just a few little lumps in the batter)
Chill at least 30 minutes to an hour
Preheat a 6" non-stick pan at high heat 
Pour 1/3 cup pancake batter into the pan
Turn down to medium heat
Cook until either the edge getting light golden brown, it starts to come off from the pan on the edges or batter solidified on top, about 2-3 minutes (when you see one of the above happens, use a spatula to try lift it up from the edge.  If it comes off the pan easily, go ahead to flip over)
Flip it over to the other side and cook for another 1 to 2 minutes until when you move the pan back and forth, the pancake moves without sticking to the pan (You should hear a very light scratchy sound with this movement)
Transfer pancake to a serving plate
Repeat all these steps by pouring more batter into the pan again until all batter is gone (keep it at medium heat from here on out until the last pancake cooked.  No more heat adjustment.)
Make 8-10 pancakes
Serve along with butter and maple syrup
Quick And Thin Crepe-Like Pancakes  Steps with Photos
---

Recipe Ingredients and Tools

---
Serve This With: 

---

You May Also Be Interested In:

---
Home > Breakfast Recipes > Quick And Thin Crepe-Like Pancakes