Joey's Pasta Barese
An Elegant Restaurant Remake
On The Table In 30 Minutes
Joey's pasta barese is named after a pasta dish in a restaurant, Johnny's, located in a small city, Schenectady, New York, which is under a lot of redevelopment.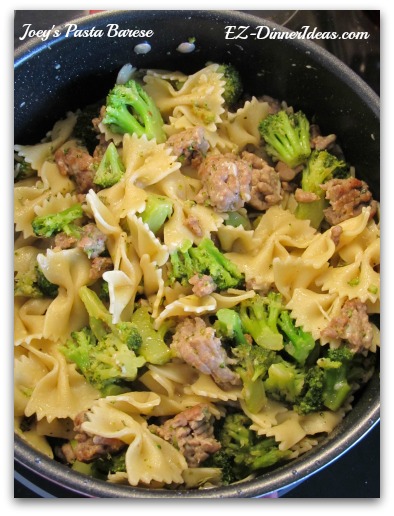 Prep Time: ZERO  Cook Time: 30 Minutes  Serving: 4
The wonderful thing about this pasta recipe is that you can spend what it costs to feed one person to feed 4 or more.

Since this recipe was inspired by a restaurant in this small city, I want to share with you some background of this place through which a Hollywood movie was named after.


Johnny's, Schenectady NY
Where Is Schenectady NY?  What is it for you?
First of all, you may wonder where Schenectady, New York is.  Well, if you follow the news about the NY state prison break, you may know where it is.  The final guy captured and transferred to the hospital in Albany NY....Schenectady is about 30-45 minutes of ride from that hospital, depends on the traffic.

I work not too far from this restaurant, Johnny's, which serves American Italian cuisine.  It is right at downtown Schenectady.  In the area, there is a street not far from Johnny's nicknamed by the locals as the Little Italy, Jay Street.  Yes, it is filled with many Italian restaurants. 

We love the bread from a bakery on that street very much.  However, if you want it, you must get it before the end of lunch hour.  Otherwise, it will be sold out and you have to come back the next day.

Unlike New York City, Schenectady is not a tourist attraction.  But the "electric city" feeds a lot of families by working in GE.

If you happen to be in this town for business, check out the Proctor's Theater which is right across from  Johnny's.  You can watch some Broadway shows for a much more affordable price.  The inside of the theater preserves a lot of original designs and decorations.  I love its  historical charm very much.  It is like a jewel.

If you are interested in Schenectady, check out this movie, The Place Beyond The Pine, which is the English meaning of, Schenectady, a Mohawk word.  It is starring by Ryan Gosling, Bradley Cooper and Eva Mendes.


Stage of the Proctors - what's projecting on the curtain is the Nutcracker.




A beautiful and historic ceiling decoration in the Proctors




One of the gorgeous chandeliers in the Proctors
Tips of Making Joey's Pasta Barese
Travel and dining goes hand in hand.  Now, you knew the travel part.  Let's switch gear back to the dining part.  Or, I would say the recipe part.

The original Joey's pasta barese recipe called for Sherry wine.  But I just use whatever white wine I have on hand.  I used Gewurztraminer 2004 from Albert Mann.  (Here is a deal from wine.com that you may be interested in:

Get FREE shipping on ANY order for 30 days with StewardShip trial. Sign up now!
If you are not a wine drinker, please feel free to substitute it with chicken broth.

The original recipe also called for ziti.  But any short pasta will do.

I use the frozen broccoli florets instead of fresh ones in order to cut down the prep time. 

Yes, you can double the quantity.  By doing so, instead of using the big skillet to cook the sausage and broccoli, you may need to switch it to a bigger pot or Dutch oven.
Ingredients

1 pound Frozen Broccoli Florets (unthawed)
1 pound Bulk Sweet Italian sausage
1 pound Ziti (or any short pasta)
2 gloves minced garlic
1/4 - 1/3 cup Chicken broth, Sherry or White wine
1/4 cup Extra Virgin Olive Oil (divided)
Salt and pepper
1 pinch Crushed red pepper flakes
1/2 cup Parmesan cheese
Parsley (optional, for garnish only)

1 pot of water
1 teaspoon Salt
1 tablespoon Canola Oil


This is how the original Joey's Pasta Barese at Johnny's looks like.
Bring a pot of water to a boil and add salt, canola oil and pasta
Quick stir and let it cook until al dente and drain
While waiting, heat 2 tablespoon Extra Virgin Olive Oil in a big skillet at high heat
Add crushed red pepper flakes and sausage
Use a spatula to break up the sausage and let it brown; about 8-10 minutes, stir regularly
Add broccoli and combine with sausage and cook until crisp tender; about 3-5 minutes
Add the remaining Extra Virgin Olive Oil, garlic and white wine
Turn up the heat to let the wine to evaporate
Transfer pasta, sausage and broccoli into the pasta pot
Toss to combine and add salt and pepper to taste
Add Parmesan cheese and parsley (I used Litehouse brand freeze-dried Parsley) to garnish and serve


You May Also Be Interested In:

My Amazon Picks

Who doesn't want to enjoy a glass of wine with this pasta barese dish, right?  But if you have this in the high end restaurant where I got the inspiration from, you know that the price of your dinner will skyrocket.
Well, you can pay for the same amount on making this restaurant remake recipe and wine for a party of 4.  How does that sound?  Does that sound great?  Check out my favorite Riesling below:

Return from Joey's Pasta Barese Recipe page to Restaurant Remakes Recipes page

Return to Easy Dinner Ideas Homepage