Easy Chicken Soup Recipe
Low Carb Chicken Fajita Soup; Dinner's Ready Under 30 Minutes

Easy chicken soup recipe makes a quick, healthy and flavorful dinner.  This is a must-try.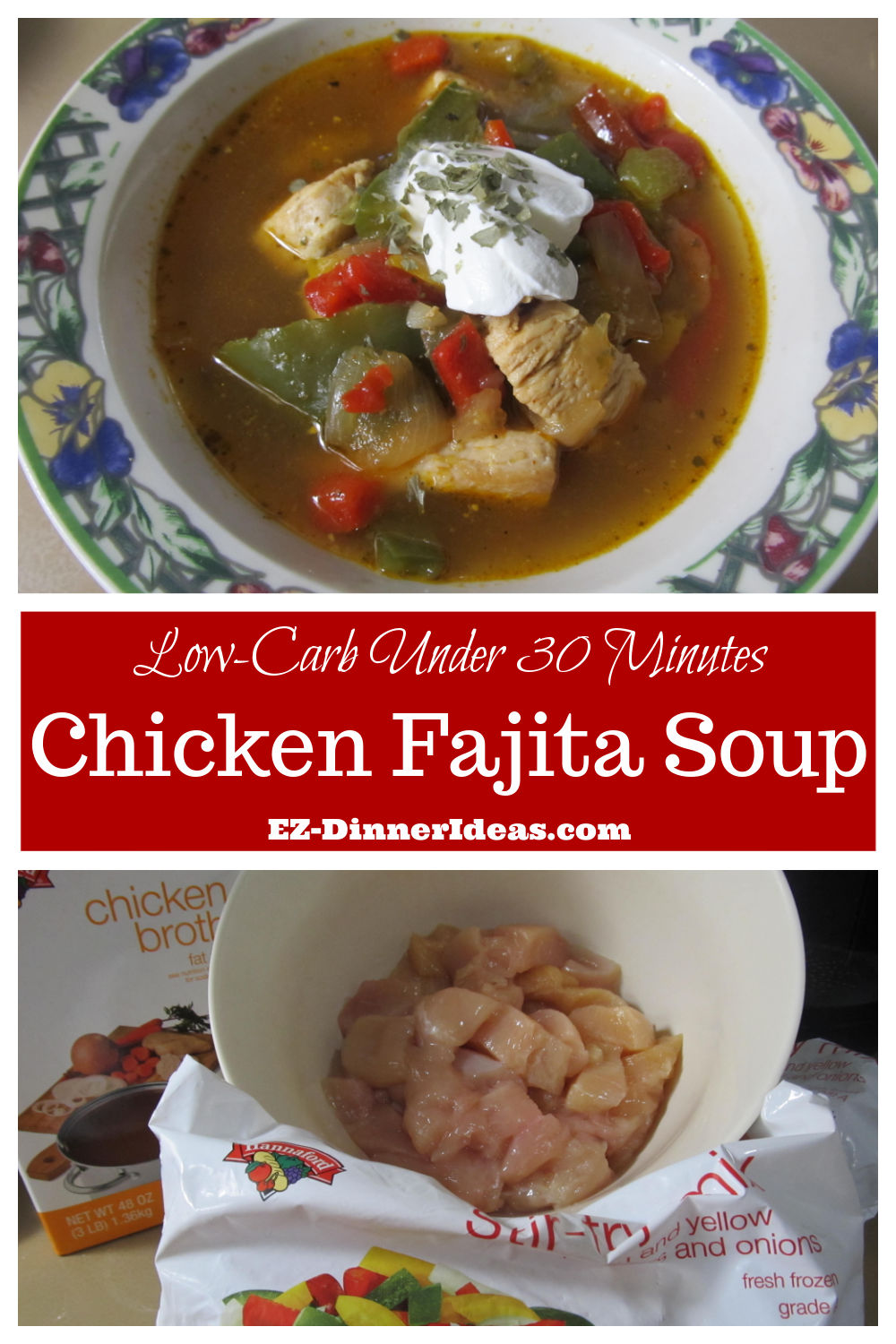 Total Time: 25-27 Minutes
Prep Time: 10 Minutes  
Active Cook Time: 15-17 Minutes  
Serving: 4


I have been thinking of this recipe for a while.  As much as I love to have taco, a low-carb version is a must for me so that I don't fall asleep right after a delicious meal.  

Compared to my other fajita chicken recipe, this is a super fast version.

CHEF NOTES
As usual, you can serve some carbs on the side for the rest of your family, such as some taco chips.

Serving sour cream on the side is an optional choice, too.  I must admit that a dollop of sour cream gives a very unique flavor to this soup.  And I do like it a lot.

---

Recipe Ingredients and Tools

---

Easy Chicken Soup Recipe and Instructions

Ingredients
2 Boneless Skinless Chicken Breasts (about 8 oz each and cut into bite size)
2 lbs Frozen Stir Fry Mix (a.k.a. sliced onion and bell peppers)
4 cups  Chicken or Bone Broth
2-3 tbsp Fajita mix (divided)
2 tbsp Extra Virgin Olive Oil
Sour Cream (optional; for serving only)

Preheat extra virgin olive oil in a soup pot at high heat.
Single layer chicken to brown about 3-4 minutes; sprinkle 1 tbsp of fajita seasoning on top.
Turn meat over and sprinkle another 1 tbsp of fajita seasoning on top; turn heat to medium high and let it brown for another 2-3 minutes.
Stir meat one more time and add frozen vegetables in and stir it around; turn heat to high.
Add broth and cover to bring it to a boil.
Turn down heat and simmer for about 5 minutes.
Add the last tbsp of fajita seasoning if it is needed or salt and pepper to taste.
Add a dollop of sour cream (optional) and serve immediately.

Easy Chicken Soup Recipe Steps with Photos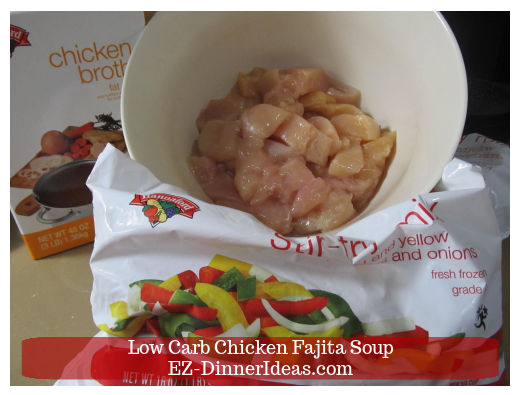 4 easy ingredients for this quick chicken soup recipe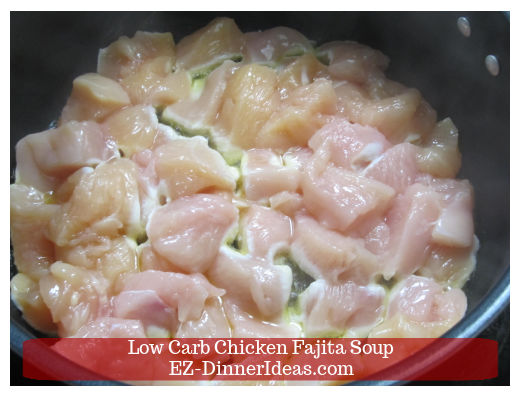 Brown chicken at high heat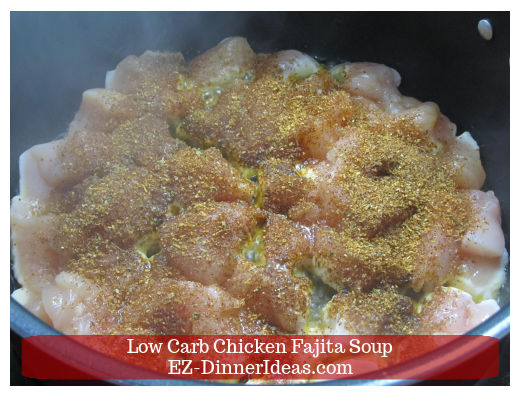 Add fajita seasoning on both sides of chicken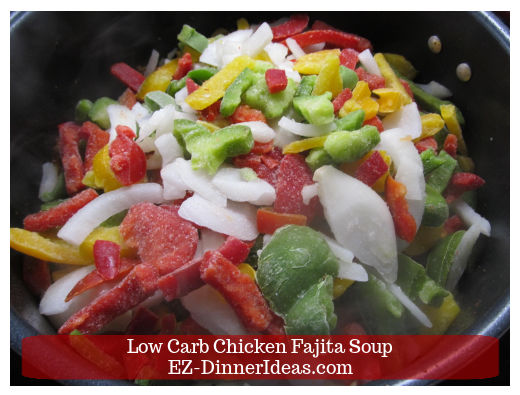 Add frozen vegetables into the same pot
Stir to combine everything together
Add chicken broth and simmer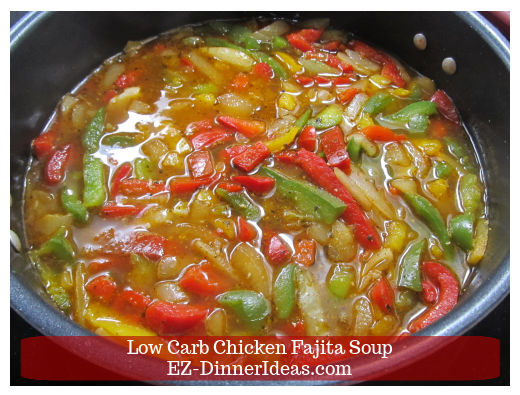 Add more fajita seasoning or salt and pepper to taste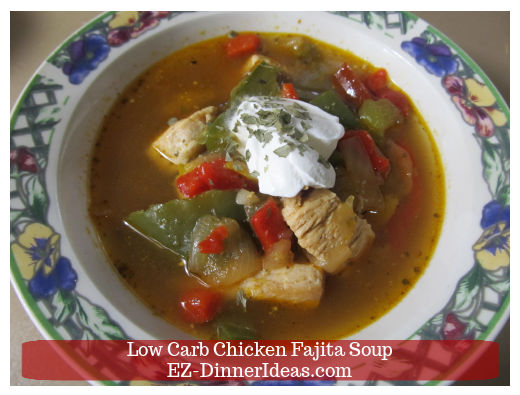 Add a dollop of sour cream (optional) and ENJOY!
---

You May Also Be Interested In:

---
Home > Chicken Recipes > Easy Chicken Soup Recipe | Low Carb Chicken Fajita Soup