Kicking Up A Notch
A Little Bit of Dried Herbs
Rosemary Sweet Potato Oven Fries
I sometimes would also add dried Thyme in this Rosemary sweet potato oven fries.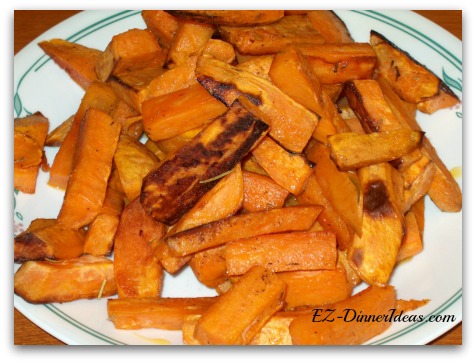 Prep Time: 10 Minutes   Cook Time: 20 Minutes   Serving: 2-4
Like, Share & Comment
If you like any recipes on this website, please like, share and comment.  This will help other people like you to find them here.  Thank you very much for your support!

Ingredients
2 (about 1 -1 ½ pounds) Sweet Potatoes (peeled and cut into ¼" thick and 2' long approximately)
½ teaspoon Dried Rosemary

Seasonings
½ teaspoon Salt
¼ teaspoon Black Pepper
2-3 tablespoon Extra Virgin Olive Oil

Line a baking sheet with non-stick aluminum foil
Preheat oven at 500-550F (as high as you can go)
Combine all the ingredients and seasonings on the baking sheet
Toss to make sure the oil coats the sweet potatoes fries and single layer on the baking sheet
Bake for 15-20 minutes to desired crispiness and serve
Turn over the fries half-way through cooking


Tips
Can be doubled or tripled
You May Also Be Interested In:

Return from Rosemary Sweet Potato Oven Fries Recipe page to Easy Side Dish Recipes page

Return to Easy Dinner Ideas Homepage