BBQ Pork Tenderloin
An Inspiration of
Asian Cooking and American Cuisine
This BBQ pork tenderloin is the combination of 2 of my husband's favorite dishes. One is the Chinese traditional roast pork (coming soon) and the Recovery Room fall-off-the-bone spare ribs.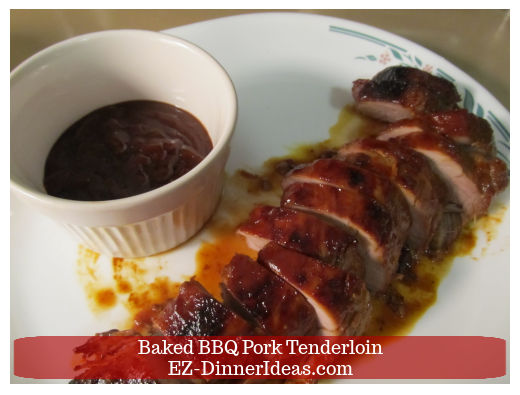 Prep Time: 10 Minutes   Cook Time: 80 Minutes   Serving: 2-4

CHEF NOTES
Can be doubled.  If so, try your best to pick the meat about the same size, no more than a quarter pound of difference (half pound is the max).  This will keep the cooking time of all the BBQ Pork Tenderloin without worrying one is undercooked and the other is overcooked.


BBQ Pork Tenderloin Recipe and Instructions

Ingredient

1-1.5 pounds Pork tenderloin
2-3 Toothpicks

For marinade

1/3 cup BBQ sauce or make your own (I use Sweet Baby Ray's Hickory and Brown Sugar Barbecue Sauce)
1 teaspoon Honey
1/4 teaspoon Salt

For glazing

1 cup BBQ sauce
1 tablespoon Brown sugar
1 pinch of salt
Trim the fat from the meat if you want to (in my opinion, it is lean enough that a little fat on the meat actually helps to keep it moist)
Combine all the ingredients of the marinade in a mixing bowl
Massage the tenderloin about 5 minutes
Chill in the fridge overnight
Take the meat out in room temperature about 15 minutes before cooking
Preheat oven at 400F
Line a roasting pan with aluminum foil for easy clean up later
Coat with non-stick cooking spray
One end of the pork tenderloin is thinner than the other end, fold it inward to make the whole piece of meat about the same thickness.  Secure the folded end with 2 -3 toothpicks which will avoid the thinner part from burning and overcooked.

Bake tenderloin in the pan for 30 minutes
Turn it over and bake another 30 minutes
While waiting, combine the glazing ingredients and the marinade leftover in a small sauce pan
Warm up the glaze at medium low heat until sugar dissolved
Brush the glaze on top of the meat

Bake for another 10 minutes
Turn it over and brush glaze on top
Bake for another 10 minutes
Use a meat thermometer to test if it reaches 160-170F

If not, put it back into the oven for another 10 minutes or until it reaches the right temperature

Let it rest for 5 minutes before slicing the meat
Take out the toothpicks

Serve with sauce and rice on the side
What To Do With BBQ Pork Tenderloin Leftover?

If you happen to have leftover which I doubt it, it is perfect to make Roast Pork Fried Rice.

---
Serve This With: 

---

You May Also Be Interested In:

Return from BBQ Pork Tenderloin recipe page to Pork Recipes page

Return to Easy Dinner Ideas Homepage