What Stops You from Crying when Cutting Onions
Hi! Friends,

Summer is here. For those who love grilled food, this is your season. As much as I love the convenience of frozen veggies, fresh vegetables are the one going on the grill. But there is one that it can present some challenges for you. I thought that I would share a tip that I have been using for years and it works so awesome for me. Guess what is it?

Happy Father's Day!




Your Exclusive Page Password
Please note that I have added a password to protect the exclusive page for you.

Password: (You should have received it in your welcome email. If not, please email me with your email address that you used for signing up our newsletter. Thank you!)

REMEMBER: There is a NEW subscriber exclusive session where you can learn more Chinese fun facts. If you love history or do business with China, you will find this info fun and helpful.

Your Exclusive Page Link




Tip/Idea
Onion Tears Hack


If you love anything with onion, here is a tip for you. How to cut or slice an onion without shedding a tear? Here is how I have been doing it for past 20+ years:

1. Before doing any cutting, slicing or dicing, cut the onion into halves.

2. Add a pinch of salt on the cut side of one half.

3. Rubbing the onion halves together in cicles. (This only takes 10 seconds) Your nose will be your indicator.

4. As soon as the onion smell goes weaker, go ahead to cut, slice or dice the onion.

You will find that if you have to cut multiples onions, this tip is super effective.




Fun Culture
How Do Chinese Serve Onions?
Due to the strong fragrance of onions, Chinese usually pair it with other ingredients that have strong flavors as well. The most common one is the Chinese black bean sauce.

(Click here for MORE Subscriber Exclusive Fun Culture related to this newsletter)




Featuring Recipe
Onion Bell Pepper Ham Spaghetti Stir-Fry
In Chinese cuisine, onions and peppers always go together like in the West.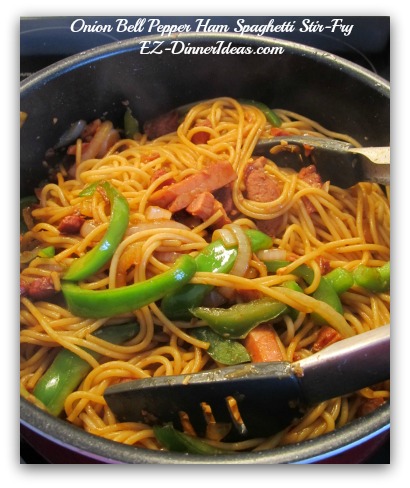 Product I Recommend
Onion Chopper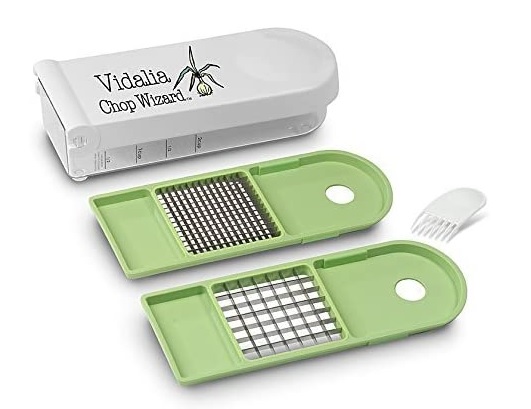 I love this kitchen gadget because I can dice many different kinds of vegetables in no time. I try out many different brands throughout the years and this is the best. It's a must have.
Be Safe and Healthy
Let's wrap up this month with this Bible verse.

"You are the salt of the earth. But if the salt loses its saltiness, how can it be made salty again? It is no longer good for anything, except to be thrown out and trampled underfoot.

You are the light of the world. A town built on a hill cannot be hidden. Neither do people light a lamp and put it under a bowl. Instead they put it on its stand, and it gives light to everyone in the house. In the same way, let your light shine before others, that they may see your good deeds and glorify your Father in heaven." Matthew 5:13-16 (NIV)




Your Support
This website is my labor of love. That's why everything is FREE. But I do have expenses, in addition of my time, to keep it going.

If you make any purchase in Amazon.com, I encourage you to click on any link on this website. Even buying a Harry Potter book, it will give me a small percentage of commission, but does NOT cost you anything.

You can also click on a "PayPal" button on the site or the link here in this newsletter to make a small donation.
Make A Donation

Any little thing you do will help this website tremendously. Thank you very much.




Spread The Words
If you think this website helps you, please spread the words to the people you care, you love and you know.

Thank you very much for your continued support.

Until next month,
Janny

Contact Me
Facebook page
Pinterest
YouTube