Personalize This
Festive Chocolate Marshmallow Pops
For Your Party Theme

I have been making this cute, festive chocolate marshmallow pops since 2004 Thanksgiving.  You don't know how many batches I make every year since then. 
Everybody in my hubby's family expects to have this when it comes to big dinner parties.  I even use different sprinkles for different occasions and festivals.  And you know what, everybody loves it.  From toddlers to the elderly, everybody enjoys it so much that you will be surprised that it is gone in no time.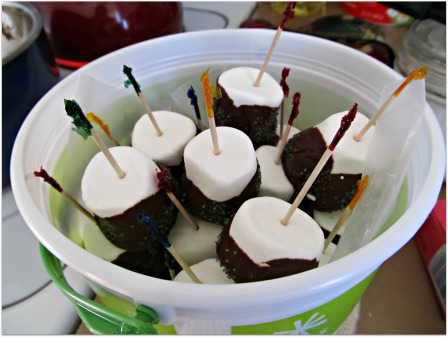 Prep Time: 5 Minutes   Cook Time: 45 Minutes   Serving: 12

Ingredients
1 Bag (10oz) Marshmallow
1 Bag (12oz) Chocolate Chips/Morsels (Any flavor you like.  My preference is semi-sweet.)
Sprinkles or Color Sugar (Any kind; I always get the one that goes with the theme of the party or festival)
1 Bag Medium Length Skewers (toothpicks are fine, too)
2 Cups Water
Put marshmallow in freezer overnight
Line a baking sheet with wax paper

Bring 2 cups of water to boil in a medium sauce pan
When it boils, put a glass or stainless steel bowl on top to make a double boiler
Use the double boiler to melt the chocolate
Do it by batches (I usually do 6-8 marshmallow at a time.  Because once the marshmallow is out of the freezer, it softens very quickly that it is hard to handle a soft marshmallow and melted chocolate.  Plus, the chocolate would not stay on the marshmallow)
Stick party picks or skewers through marshmallow (just how it looks like in the picture)

Dip the marshmallow into the melted chocolate and sprinkle the sprinkles on top
Transfer the marshmallow on the wax-paper lined baking sheet
Put into the fridge for 20-25 minutes to let chocolate harden and serve

Tips
When you buy marshmallow in the store, make sure that it doesn't stick on the bag.  Also, each piece of marshmallow should move inside the bag without sticking to each other.  This is my experience throughout the years of making this dessert recipe.  This will save you a lot of frustration.
How To Customize Chocolate Marshmallow Pops For Your Next Party Dinner?

Just want to give you some ideas of how to customize this recipe to go with your party theme.

I made this for my little one Batman-themed birthday party.  With a piece of tape or glue to stick 2 pieces of confetti together on top of the party picks.


You May Also Be Interested In:

Return from Chocolate Marshmallow Pops Recipe page to Holiday Recipes page

Return to Easy Dinner Ideas Homepage