Family Reunion T-Shirts
A Special Touch Of A Memorable Event
Should you have family reunion t-shirts?  Honestly, I never thought of that until I was given one.  It did give a special touch of the event.
And when I found out how everybody could have a free t-shirt for a great event like this, I am dying to share this genius idea from my sister-in-law with you.

It was back in 2011.  The theme of that year was in memory of my brother-in-law, Howard.  He was killed in a motorcycle accident 2 years before that.  His ex-wife, Alyce, put in a lot of effort and time with the help of her current husband and 2 children to make this event happened. 

That was the best family reunion I had ever attended.  Everything was attention to details.  In fact, thanks to her, many pages about family reunion on this website were inspired by her work.

But before diving in her genius ideas, let's take a look of a few ways of funding this project:

Self-Funding Family Reunion Shirt Printing

One of my friends just funded for everybody's t-shirt with a simple design of the destination and the year of the family reunion. 
OK, I know what is in your mind right now.  You most likely think, "Self-funded?  It is crazily expensive."  In fact, if you browse through the internet and look for the bulk order of around 20 customized printed t-shirts with the same design, the price is very affordable.
Family Member Donation
You can also ask for the family members to make donation.  If that's the case, make sure you mention it at the time when you send out the invitation with the instructions of how and when to send you the money in return of their t-shirts.

The setback of this format is that people tend to do it the last minute or totally forget about it.  But if you can think of something to encourage them to do it ASAP.  It is worthy to give it a try.

Here is an incentive idea for you.  For people make the required amount of donation on time, they will get the equal number of raffle tickets.  If you plan on charging $1/raffle ticket.  A family makes a $30 donation on time, they will get 30 raffle tickets automatically. 
Time is essence.  Once your set time is up, no matter what donation anybody makes, no more raffle tickets.  This will pass the message across to them that early birds get the benefits.

Also, let them know that with these raffle tickets, they have a chance to win the door prize in the family reunion.  Of course, it would be nice to mention what the prize is when you ask for donation.  But if you don't have anything detailed planned, still mention about the door prize.

This is just an example.  You can have different incentives for encouraging family members to participate in this project.
Local Business Sponsorship
Advertisements
The family reunion that I mentioned earlier arranged by my sister-in-law had about 100 people altogether.  Many of them own their own businesses.  So, this was how Alice did it.  She asked those business owners to sponsor, $50 here, $100 there. 
Due to the connection of my late brother-in-law, she also took the advantage of approaching other local businesses herself for sponsorship.  Of all the money she collected, she went to my niece who worked in a printing company that she could use an employee discount once a year to make everybody a t-shirt.

In return of the favors for those people who donated the money for the t-shirts, their business or company names would be on the back of shirts.

I understand that not everybody has such a big group of people for donation or sponsorship and someone works in a printing company.  You may not even have the time and energy to approach different local business owners.  However, if you are a person love dealing with different people from different walks of life, you should give it a try.
FREE Labor
Getting advertisements on the t-shirts are great.  But there are also many ways to be involved with the local businesses to get their sponsorship.

Let me ask you a few questions.  This may help you to think outside the box to get your customized family reunion t-shirts for free.

Would you be willing to volunteer to do some work in exchange of the sponsorship?

Here is an example.  It may not be totally family reunion related.  But you may use the similar method to look for your potential sponsors.

One of my relatives loves hunting.  However, finding a good spot to hunt is difficult.  One day, he found an apple orchard which fits perfectly what he was looking for.  So, he went to the owner and talked to him directly.  This is what he offered to the orchard owner, "If I work for you to pick the apples for free in the fall, can I hunt in your ground during hunting season?"  Without thinking, the owner accepted it right away.

It has been 5 years already.  This relative of ours does this every year for this apple orchard.  And he even goes extra mile.  So, occasionally, when our relative brought along one or two companies with him.  The owner has no question asked.

So, will it be something that you are willing to offer your free labor in exchange of something?
Charity Event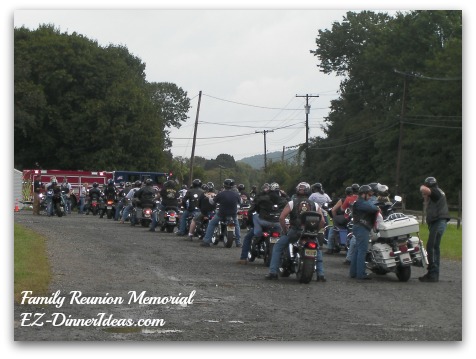 Since my late brother-in-law was killed in the motorcycle accident and he was also in the rescue squad, the parade of the motorcycles and rescue squads was to raise road safety awareness.
Or, can you make your family reunion as a event for a good cause?  For instance, make this event as a memorial for someone special.  Part of the donation or sponsorship goes to the charity organization which is important to this person.

Like the family reunion I mentioned above, a group of motorcyclists had a short parade for my late brother-in-law.  You can simply make it a run or walk for a charity organization by having everyone wearing that t-shirt.

I am sure if you keep your mind open, you may come up more and better ideas.
When do you get your t-shirts printed?
Before deciding what and how many family reunion t-shirts you are going to order, check around which company do you prefer to go first?  There are some that you can send the invite to friends and families through their websites.  This allows each person attending the family reunion to pick their sizes of the t-shirts which will then consolidate into one order that you can get a better price.

The setback is that some people will not do it right away.  Eventually, they forget about putting in their order.  When they get to the event and see no shirt, they will get upset.

So, you either need to let everybody knows upfront that if they don't place the order themselves, there won't be any shirts for them.  Or you go ahead to place the order regardless the sizes.  In other words, you just make your own judgement to order a number of t-shirts for each size.

There are many family reunion ideas about the favor or souvenirs, such as buttons, key chains, magnets and so forth.  In my opinion, I love the family reunion t-shirts mainly because a t-shirt has more room and space where you have more flexibility on design and rooms for you to work on.  Think about to make every t-shirt more special than the printing made by the t-shirt company, you can pass around several  permanent markers to have everybody to sign on the shirts during the events.

But if you have a button, key chain or something similar in that size, can you do that?

Of course, you know your family better than anybody else.  You may find that other family reunion items work better for your family event.
Family Reunion T-Shirts Project Planning Guide
Click to download this family reunion t-shirts planning guide.  This 10-page document provides you step-by-step guidelines and plans how to put the project of family reunion t-shirts together.  That is from figuring out the cost to how to implement the last step of giving out the t-shirts. 
There is also tons of exclusive information  and tips that you can only find in this document.  For limited time only, you can get FREE download now.

Return from Family Reunion T-Shirts page to Family Reunion Planning page

Return to Easy Dinner Ideas Homepage