One Recipe
Two Ways To Make
Frozen Sweet Corn
This frozen sweet corn recipe is always my life-saver.

Sometimes, things happen all of a sudden that I need to change my dinner plan.
This is the perfect and easy side dish to put vegetables on the table in no time.

I know microwave is our best friend at home. But it is always nice to cook and serve something from the stove top instead of the microwave.

So, I put together this recipe with 2 methods. Feel free to pick either one per your preference.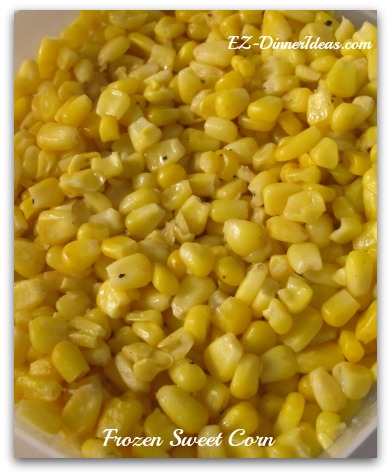 Prep Time: ZERO  Cook Time: 8-12 Minutes  Serving: 4-6
Ingredients
2 1/2 tablespoons Butter (sometimes, I use the combination of half butter and half Extra Virgin Olive Oil)
2 pounds Frozen corn kernels (unthawed)
1/2 teaspoon Salt
1/4 teaspoon Black Pepper

Stove Top

Add butter and corn kernels into a medium sauce pan and cook at high heat for about 10-12 minutes
Stir regularly
Add salt and pepper to taste and serve
Microwave Oven
Add all ingredients and seasonings into a microwave oven safe bowl and cook in the microwave oven at high for 5 minutes
Stir and cook another 3 minutes until the corns are warm through and serve
Kicking Up The Notch
Salt and pepper is a bit boring.  I sometimes add 1/4 to 1/2 teaspoon of Italian Seasoning or Herb de Provence.

Return from Frozen Sweet Corn Recipe page to Easy Side Dish Recipes page

Return to Easy Dinner Ideas Homepage