Best Breaded Chicken
One Recipe In Many Ways
Once you try this best breaded chicken recipe, I guarantee you that you will never order another one or a similar kind from a restaurant any more.  This breaded chicken is so tasty and juicy that you don't need any sauce or gravy.  That's why it's the best.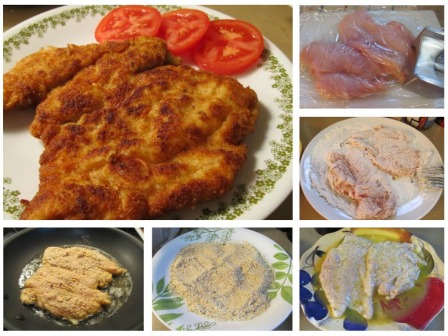 Prep Time: 20 Minutes  Cook Time: 20 Minutes  Serving: 4
Children (adults, too) always love to order chicken fingers or breaded chicken when they dine out.  Have you ever noticed that the flavor is only in the coating, not the chicken.  My 5-year-old always comes and tells me, "Mommy, that's not your chicken.", after I convinced him to take a bite of it.

In my opinion, chicken breast is like a sponge.  Even though you don't marinate the meat ahead of time, it absorbs the flavors fairly quick.

As much as you and I love to cook this breaded chicken in the oven instead of on the stove top with oil in order to keep a lower fat consumption, it will only dry out the meat.

Why?  Because using too high temperature, it will burn the coating of the meat.  The temperature will not be high enough to seal the juice inside.  That's why to achieve making the best breaded chicken, we need to cook it on the stove top.

So, how to make the best and tastiest breaded chicken?  It is all about the layers of flavor you add in each coating.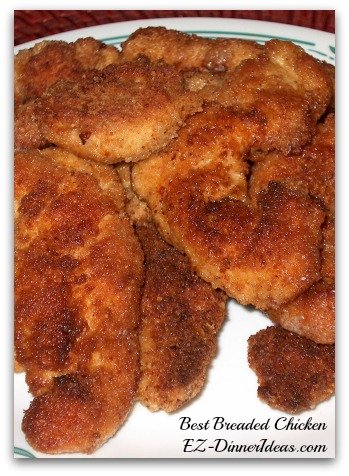 Best Breaded Chicken - apply the same methods and ingredients on chicken tender. It works very well, too.
Best Breaded Chicken Many Ways
You can make this breaded chicken simply by adding salt and pepper for seasoning.  But my little man loves big flavor.  So, I use different seasonings to make the best breaded chicken every time.  Here are some suggestions for you:



Buffalo Wing Rub
Italian Seasonings
Cajun Seasonings
Chicken Fry mix
The combination of equal quantity of grated Parmesan cheese and bread crumb

The options to spice up this chicken recipe is endless.  Keep your mind open and you will realize how versatile it is and how many more breaded chicken dinners you can make.



Chicken Fry Mix
Ingredients

4 (6-8 oz each) Boneless, skinless chicken breasts (butterflied and pounded with tenderizer or a heavy pan)
Plate #1 - 1 cup flour + 1 pinch of salt and pepper
Plate #2 - 2 eggs + 1/4 cup water + 1 pinch of salt
Plate #3 - 1 1/2 cup bread crumb + 1 pinch of salt and pepper + 2 teaspoon seasonings

8 tablespoon Canola Oil (divided between 2 big skillets)
1/4 cup water (divided for adding on the meat before pounding)



Cajun Seasoning
Butterfly the chicken by using a sharp paring knife starting from the thickest part of the chicken breast and carefully slice it into halves
Add about 1 tablespoon water on top of the meat, cover it with plastic wrap before pound out the meat with meat tenderizer or heavy pan
Assemble 3 separate plates of the following: flour, egg wash and bread crumbs
Divide canola oil into 2 big shallow skillets and heat oil at medium heat
Coat chicken on both sides in this order: flour, egg wash and bread crumb
Cook about 3-5 minutes each side (another way to ensure the meat is thoroughly cooked through is using a fork.  If it can poke right through the meat easily without even slight resistance, that means it is done.)
Transfer to a serving plate and cover with aluminum foil or keep the meat warm in 250F oven
Continue to cook the rest of the chicken (lower the heat if necessary for the second batch) and serve immediately

Recipe Ingredients and Tools

---
Serve This With: 

| | |
| --- | --- |
| Any salad | Sliced tomatoes or cucumber |
---
Return from Best Breaded Chicken Recipe page to Chicken Recipes page

Return to Easy Dinner Ideas Homepage