Lorenzo's Chicken Milanese Recipe
Why Waste Your Money Dining Out? 
Enjoy Restaurant Grade Recipe At Home. 
This chicken Milanese recipe is super easy and tasty that you can serve it at home as good as in a restaurant.  It is perfect for date night dinner.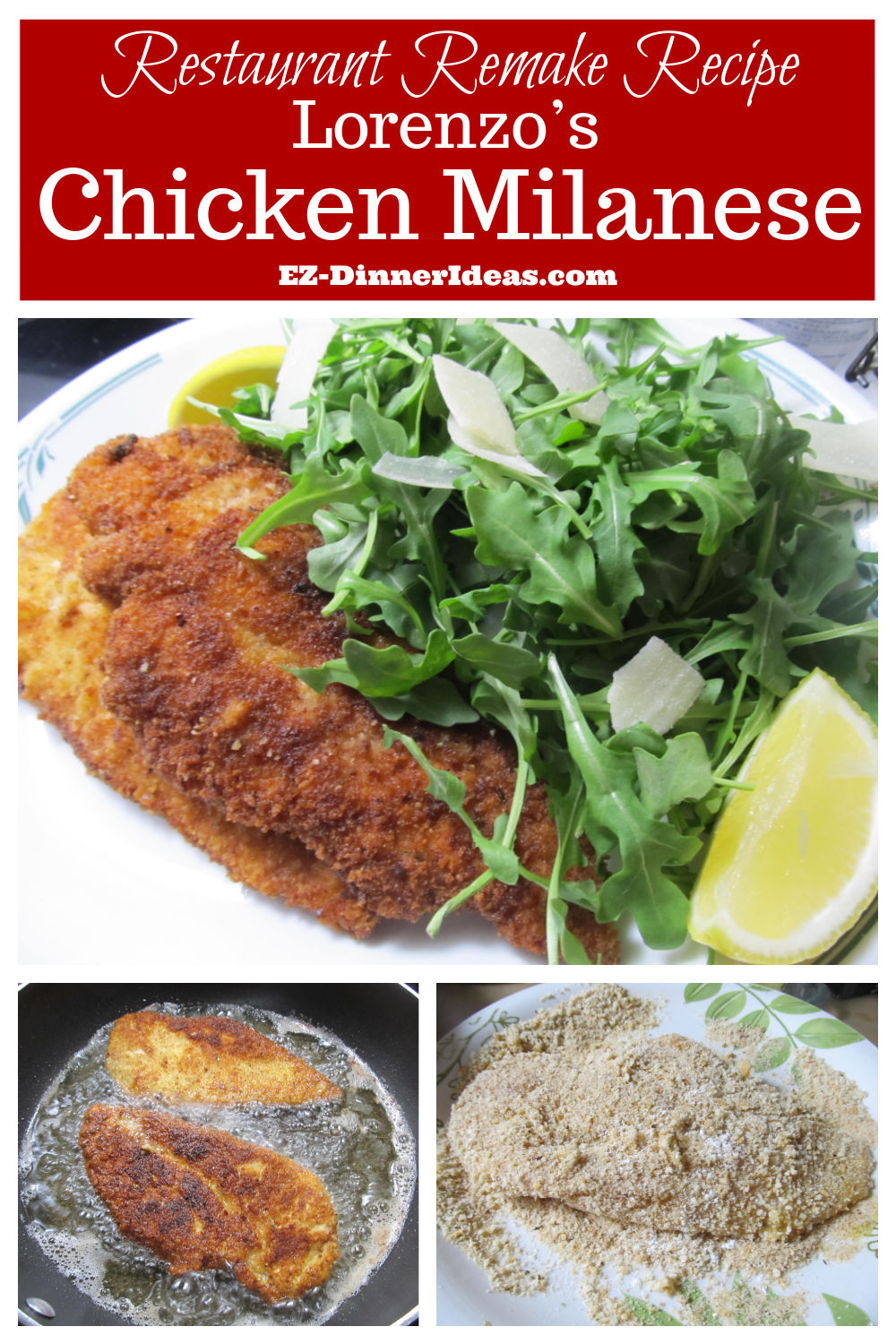 Total Time: 48 Minutes - 54 Minutes
Prep Time: 30 Minutes  
Active Cook Time: 18-24 Minutes  
Serving: 3-4


This chicken recipe was inspired by one of our first pandemic dine-out experiences.  I even named it after this restaurant, Lorenzo's Southside.  We were celebrating my US citizenship and my son's mid-term exam.  I must say that the fancy name always gets my curiosity up.  So, I thought I would give this a try and see how that goes.  The first bite was so awesome that I finished everything in no time.  Looking deeper while I was enjoying it, I realized that it was easily replicate it at home.  Lucky me, first trial and I nailed it.

CHEF NOTES
There was a small side of pasta mixed with creamy pesto sauce served along with this chicken Milanese recipe in the restaurant.  I truly believe that the serving of this dish is more than enough.  So, I skipped it here.  If you have a big family to serve, do feel free to add a side of pasta.  If so, I highly recommend that you start to work on the pasta first.  You may need to switch it back and forth between your pasta and chicken once all the cooking started.  It could be overwhelming at a time.  

If you choose to serve a pasta side, I highly recommend something easy or light, such as One-Pot Pantry Cream Of Mushroom Pasta or Spring Mix Tomato Pasta Salad.  It can also be as simple as a drizzle of some olive oil and herbs. For more pasta recipe ideas, click here.

I found that making 2 servings for this chicken recipe is the perfect amount of time and effort.  Sure, you can make a bigger size of this dish.  The downside of it is that some chicken cutlets will be cooked first and you need to keep them warm in the oven.  By the time dinner is ready, they may not as crispy as they first came out of the skillet.  However, cooking a dinner of 3-4 is still doable.  This easy chicken Milanese recipe will show you every step for preparing it to make 3-4 servings.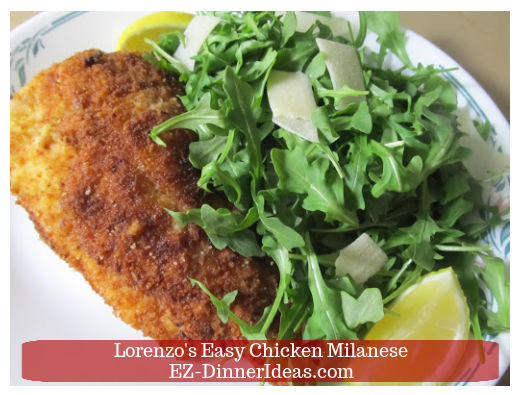 Every breading layer is seasoned with salt and pepper. It makes a HUGE difference to great chicken dinner to an awesome one.
---

Recipe Ingredients and Tools

---
Chicken Milanese Recipe and Instructions

Ingredients
3-4 (about 8oz / 227g each) Skinless Boneless Chicken Breasts (cut into halves crosswise to make chicken cutlets)
1 box (5oz / 142g) Pre-Washed Arugula
2 Small Lemon (cut into wedges)
Freshly Shaved Parmesan or Parmigiano-Reggiano cheese (about 1/2 cup; divided)
Canola Oil

Breading Ingredients
Seasoned Flour: 1 cup (7oz / 202g) All Purpose Flour + Salt and Pepper
Egg Wash: 2 Eggs + 2 tbsp Water + Salt and Pepper
Seasoned Bread Crumb: 2 cups Plain Bread Crumbs + 1 tsp Italian Seasonings + Salt and Pepper

Pound chicken cutlets between 2 sheets of plastic wrap with meat tenderizer until about 1/4" (.6cm) thick (it should be very thin)
Line a baking sheet with foil, cover with paper towel and top it off with a rack; transfer it into a 300F (149C) oven (Skip this step if you only cook for 2 servings.)
Preheat a big skillet or frying pan with 1/4" (.6cm) deep of canola oil at medium high heat
Line up the assembly line on your kitchen counter next to the stove top in this order: seasoned flour (the most further away from the stove), egg wash and seasoned bread crumb
Dip and drop - Coat both sides of each chicken cutlet with flour, egg wash and then bread crumb and transfer into frying pan.  It should be sizzling.  If not, turn up the heat.  Repeat this step with the rest of the meat.  It may need to separate into a few batches to cook all the chicken.  (It should be very quick.  As soon as you drop your second cutlet into the pan, it is ready to turn the first one over.)  Cook about 3-4 minutes each side.  As soon as the first two chicken cutlets turn golden brown in color, transfer into the oven on top of the rack that you prepared earlier.  Continue to cook the rest of the chicken.
To assemble the dish, transfer 1-2 chicken cutlets onto a serving plate, with a big handful of arugula, top with shaved Parmesan or Parmigiano-Reggiano cheese and 2 wedges of lemon and enjoy!
Chicken Milanese Recipe Steps with Photos
Line a baking sheet with aluminum foil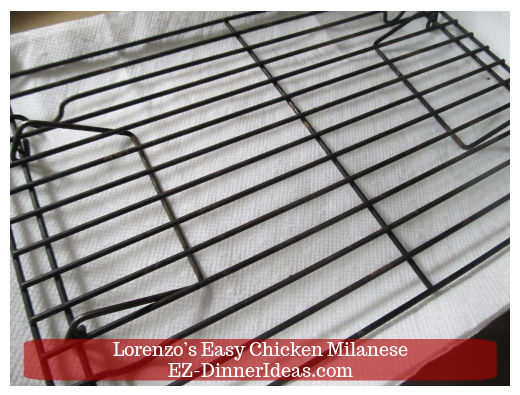 Top it with paper towel and then a wire rack. Transfer to a preheated oven. You will transfer chicken here to keep it warm while you cook the rest.
Cut chicken breasts crosswise to make cutlets.
Put chicken cutlets under a plastic wrap
Pound chicken cutlets very thin with a meat tenderizer.
Season the flour.
Season egg wash.
Beat to combine.
Season bread crumb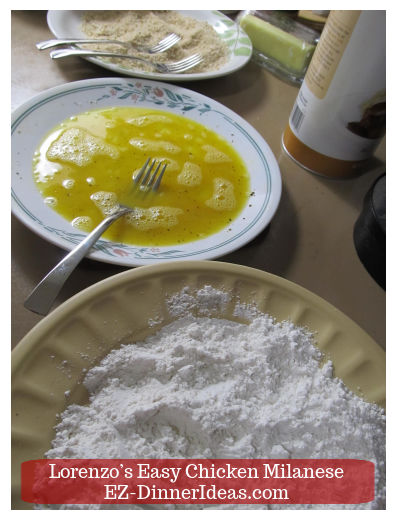 Here is your breading assembly line.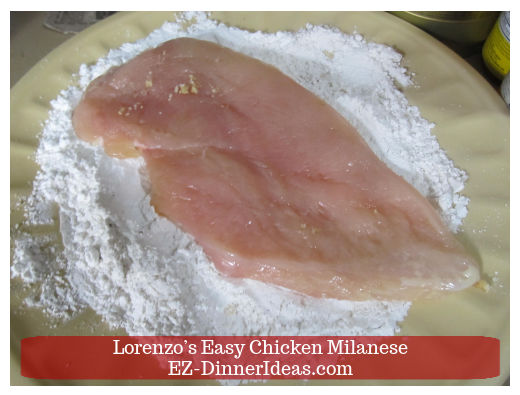 Coat chicken with seasoned flour.
Transfer chicken to egg wash and coat.
Coat chicken with bread crumb the last.
Transfer breaded chicken into frying pan.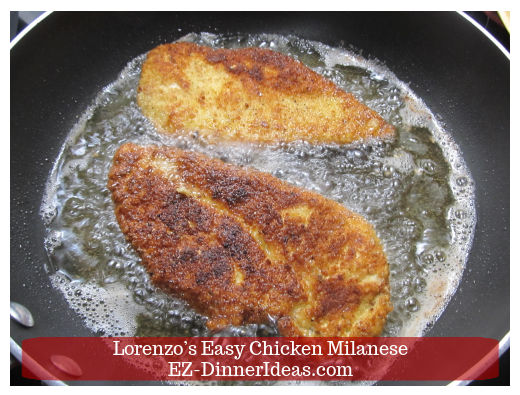 Cook chicken 3-4 minutes each side.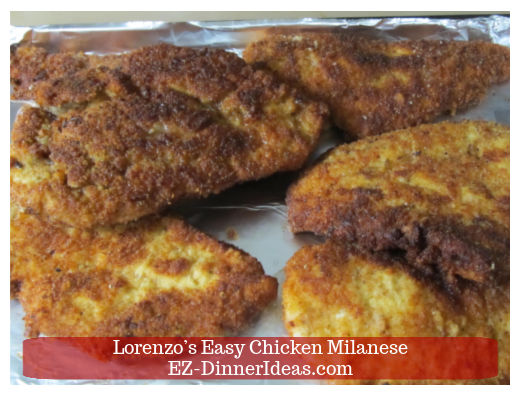 Transfer chicken into oven to keep warm while you finish cooking the rest of the meat.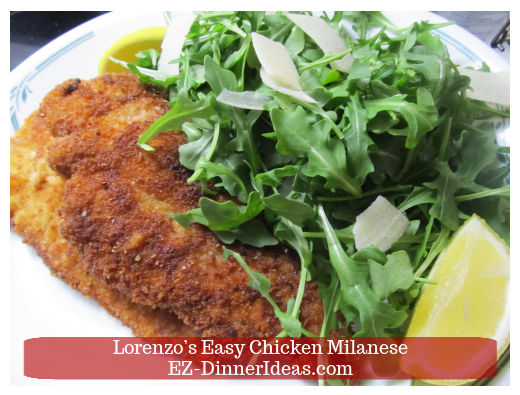 Add pre-washed arugula, shaved Parmesean cheese and a couple wedges of lemon on top of chicken cutlets.
Some freshly squeezed lemon juice with cheese and arugula. ENJOY!
---
Serve This With: 

---

You May Also Be Interested In:

---
Home > Chicken Recipes > Chicken Milanese Recipe