KFC Fried Chicken Recipe

Homemade KFC Chicken
Now You Can Make This Famous Recipe for A Super Low Price for A Crowd At Home
KFC fried chicken recipe uses the revealed "secrets" of the famous KFC restaurant chicken to make a big batch at home with a super low price.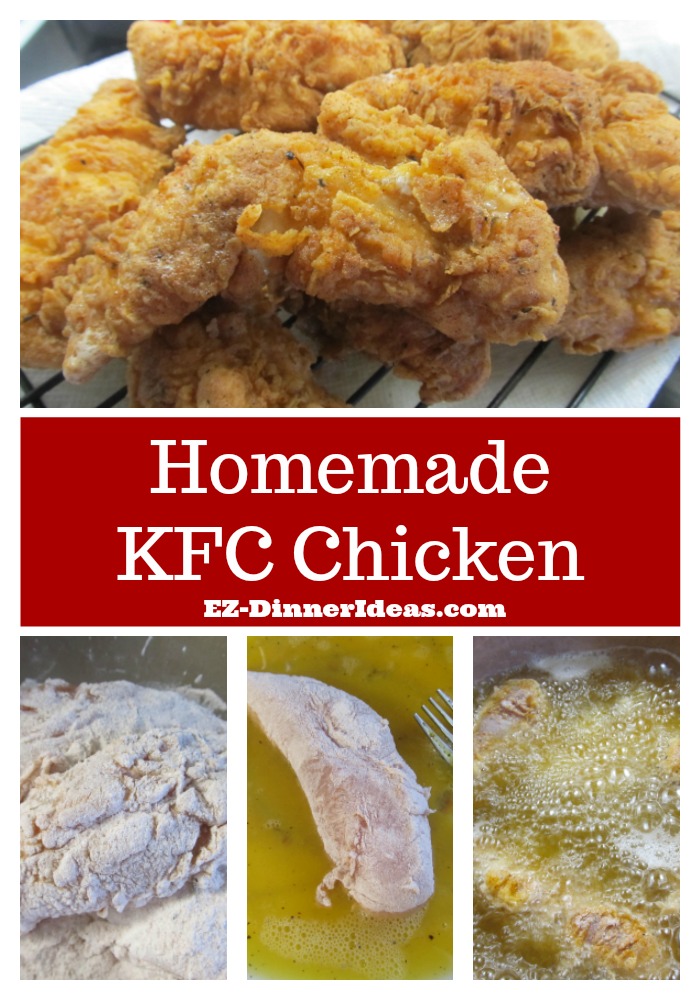 Total Time: 60 Minutes
Prep Time: 20 Minutes  
Active Cook Time: 40 Minutes  
Serving: 4-6


I still remember that day (Sep 1, 2016) that I was working from home and getting ready to go online to start working.  Before getting any further, my web browser automatically brought me to one of the main search engines. 
First thing I saw a news article interviewing Dr. Colonel's nephew and he revealed the secret recipe.  Right away, I used my cell phone to take a picture and showed it to my husband and asked him, "I saw this KFC chicken recipe.  Will you be interested to try it for tonight's dinner?"

In our house, I have 2 extremists.  My hubby is not a poultry person.  He eats chicken once in a while and always says NO to turkey and other poultry.  My son loves chicken and ducks.  As long as I have enough seasonings on the meat, he eats it any day at any time.

With that said, I went to get chicken for that night's dinner.  Cooking breaded chicken countless time in the past, this shouldn't be that difficult, right? 
Well, not thinking of the flour will add a lot of volume on the chicken, I cooked as much as I always do.  My husband ended up cooking together with me in the kitchen.  The funny part was....as soon as the chicken came out from the hot oil, he started cutting up the chicken into bite size pieces and handed everybody a piece and started eating away.  Before the chicken was all cooked and dinner was ready, all of us were half way full already.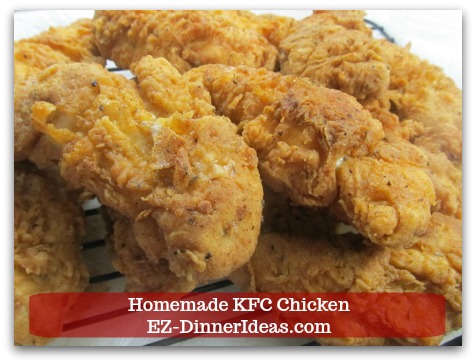 Difference Between this Homemade Version KFC Fried Chicken Recipe and the One from the Restaurant

The great thing about this homemade KFC fried chicken recipe is that it is much cheaper than buying it from the restaurant.  It tastes almost identical to the real one.

Since the restaurant cooks a big batch each time, some chicken would be left on top of the warm plate for quite a while.  As a result, the meat tends to be drier.  You won't experience this at home.  I made this homemade KFC chicken so many times and served in our bi-weekly family dinner once.  Everybody's comment was, "Wow, this chicken is so moist."

The best part I love is that I enjoy the time when my hubby even comes into the kitchen to help me out and we have the quality time together.  I can't wait when my little one is old enough to stand next to me and cook it together with us.

Or even better....they can handle everything and I just watch and wait for dinner to be served.  Hmmm....I am not 100% sure about that.  I do love to cook though.  Anyway, I highly recommend you to have your family coming into the kitchen to give you a hand.
CHEF NOTES

Once you set the heat right, leave it alone.  It will cook every batch of your chicken perfectly.

In the middle of cooking it, you may realize that your oil is running low.  If that's the case, you need to add more.  How much?  Try 1 cup at a time.  Then, allows some time for the oil to heat up again.  Use the wooden spoon to test it.  How?  Turn the wooden spoon upside down and use the handle to dip into the oil.  If there are little bubbles coming up around the handle in a steady stream, the oil is ready.  That's the Chinese trick.

Also, at the same time, you may see your egg wash is running low.  No worries.  Add another egg with 1tbsp of water, a pinch of each for salt and pepper into the same bowl that you have been using for the egg wash in this KFC fried chicken recipe.  (It doesn't make sense to have another new bowl and more dishes to do, right?)



What Side Dish Should You Pair with This KFC Fried Chicken Recipe?

After several times serving this KFC fried chicken recipe, I realized that you will keep eating it until you are so full and ready to pop.  It happens to both of my picky eaters at home.  The flour is very filling.  The taste is so good that it is hard to stop eating.  Basically, this homemade KFC fried chicken recipe is absolutely irresistible.

So, should you pair this chicken dish with the typical mashed potatoes with gravy and/or biscuit?  You may love that idea.  Just like how it is served in the KFC restaurants, right?  If you prefer to pair the fried chicken with one of these side dishes, or both of them together, please feel free to do so. 

You can also serve coleslaw on the side which is good having some veggies.   In my opinion, I will pick a salad with a big jug of ice tea on the side to wash it down.  I recommend Savoy Cabbage Salad with Ginger Vinaigrette.
The side dish part is really up to you.  There is no right or wrong way.
---
KFC Fried Chicken Recipe and Directions

Ingredients
(The following was posted and shared on the internet and news article)
2 cups White Flour (or all-purpose Flour)
2/3 tsp Salt
1/2 tsp Thyme
1/2 tsp Basil
1/3 tsp Oregano
1 tsp Celery Salt
1 tsp Black Pepper
1 tsp Dried Mustard
4 tsp Paprika
2 tsp Garlic Salt
1 tsp Ground Ginger
3 tsp White Pepper
(This mixture is good for about 3.5 lb of chicken or 4 huge boneless skinless chicken breasts cut into long stripes for double dipping, i.e. flour, egg wash, flour)
(The following was NOT posted or shared on the internet and news article)
2-2.5lbs Chicken breasts (cut into long stripes and this quantity can feed 4 people.  Chicken tender is a great alternative.)
2 eggs (beaten) + 2 tbsp water + salt and pepper (good for dipping 2.5lbs max.; you may need another egg later.  The rule of thumb is an egg with 1tbsp water and a pinch of salt and pepper to make egg wash)
2-3 cups Canola oil
1/4 cup Water (divided)

Directions
Preheat oven at 300F which will be used to keep the chicken warm because you need to cook in several batches.
Line a baking sheet with aluminum foil (for easy clean-up later), then top it with paper towel to catch all the extra grease dripping and, finally, put a cookie or turkey rack on top.
In a big bowl, combine all the KFC secret recipe ingredients together.
Add 1-2 tbsp water on a chicken breast; cover with plastic wrap. (This helps chicken to absorb additional moisture while it is pounded by a meat tenderizer.  Plastic wrap helps the meat to stretch out and prevent "chicken water" splattering everywhere in the kitchen.)
Pound the chicken with meat tenderizer or the bottom of a pan and cut into stripes about 1" wide.
Repeat the last 2 steps with every piece of chicken.
Toss to coat all meat in the flour mixture.
In a separate bowl, whisk 2 eggs, 2tbsp water and a pinch of salt and pepper.
Transfer flour coated chicken into the egg wash one by one.
Transfer the chicken back into the flour mixture.
(In summary, coat the chicken with flour mixture, egg wash and then flour mixture again)
Preheat 2-3 cups high temperature oil in a Dutch oven which should be about 1" deep max.
Use the back of a wooden spoon (straight up) to put it in the middle of the Dutch oven.
If you see a slow stream of small bubbles coming from the bottom, the oil is ready for cooking.
Put chicken piece by piece into the hot oil with tongs. (Be careful to put the meat in with ease.  Don't just drop it into the hot oil.  It is very dangerous and you can get burn.)
Make sure there is room between each piece and not to overcrowd the Dutch oven.
About 5-8 minutes for the first side.  When it is golden, turn it to the other side and cook for another 2-3 minutes.
To find out if the chicken is cooked thoroughly, use a fork to poke it.  If the fork can slide easily right into the meat, it is good to go.  If there is still some resistance, cook another 1-2 minutes more.
Transfer the chicken to the foil and paper-towel lined baking sheet and sprinkle with more salt.  Then, keep it warm in the oven.
Repeat the above steps until all chicken is cooked and served immediately.
---

KFC Fried Chicken Recipe Steps with Photos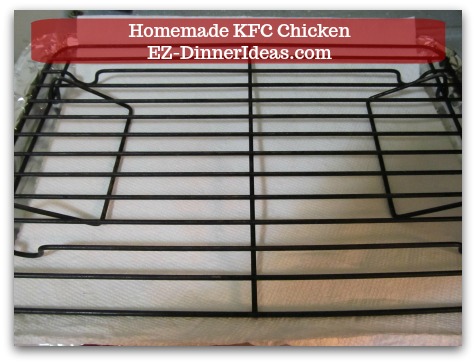 Line a baking sheet with aluminum foil, paper towel and cookie/turkey rack on top. Transfer to 300F oven.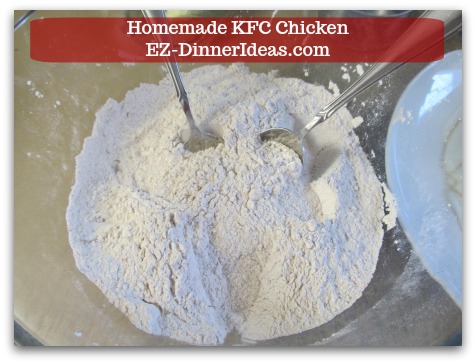 Combine seasoning with flour. You will need this for double dipping.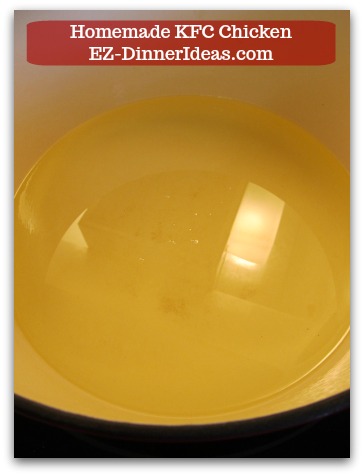 Use cast iron Dutch oven to make this Homemade KFC chicken recipe for your safety. The oil should be 1" deep max.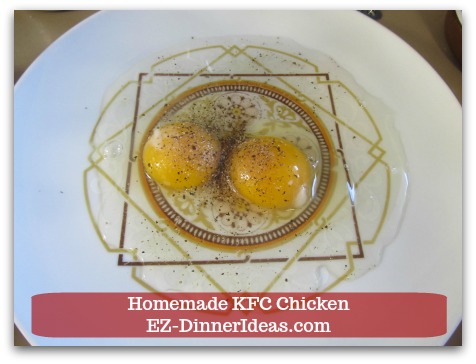 Combine 2 eggs, water, salt and pepper to make egg wash.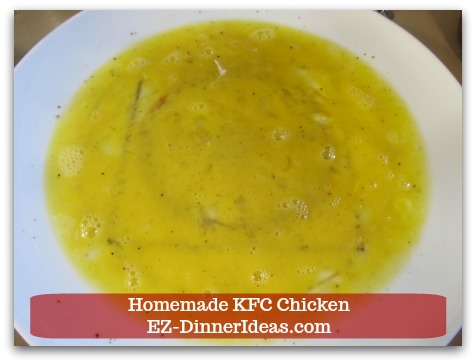 Whisk to combine.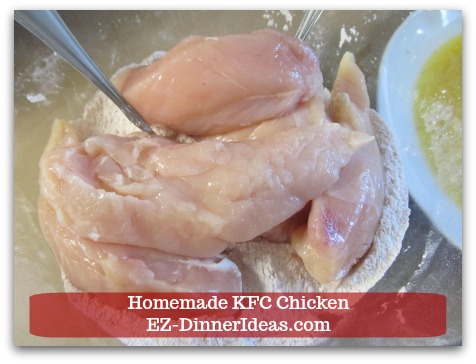 Add chicken pieces into flour mixture.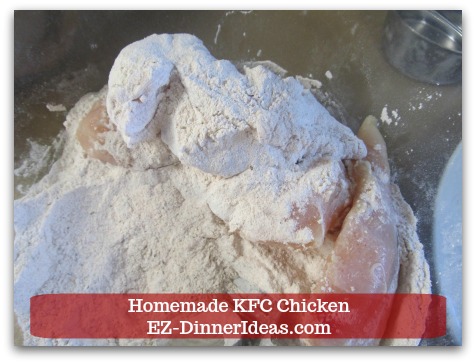 Toss to coat for the 1st coating.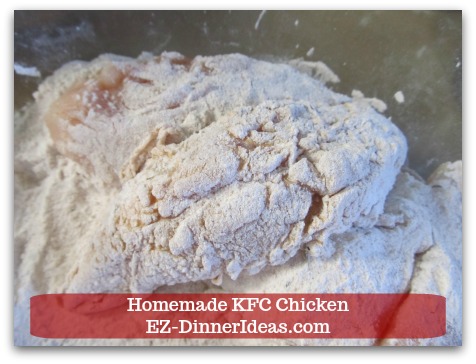 Shake off the excess flour.
Deep fry chicken in the pot of preheated oil until thoroughly cooked through.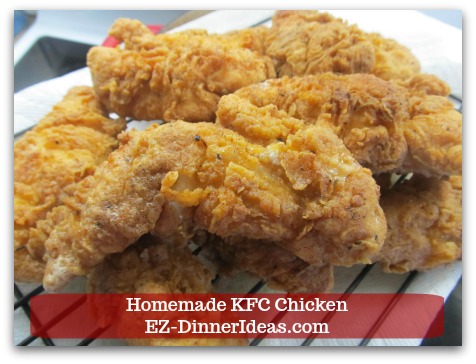 Transfer cooked chicken on the prepared baking sheet in the oven and continue to cook the rest of the chicken. ENJOY!
---

Recipe Ingredients and Tools

---
Serve This With: 

---

You May Also Be Interested In:

---
Home > Restaurant Remake Recipes > KFC Fried Chicken Recipe | Homemade KFC Chicken