Chinese Mushroom Chicken Soup
Traditional Chinese Mushroom Chicken Soup

An Improved Version for Keto Low Carb Diet or A Great One-Pot Family Meal

Chinese mushroom chicken soup is super easy, tasty and healthy.  A 2-ingredient one-pot dinner can serve along with some noodles on the side.  Cooking from scratch is that easy and versatile.


Total Time: 2 Hours 5 Minutes
Prep Time: ZERO  
Active Cook Time: 15 Minutes  
Inactive Cook Time: 1 Hour 50 Minutes  
Serving: 6


I love mushrooms very much.  I eat all kinds of mushrooms.  Little did I know until I developed this recipe that mushrooms are low carb.  So, it automatically makes this a perfect Keto low carb recipe.

When I was younger, I remember someone told me that shiitake mushrooms are great for lowering blood pressure.  The recipe in my memory is that 4 cups of water soaking around 1-1.5 cups of dried shiitake mushrooms.  Once they are rehydrated, bring everything to a boil.  No salt added into the mixture.  Consume everything on a daily basis which will cure high blood pressure.  I had never tried that before.  But eventually, I will.

Traditionally, Chinese would put in a whole chicken or chicken feet and cook until the meat fall off the bones.  The goal is to get as much bone marrow melted and incorporated into the soup as possible.  Depending on people's preference, some would discard the meat.  The others would dip the "sandpaper-liked" chicken meat into soy sauce and consume it, like my mom and sisters always do.

But this Chinese mushroom chicken soup recipe is a much improved version.  The chicken will be perfectly cooked that the meat is easily shredded and still juicy to enjoy.

What's Shiitake Mushroom?

Chinese call Shiitake mushroom as "winter mushroom" because it is harvested during winter.  

Dry shiitake mushroom has literally forever shelf life.  If you open a package, store it in a fridge.  As long as it is dry, it will be good.

In Hong Kong, , my hometown, the weather is very humid.  My paternal grandmother used to lay out the dry shiitake mushrooms and other dehydrated seafood products under the sun once a month to keep them dry.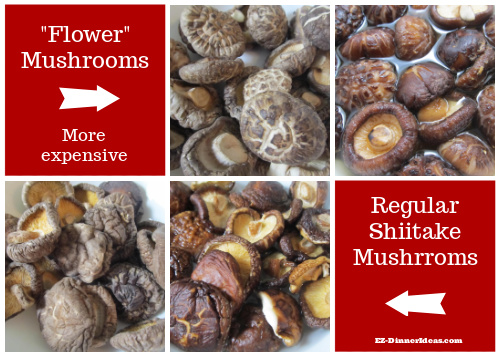 Best Shiitake Mushroom In the Eye of Chinese

From the Chinese's perspective, the best kind of Shiitake mushroom is called "flower mushroom".  What it refers to is the pattern of a dry mushroom.  The bigger the mushroom, the better.  And the more splits on top of a dry mushroom, the better it is, too.  A lot of time, these 2 factors determine the market price of dry Shiitake mushrooms.

However, for this specific Chinese mushroom chicken soup recipe, use whatever is available and most affordable.

Also, the bigger the mushroom, the bigger its stem.  Most of the time, the stem is very tough.  It is best to snap it off while the mushroom is still dry.  Save all the stems to make broth later which is super tasty and fragrant.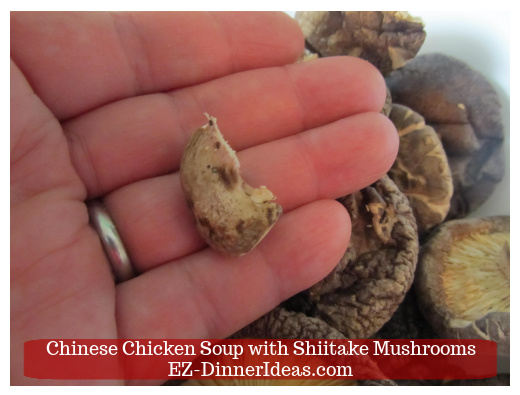 Save the mushroom stems for making broth later.

CHEF NOTES
Use Cold Water to Soak Dry Mushrooms

Many chefs would tell you to use hot boiling water to soak mushrooms.  Chinese have been using cold water for many years.  My mom taught me using this same method since I started cooking at the age of 11.  I still stand my ground to use cold water.  Here is the reason why.  

Think about any food is in the contact of heat, it means that the cooking process starts.  So, if you use hot water to soak the dry mushrooms, it starts cooking  as soon as the hot water touches them.  If you need to fasten the process for a quick recipe, hot water may be an option. 

But with this Chinese mushroom chicken soup, there will be an hour before the mushrooms going into the soup.  In fact, they should only start cooking when the mushrooms are in the hot soup.  So, stick with the cold water.


Difference between Split Chicken Breast and Bone-in Skin-on Chicken Breasts

The major difference between these 2 cuts of meat is the bone you are going to get.  There are more bones from split chicken breasts.  Most of the time, the stores don't clean it good.  So, you need to do the work before cooking it.

In my opinion, split chicken breasts are perfect for cooking soup.  Bone-in skin-on chicken breasts would work better for roasting.


More Tips

In my opinion, the Shiitake mushrooms are the stars of this soup recipe.  Therefore, I skip ginger.  But do feel free to add a couple slices of fresh ginger into the soup.

To make it carb friendly for your family, cook any kind of noodles on the side.  I love flat rice noodles to pair with this Chinese mushroom chicken soup recipe.  Let everybody to assemble the noodle bowl by themselves per their preference.

You can replace Shirataki noodles to make it completely Keto low carb friendly, especially if you are on this type of diet.  Click here and learn how to prepare Shirataki noodles.
---

Recipe Ingredients and Tools

---

Traditional Chinese Mushroom Chicken Soup Recipe and Instructions

Ingredients
4.5 lbs Split Chicken Breasts (skin-on and bone-in)
2 oz Dry Shiitake Mushrooms
11 cups Water (divided)
Salt and pepper to taste
2 Scallion (optional; chopped)
1-2 slices of Fresh Ginger (optional)
Preheat a big soup pot at high heat.
Salt and pepper chicken and skin side down into the soup pot and brown for about 4-5 minutes.
Salt and pepper chicken on the other side and turn over to brown 3-4 minutes.
Add 8 cups of water into the pot and bring it to a boil.  (You can add ginger at this time.)
Turn down to low boil and cover; cook about 1.5 hours until chicken is cooked through.
While waiting for soup being cooked,  transfer dry mushrooms into a big mixing bowl and rinse it real quick to get rid of the grits.
Soak mushrooms in 3 cups of cold water.
(Cooking soup 1.5 hours later) Transfer chicken to a plate, use folk to shred meat and discard both skin and bones.  Add shredded meat back into the soup together with the hydrated mushrooms.  Carefully pour in the mushroom water.  The last bit of it most likely will have a lot of grit deposit,  discard.  Cook at low boil for another 20 minutes.

Adjust seasonings (no more pepper) and garnish with scallions (optional) and serve immediately.



Traditional Chinese Mushroom Chicken Soup Steps with Photos
2 ingredients for low carb/Keto version; 3 for a noodle bowl. Pretty versatile, huh?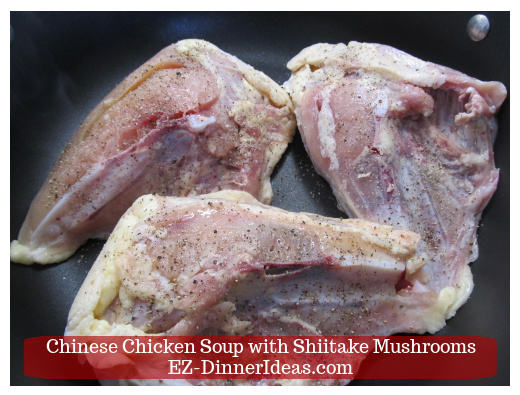 Brown seasoned chicken skin side down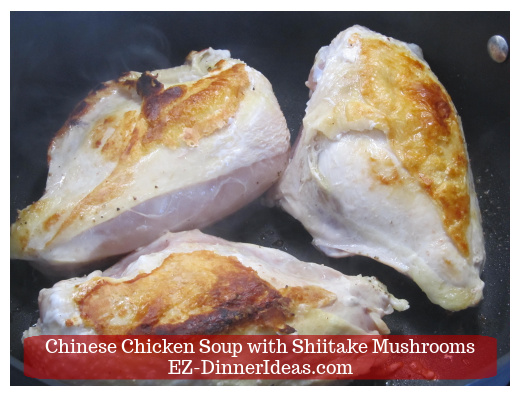 Turn chicken over and brown the other side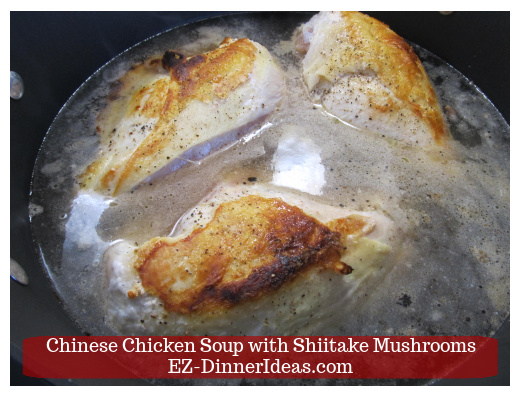 Add water into the soup pot with browned chicken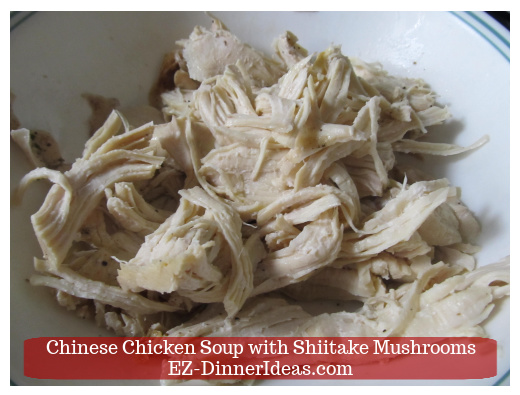 Shred chicken meat after cooking 1.5 hours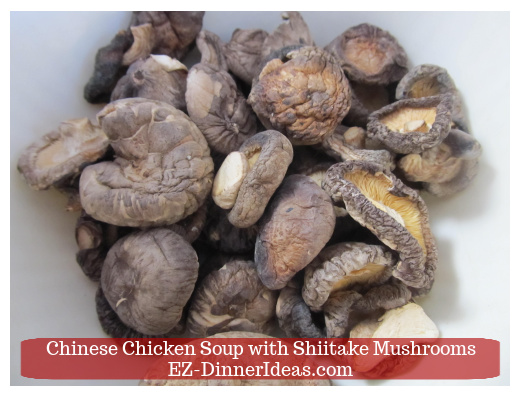 While waiting, prepare Shiitake mushrooms
Soak mushrooms in water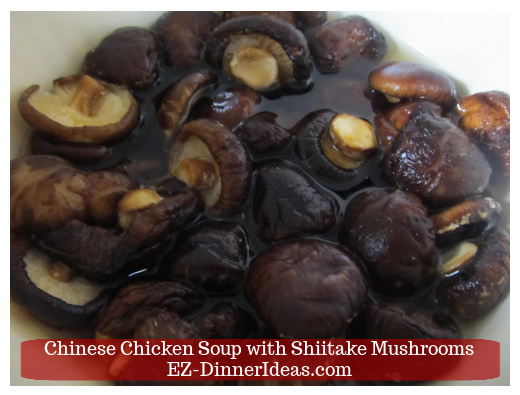 Mushrooms re-hydrated after an hour
Add shredded chicken meat and mushrooms into soup
Also add the mushroom water which has a lot of flavor and fragrance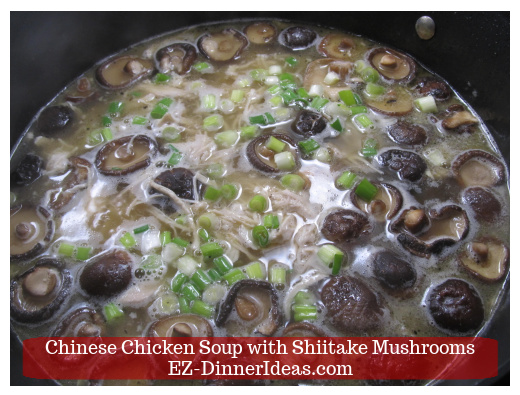 Garnish soup with scallion and enjoy immediately! OR...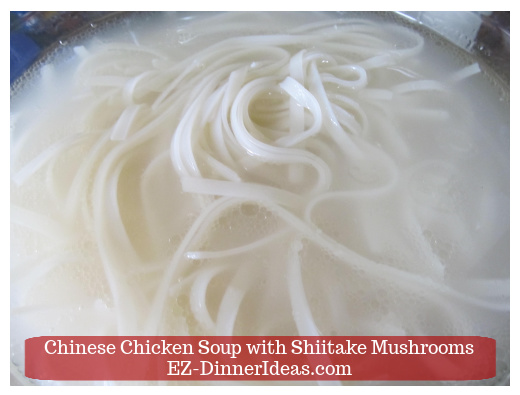 Serve rice flat noodles on the side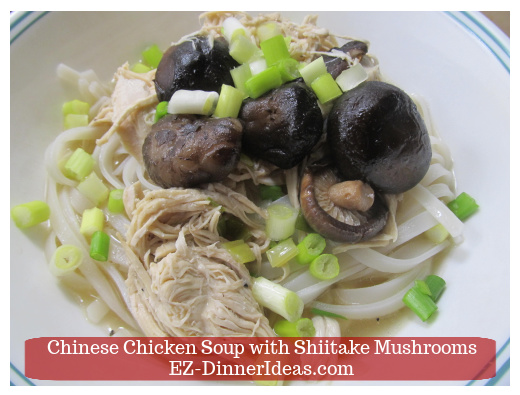 Make it a noodle bowl. Perfect comfort food for a cold and/or rainy night.
---
Serve This With: 

---

You May Also Be Interested In:

---
Home > Asian Recipes > Traditional Chinese Mushroom Chicken Soup with Shiitake Mushrooms