Coconut Croissants
Great Kids Recipe
For Any Family Meal
Or Bake Sale
This coconut croissants recipe is a great kid recipe.  For younger children, it may need to be under adult supervision.  

(Remember: any activity in the kitchen could cause any danger or harm.  Safety is the first priority.)

For older children from around 7 or above, they can literally make this easy breakfast recipe all by themselves.

This is also a wonderful recipe for bake sale.  The best is to do it the night before.  Otherwise, the pastry will dry out.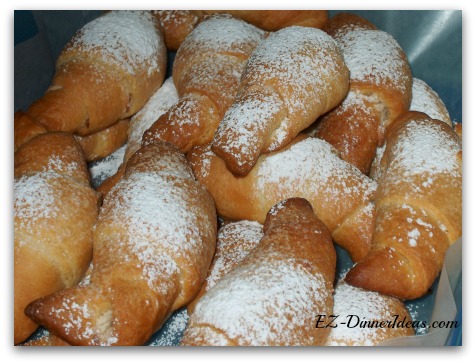 Prep Time: 5-10 Minutes   Cook Time: 11-13 Minutes   Serving: 4-8

With the sweetened coconut flakes and powder sugar, it just gives a touch of sweetness to the pastry.

Kids, this is a great way to show the love and care to your mom and dad.  Serve this for brunch on Mother's Day, Father's Day, their birthdays or any day to make mom or dad feels special.  I am sure they will be very proud of you. 
Take a picture and share with me if you make this croissants recipe or post it directly on my Facebook page.  And be proud of yourself.
Ingredients
1 Roll Store-Bought Croissant Dough
3/4 – 1 Cup (6-8oz / 177-237g) Sweetened Coconut Flakes
1 teaspoon Powder Sugar
Preheat the oven at 375F (191C) or as package direction
Unroll the dough and separate the triangles
Put about 1 tablespoon coconut flakes on top
Roll the dough towards the tip
Repeat the last 3 steps until all dough rolled
Bake at the oven for 11-13 minutes or until golden brown
Sprinkle the powder sugar on top through the sifter and serve
TIPS
Best served them warm
Can be served as breakfast or dessert
Can be doubled
Sweetened coconut flakes are available at the candy or bakery aisle.

You May Also Be Interested In:

Baking Recipes (Coming soon)
Breakfast Recipes

Dessert Recipes (Coming soon)

Vegetarian Recipes

Return from Coconut Croissants Recipe page to Kids Recipes page

Return to Easy Dinner Ideas Homepage