Easy Breakfast Idea
Turkey Cheese Wraps
On-the-Go Breakfast
A BIG Money Saver

This easy breakfast idea is super simple that even kids can make them.  It is great for on-the-go breakfast and snacks.  These turkey cheese wraps are crowd pleaser, too.  So, serve them in a breakfast meeting is a no-brainer.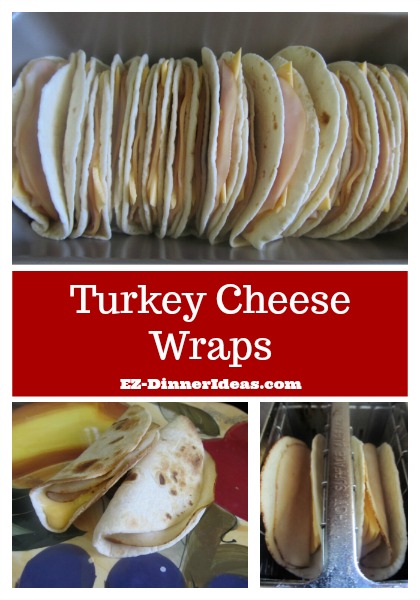 Total Time: 4-27 Minutes
Prep Time: 1-12 Minutes  
Inactive Cook Time: 3-15 Minutes  
Serving: 1-20


Some call them flatbread.  Some call them wraps.  Doesn't matter how you call it, you can make single serving or multiple servings to feed up to 20 people. 
The first time I served these wraps was during coffee hour at church after service.  You would not believe how much kids loved them.  Here I will show you how to make single serving with your toaster for a quick on-the-go breakfast before heading out the door in the morning.  You can also make it as a after school snack.

I will also show you how to make multiple servings to feed a big crowd.  And it only takes you less than 15 minutes to put them together.  Yes, that short period of time to feed 20 people.  Amazing, huh?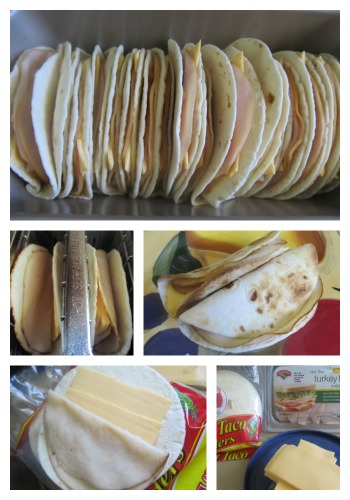 CHEF NOTES
This recipe is very versatile.  You can use any kind of deli meat.  If you just want the cheese, please feel free to do so.

Easy Breakfast Idea Recipe and Instructions

Ingredients
1 pack Flour Taco Sliders (20 slices)
1 pack of Pre-sliced Cheese/10 slices (any kind of cheese of your preference; fold them into halves to make 20 half slices.)
1 pack Pre-sliced Deli Meat/20 Slices (I use turkey here.  As mentioned earlier, you can use any deli meat of your preference.)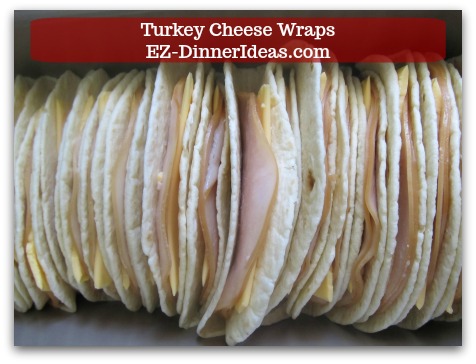 For Multiple Servings

Put a halved cheese slice, a slice of deli meat on a piece of taco slider and fold it into halves.  Put it into a loaf pan.
Repeat the last step until all wraps are assembled.
Cover with aluminum foil and chill in the fridge for the next day.
Leave wraps, still covered with foil, on the counter at room temperature for about an hour (This step is optional.  If it is at room temperature, it is easier to get the wraps warm up in the oven.)
Preheat oven at 350F (177C) and transfer the loaf pan of turkey cheese wraps, still under foil cover, into the oven.  Turn oven off and let the heat slowly warm it up for 10-15 minutes.  Once the pan is out of the oven, the cheese will stay melty for another hour or so even if they are at room temperature.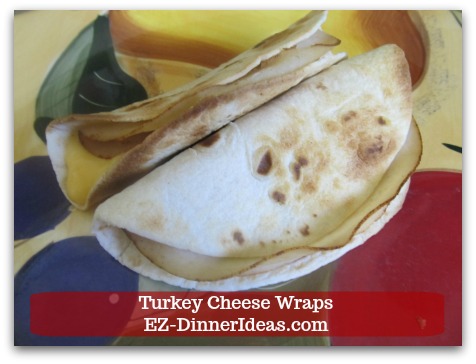 For Single Serving

Put a halved cheese slice, a slice of deli meat on a piece of taco slider and fold it into halves. (Be sure that the cheese is fully covered under the taco slider, not a littler corner sticking out.  This will save you from a lot of cleanup later.)
Fold it into halves.
Transfer it into the insert of a toaster.
Toast it at the lowest heat setting until warm through.
Easy Breakfast Idea Steps with Photos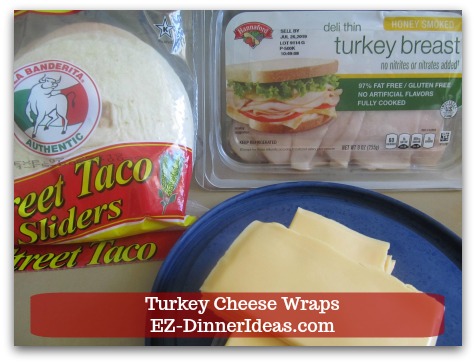 Three ingredients: Taco Sliders, Pre-sliced Cheese and Pre-sliced Turkey.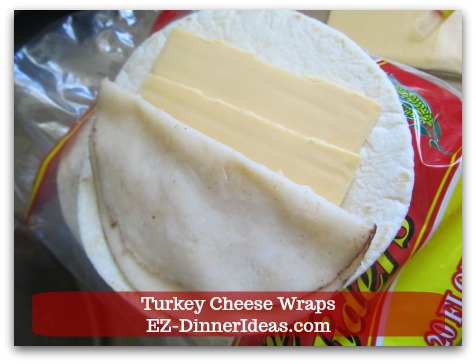 Add turkey and cheese on a piece of taco slider and fold it into halves.
Warm wraps in a toaster with the lowest heat setting.
The wraps are crispy on the outside; gooey on the inside.
Watch out! Don't let the gooey cheese go to waste.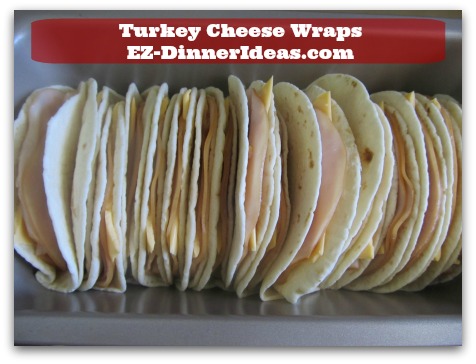 Instead of using a toaster, put all wraps into a loaf pan and warm them all up in the oven.
---

Recipe Ingredients and Tools

---
Serve This With: 

---

You May Also Be Interested In:

---
Home > Breakfast Recipes > Easy Breakfast Idea | Turkey Cheese Wraps