Family Reunion Activities
Achieving Your Ultimate Goal
Make Everybody To Know More Each Other
Should you plan some family reunion activities for the event?  What is the difference between activities and games?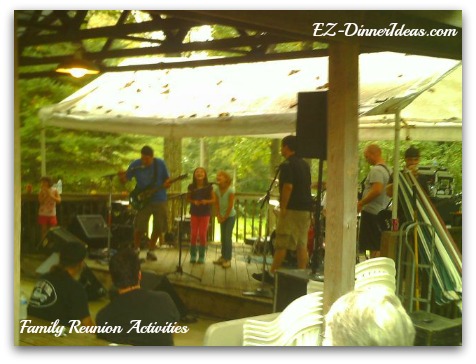 Family Reunion Activities - Local band performance with the youngest generation in the family to sing along
Differences of Family Reunion Activities From Games

Here is how I would define activities.  These activities will not involve people to compete with each other or jump up and down.  They are things that most people in the event would do together in a relatively peaceful atmosphere.
I know you are going to ask me, "What is the big deal?  Why do we need that?" Many people, including the inexperienced me in the past, would have the same questions. 
Had you been to more than one family reunion, you will realize that having at least one or more of these activities is a must.  Not only because you want to keep people busy, but also to make people to mingle and interact with each other.  At the end, everybody knows a little more about each other.  Isn't that the purpose of family reunion?
What Typical People Interactions Do You Usually See In A Family Reunion?

In my first and second family reunions, everything went like a blur.  I looked back to some pictures of that time.  I still feel that attending those 2 family reunions was like a stranger stepped into a party from next door.  How sad was that.

Here are things happening in many family reunions.  You may not have realized they happened in front of your eyes.  As soon as you read and digested them, you may start to recall seeing those things happening back then.  Then, you will understand the importance of having some activities in the family reunion.

1. Family members didn't see each other for more than a decade.  Some got married and even have their own children.  Some couldn't even recognize each other until there is a long explanation in the introduction. 

In my first family reunion, my husband and I got married for about 3 years already.  There were many cousins of his attended.  Several of them moved away from the hometown that he didn't see them over 20 years.  It took a few minutes for him to figure out who is who, not to mention being the newbie in the family.  On top of that, after several introductions, you got mixed up who is who again.

2. Family members tend to stay in groups or clutters during the event.  Not sure if you have ever paid attention about this pattern, especially for a family reunion with over 50 people.  Siblings tend to stay together.  People know better or more about each other tend to remain in that same group throughout the event.  If you are the kind of person like to lay low instead of taking initiatives to introduce yourself, the circle of people you know in the event will be the same at the end of the day.

Does this ring a bell?  Now, it makes sense why we need some activities in this family event, right?  Understand that there may not be 100% participation, there is still at least 50% participating in one or more of these family reunion activities.  At the end, you still achieve the ultimate goal of having family reunion.



The Most Important Tip - How To Make Family Reunion Activities Happen

Before diving into the details, one final thought....assign a champion and/or backup to be in charge of each activity.  People tend to be more actively participating in things that someone asks them to do.  If you wait for someone to initiate it, this will never happen. 
In other words, the champion will stand up in front of the crowd and give instructions of what everybody is going to do and how everybody is going to do it. 

Here are the suggested activities for family reunions.  You can just do one or more.  You can also do all and/or create your own.  Just remember your main goal is to get everybody involved and make them knowing better and more of each other.
Raffle Tickets
This activity can be one stone 2 birds or several birds.  It raises the money to cover some of the cost for hosting this event.  You can even save the leftover for the next family reunion. 

Use this as an incentive for people to take action doing different things that you organize in the family reunion, such as family reunion t-shirt printing.

Try to set up different prizes.  When you announce the winner, ask him/her have a brief introduction of who he/she is.  Of course, it depends on your situation. For tight-knit family, this brief introduction may not be necessary.  Just go by the flow.




Double Deposit One, Keep One Ticket Roll, White, 1 Roll of 2000 Tickets
Local Band Performance and Dance
One family reunion I went, there was a local band performing for us.  Of course, one of the band members is our relative.  So, it was easy to have them to come out to play for us.  Do you have some connections with any local band?  They may like the idea of doing a small performance in order to have more exposure.

While the music is playing, encourage everybody get on the floor and dance.  Demand them to switch partners.  That is one of the ways to make everybody to mingle with each other and learn more about each other.

Here is an alternative for you.  Does any of your family members know how to play musical instruments or love to sing?  If you can't find any local band, encourage your family to do their own gig.  Make sure to have each performer to give a brief introduction of him/herself.  This will achieve your goal of the event as well.
Parade/Walk For a Good Cause
The same family reunion I mentioned earlier, there was a group of 30+ motorcyclists doing the parade to raise the awareness of road safety in the memory of my late brother-in-law who lost his life in a motorcycle accident.

You can think of other activities similar to this one.  With such a big group of people, doing something meaningful to the others always bring great feelings to everybody, not only the families, but also the beneficiaries.  There may be opportunities that you can raise money for the charity and/or to cover the cost for hosting the family reunion.  Click here to find out what potentials you may have in this activity.
Photo Shoot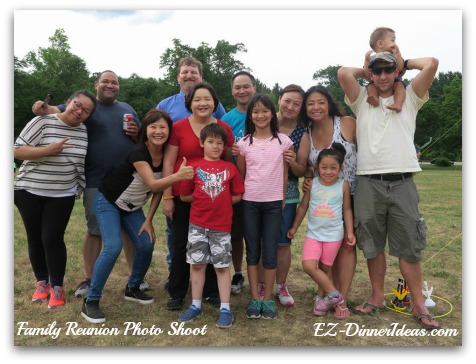 A group photo is a MUST in every family reunion. This was the smallest family reunion that I had ever attended.
You would think that everybody is very conscious about taking pictures or group pictures in a family reunion, right?  I don't know if it just happened to my family or it is very common to many families.  I have been to countless family reunions.  There was only one that we took group picture.  There were no group picture in the others.  Some even didn't have pictures throughout the event. 

Here is my suggestion for you.  Have the host to assign at least one person in the event to be in charge of this task.  People may forget to bring their cameras.  Some are too busy at talking with each other.  Some are occupied by other things.  Having one person to initiate when to take pictures of different families and then the group picture.

If you plan on handing out family reunion t-shirts, it would be best to have everybody to put on that shirt and take a group photo.  I can tell you that I saw many friends posting a group picture like this.  It was A.W.E.S.O.M.E.
Family Tree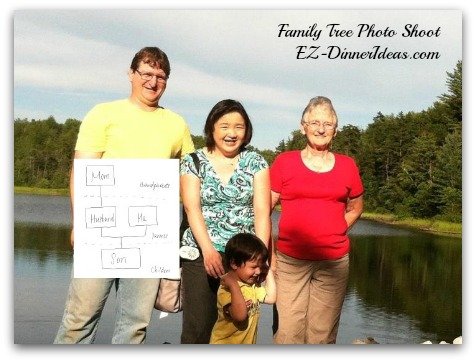 I know this is my PhotoShop product....But I want to bring across the message to you that you can do both creating family tree and photo shoot in the family reunion like this.
This family reunion activity may go hand in hand with the photo shoot.  I remember after our first family reunion, one of our relatives initiated to start a family tree in Ancestry.com.  She asked everybody to send her the info.  (We are talking about the period of time that Facebook just started to become a popular social media.  Most people were still on emails.)  Nobody knows how tedious this job is.  As soon as she started to pull the info she collected together, the task just got tougher. 
If you know your family very well, I mean very well, this job can be done.  It still takes a lot of time to complete the task though.  However, we were assuming the best scenario that could have happened. 
In my husband's family, this job was a bit out of control.  Consider that there were 10 siblings on each side of his parents'.  Some passed away.  Some got their children and grandchildren.  Many of them moved away from their hometown for many, many years.  Also, many of them haven't seen each other for over 20 years.  They lost touch of what happened in each other's life.  Man....doesn't sound complicated?  It made me dizzy just thinking about it.

So, here is the family reunion activity that you can go hand in hand with the photo shoot: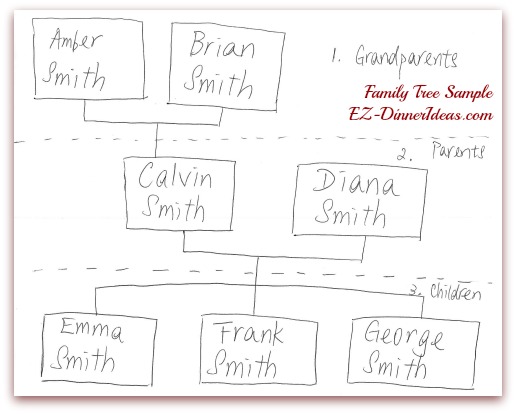 Family Reunion Activities - Family Tree sample - For families with more children, utilize the space and draw this small family tree horizontally.
Buy a roll of parchment paper or wax paper with a box of markers or crayons (make sure that they are dark in color). 
Tear out a foot long. 
Request each household sends a representative to you/your assigned champion of this activity to take a piece of paper and a marker or a crayon.
Ask them to draw their own family tree starting from the bottom with the youngest generations which will be their children.  The parents will be on the level above the children.  Grandparents will be on the top most layer
Emphasize to every one of them that you only need 3 levels and full names of everybody, including both first name and last name (3 levels only)

Have each family to come out to take a picture with their own family tree
Collect all the paper back

100 Count Pre-cut Parchment Paper 12x16


Sharpie Fine Point Permanent Markers, 24 Markers (2 X Box's of 12), Black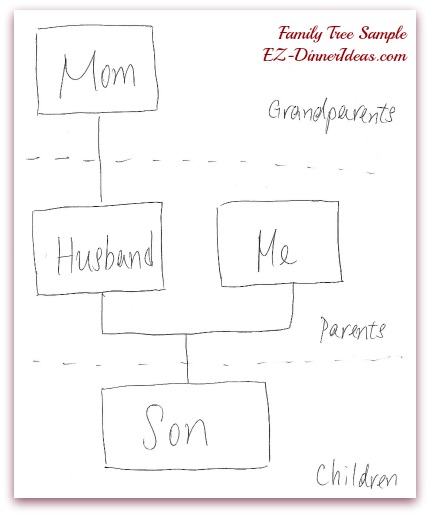 Each family tree only limits to 3 levels, no more than 4. As the champion of this task puts every small family's tree together, the BIG tree will come together easily.
You will see same faces, especially those in the top most levels, in different pictures.  On the other hand, names of these groups will appear in several family trees.  Then, you will start to put the big picture together for the entire family.

I wish when we had that first family reunion, somebody or I came up this idea.  It most probably could have saved a lot of headache.
Planning Family Reunion Activities Guide
This 9-page step-by-step planning guide will walk you through every stage to make family reunion activities happen.  For limited time ONLY, click here and download it now for FREE.

Return from Family Reunion Activities page to Family Reunion Planning page

Return to Easy Dinner Ideas Homepage