Oven Roasted Paprika Potatoes
A Great Alternative of
Deep-Fried Potatoes and Fries
This oven roasted paprika potatoes recipe is a twisted-so-many-times hand-me-down recipe.  Did I get you dizzy already?  I cook paprika potatoes since I learned this recipe from my mother-in-law right after marrying my husband in 2002. 
Since then, I have been cooking the same dish at least once a month.  As of right now, I have been cooking it for almost 15 years.  But why wait till now to post it?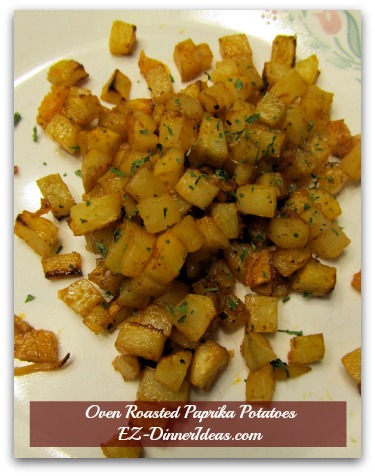 Prep Time: 10 Minutes  Inactive Cook Time: 40-50 Minutes
Serving: 2-4
Well, the original recipe was from the stove top.  It was very time-consuming.  The potatoes came out more like mashed potatoes, but crispy on the outside.  But my hubby loves them to be crispy.  So, it took forever to cook this dish with a not-very-appetizing look.

Then, I twisted it to deep fry the potatoes in a deep-fryer first before transferring them to another pot of seasoned oil on the stove top.  Basically, you deep fry these potatoes twice. 
To get them to the right texture (crispy on the outside and chewy on the inside), it still takes an hour to cook them.  On top of that, I am not a big fan of deep-fried food, especially eating it on a regular basis.  But my hubby and little one are crazy for it.  Even when my family came over from Hong Kong to visit us, they went nuts for these potatoes.  I guess I am the only weirdo here. 
With that old cooking process, I used a couple of pans, spatulas and a lot of oils before the potatoes were ready on the table.

Believe me, I only post recipes that I am completely sold and satisfied with the results.  As the story I told you earlier, I was really struggling.  It was either the long cooking time or the health hazardous cooking method which made me to turn my head to the opposite direction and leave this recipe alone.

Well....until one day, my hubby told me that he was willing to try a healthier version of his all-time favorite paprika potatoes.  Just out of the blue, I figured I would just pop that baby into the oven.  I love to cook with oven, especially during winter time.  As soon as he had his first bite, he couldn't stop eating.  What a big surprise there, huh?  That was my story of creating this oven roasted paprika potatoes.

In my house, we always serve this dish with smoked pork chops.  Those from the butcher counter or smoke house are 100 times better than any packaged ones.  Of course, the price is more.  You can pair this with Salt and Pepper Pork Chops instead.
Oven Roasted Paprika Potatoes Recipe

2 One-pounder Russet potatoes (peeled and diced; about 1/4" all sides)
1/4 cup Extra Virgin Olive Oil
1 tsp Paprika (Smoked or Non-smoked Paprika is fine.  I always use the regular ones.)
1 tsp Himalayan Salt
1/4 Ground Black Pepper
No-stick Cooking Spray

Preheat oven at 425F
Line 13 x 18" baking sheet with aluminum foil (refer to "How To Line Baking Pan With Foil") and coat with no-stock cooking spray
In a mixing bowl, combine potatoes, oil and seasonings together
Toss to coat diced potatoes
Single layer potatoes on the baking sheet
Roast for 40-50 minutes until potatoes are cooked and edges turned golden brown (may need to turn in halfway) and serve immediately

Recipe Ingredients and Tools

---
Serve This With: 

---

You May Also Be Interested In:

Return from Oven Roasted Paprika Potatoes Recipe page to
Easy Side Dish Recipes page

Return to Easy Dinner Ideas Homepage