Stuffed Cabbage Soup Recipe
Stuffed Cabbage Soup Recipe
Slow Cooker Golabki Polish Stuffed Cabbage Roll Soup has the Traditional Flavor, But Needs Very Little Time from You to Get It on the Dining Table.
Stuffed cabbage soup recipe was inspired a traditional recipe. This version gives you the delicious flavor, but barely use any of your precious time at all.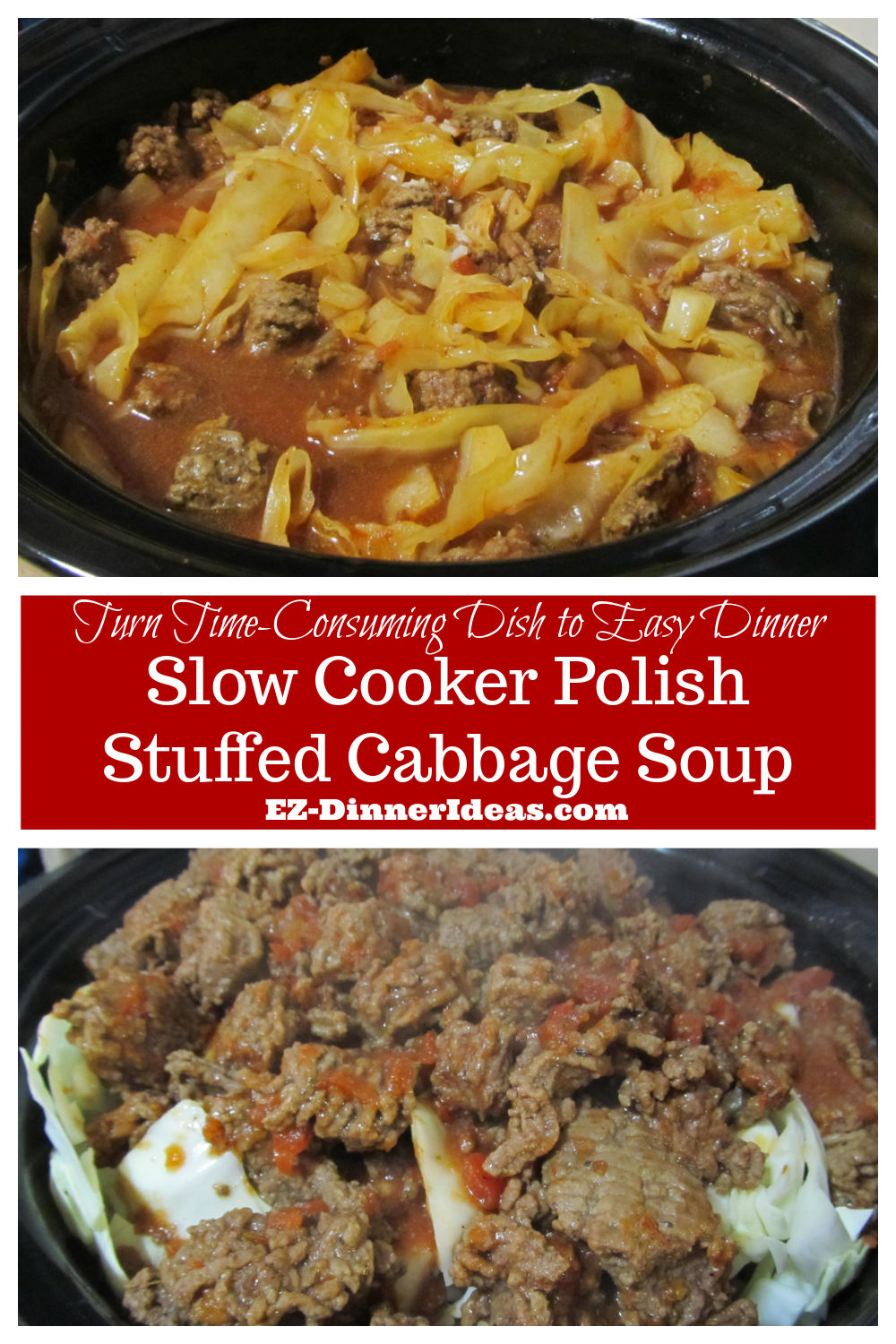 Total Time: 2 Hours 55 Minutes - 3 Hours 30 Minutes
Prep Time: 10 Minutes  
Active Cook Time: 15-20 Minutes  
Inactive Cook Time: 2.5-3 Hours  
Serving: 4-6


This slow cooker Golabki Polish stuffed cabbage roll soup is dedicated to my friend, Sue K.
I came across this famous Polish Golabki (stuffed cabbage rolls) through my friend, Sue, around 2006-2007.
(According Wikipedia, the Polish spelling of stuffed cabbage rolls "...are also referred to as golombki, golumpki, golabki, golumpkies, golumpkis, gluntkes, or gwumpki".)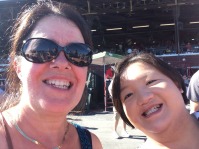 My friend, Sue, and I always like to stay behind the camera. This is a very rare pic for both of us. It was taken in a work social event in the summer of 2006.
We met many people in our walk of lives. But we mostly found our best friends at school. It is unusual that you would find a great friendship at work. It happens, but rare.
Well, I am one of the luckiest people on Earth that I found a few great friends at work. Sue is one of them. I started working in this international big corporation since Feb 2005. Sue and I are quiet people. We usually like to stay at our desk or cubicle. So, we didn't start to talk to each other about a year later after I worked in the same building on the same floor with her.
My friend, Sue, has some very special personalities that not many people have, including myself. She does not gossip. She is very hard working, smart, creative, quiet and always positive. Sue has a big heart. Calling her a "sweetheart" most probably is an understatement. After we had a small talk, we started to walk during our lunch time on a daily basis.
There were some fun moments that we still talk about nowadays. Like we knew that it was going to rain one day. We went for our daily walk very well prepared. First, we needed to stop by a bakery to get some pizzas for lunch. While we were in there, Sue saw one of her former co-workers. When we stepped out of the bakery, it was pouring already. That gentleman was so nice to offer us a ride back to the office. It came down so heavy. Even with umbrellas and only 20 feet of walk from the car to the building, we were drenched. Our mascara was smudged. You could imagine how messy we both looked. But we laughed so hard of how crazy the event made such a big turn within less than 10 minutes. We still talk about this incident once in a while and laugh about it.
When I was expecting, Sue was one of the co-hosts to hold a company wide baby shower for me. As usual, Sue was hands on everything. She made food to feed everybody. I mean several big platters of food. She sent out invites, ordered the cake and all the details of the shower. While doing all of these, she never bragged about her work. I only found out her work and dedication of this event from other people later. I am still thankful for all my lady co-workers showing up that evening.
Sue and I love to cook. So, we always bring in some food to work to share with everybody in the office. (This was before the pandemic.) There are some dishes that we know only a few people would give it a try. The Polish stuffed cabbage rolls, Golabki, is one of them. Sue made this dish for dinner one night and saved some for me. That was the first time I ever tried it.
Even though she gave me her recipe, I never tried to make one. It is too much work for me. After so many years later, I was still thinking of the cabbage rolls she brought me. I decided to make a different version of it. That is how this soup recipe came up.
CHEF NOTES
When you first assemble all ingredients into a slow cooker, you realize that it goes all the way to the rim. I used a 6-quart slow cooker and looked like it was going to overflow. No worries. Cooking cabbages in the crock pot for so many times, I learned from experience that cabbages is one of those ingredients that it shrinks down significantly when it is cooked. However, it stays in shape and its good texture. In other words, by the time dinner is ready, the amount of food in your slow cooker is in perfect portion.
As much as I love rice, noodles and pasta, I try my best to cut down my carb intake with moderation. So, I purposefully put in 1 cup of cooked rice in this soup recipe. Rice leftover would be great. You can also use 1/2 cup uncooked rice. Add it in 30 minutes before dinner time. Since my Keto diet journey in 2018, I would skip this part or maybe replace it with cauliflower rice. These are options for you to consider.
I stumbled a cabbage roll recipe which used marjoram. I must admit that it did bring great flavor to the dish. However, you may not use it in many other recipes after this stuffed cabbage soup recipe. As a result, I would recommend to replace it with oregano if you happen to have it. So, it is not extra money spent on a dry herb sitting in the pantry forever. To me, it is an extra dry herb that I can put into the Everything-in-Your-Spice-Rack Chicken.
Ground beef tends to have a lot of grease even if you pick the 95% lean one. The grease in this dish will be perfect to soften the cabbage. So, I highly recommend you to keep the grease instead of straining it.

Cooked Rice vs Uncooked Rice
Should you use cooked or uncooked rice in this stuffed cabbage soup recipe? It depends. Each gives you advantages at different situation.
You can add uncooked rice into this soup 30 minutes before dinner. That means you can skip cooking the rice beforehand. However, if you plan to save leftover, not only rice will absorb a lot of moisture, but also gets too soggy.
Cooked rice is perfect, especially if it is leftover. One more way to use up leftover, right? You can choose to add it separately. So, if you have plenty of leftover soup, you will only add the cooked rice on top when the leftover soup is heated up and ready to be devoured. And it takes no time to warm up the cooked rice at all.
Now we covered all the tips and highlights. Time to get cooking. Enjoy and Cheers to friendships!
---

Recipe Ingredients and Tools

---

Stuffed Cabbage Soup Recipe and Directions
Ingredients
3.5-4 LB Cabbage (cored and sliced)
2 LB Lean Ground Beef
1 Can (28 oz) Crushed Tomatoes
4 Cups Beef Stock
1 Cup Cooked Rice or 1/2 Cup Uncooked Rice (optional)
3 tsp Garlic Powder
2 tsp Onion Powder
2 tsp Marjoram (or Oregano)
1 tsp Extra Virgin Olive Oil
Salt and Pepper to taste
No-stick Cooking Spray
Directions

Preheat a big deep skillet at high heat and add beef in.
Use a spatula to break up the meat into big chunks (about 1" size).
Brown meat for about 8-10 minutes.
While meat is browning, cut cabbage into halves and cut both halves into quarters.
Tilt knife slightly to cut out the core from each quarter and slice cabbage crosswise and transfer into a 6-quart slow cooker insert coated with no-stick cooking spray.
Back to the pot of meat, add beef stock and crushed tomatoes. Use spatula to scrape up the brown bits.
Bring mixture to a rolling boil.
Use a slotted spoon to transfer meat chunks into the slow cooker which will be on top of the cabbage.
Carefully pour the stock and tomato mixture into the slow cooker (even in a 6-quart slow cooker, it looks like it is overflowing, as mentioned earlier. But the cabbage will cook down significantly. By the time dinner is served, the volume is just perfect.)
Cook on high heat for 2.5-3 hours.
Add cooked rice, salt and pepper to taste and serve immediately.
---

Stuffed Cabbage Soup Recipe Steps with Photos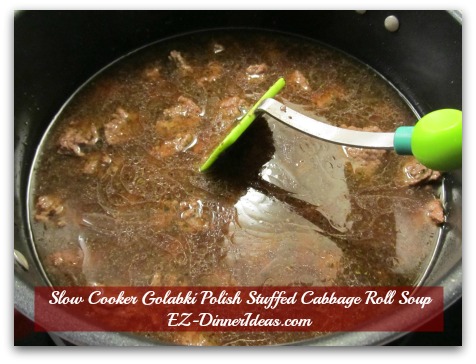 Pour in beef stock and use a spatula to pick up the brown bits. Pour crushed tomato with sauce in later.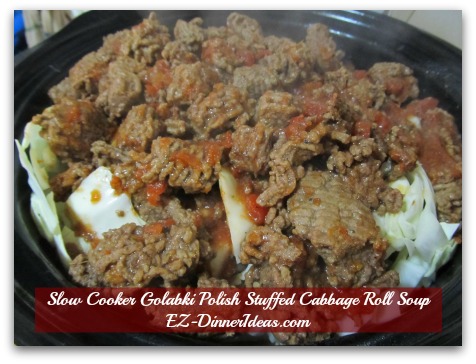 Use a slotted spoon to transfer meat into slow cooker, then carefully pour in the stock tomato mixture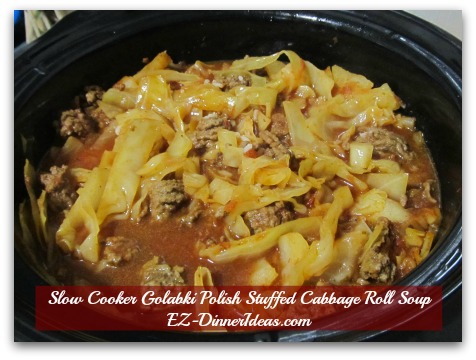 All ingredients reached to the rim of the slow cooker. Once it is cooked, the amount will shrink to perfect portion. ENJOY!
---

You May Also Be Interested In:

---
Home > Soup and Stew Recipes > Stuffed Cabbage Soup Recipe | Slow Cooker Golabki Polish Style