Healthy, Easy, Sweet
Spicy, Hot, Refreshing
Spicy Watermelon Pineapple Palm Heart Salad Has It All
The name of this recipe, spicy watermelon pineapple palm heart salad, tells you all what ingredients are in this easy healthy side dish.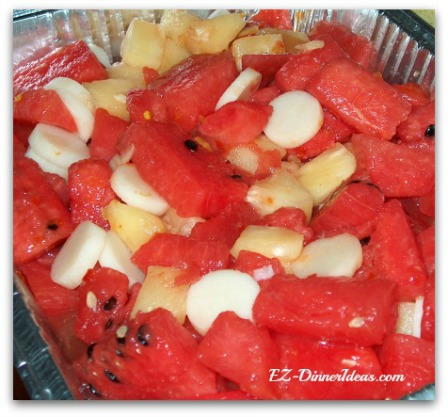 Prep Time: 10-20 Minutes   Inactive Cook Time: 60 Minutes
Serving: 4-6
One of the ingredients may be new to you, i.e. Hearts of Palm (a.k.a. Palm Heart, chonta, palm cabbage or swamp cabbage). 
I always love to try new ingredients.  In fact, I love to explore new ingredients every week in the grocery store(s).  Not only because I want to get some ideas to write new recipes, but also, my L.O.V.E. of adventures, especially with food. 

When I first took a bite of the heart of palm, I almost wanted to throw it away.  It is literally tasteless other than the saltiness from the brine in the bottle. 
But with the dressing and the combination of other ingredients in this salad, it will bring out the best out of this healthy and exotic ingredient.

If you are interested in "How's It Made" of the Heart of Palm, check out this short video from the Science Channel.

Depending on your budget and time, if you buy the pre-cut watermelon, it will save you a lot of time.  However, it definitely costs a lot more.  So as the pineapple if you decide to get the fresh ones.

You can ask your child(ren) to come in to make this easy healthy recipe with you.  This is also great to bring to a cookout gathering.

This spicy watermelon pineapple palm heart salad is sweet, hot, spicy and refreshing.  The best of all, it is very healthy and filled with fiber.  Nothing better than that, huh?  Enjoy!
Ingredients
8 Cups Watermelon (cut in chunks or bite size)
1 Can Pineapple Chunks (14.5oz drained)
1 Bottle Hearts of Palm (14.5oz drained; cut in slices about ¼ inch)
¼ - 1/3 Cup Mango Chutney
1 tablespoon Chili Sauce (or Sriracha; please feel free to adjust the amount of this ingredient based on your tolerance of heat)
Combine watermelon, pineapple and hearts of palm in a big salad bowl
In a separate mixing bowl, whisk to combine mango chutney and chili sauce
Pour the dressing into the salad bowl
Lightly toss to coat
Let it chill in the fridge for at least an hour to let all the flavors marry together before serving
Tips
Hearts of Palm is either in bottle or can.  It is available in the canned vegetables or international aisle.

You May Also Be Interested In:

Return from Spicy Watermelon Pineapple Palm Heart Salad Recipe page to Side Dish Recipes page

Return to Easy Dinner Ideas Homepage