Spinach Cheese And Egg
A Diner-Liked Dinner
On Your Dining Table
This spinach cheese and egg recipe is great for making only one serving or a few more. 
The way how it is cooked and look is very similar to the omelet served in a diner.  But this recipe is way much easier.  Making one serving takes less than 5 minutes in total.  To serve a family of 4, it will take about 20 minutes max.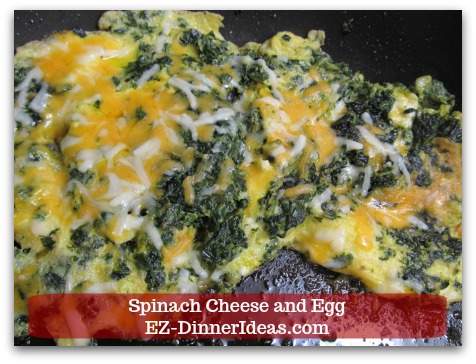 Prep Time: ZERO   Cook Time: 20 Minutes  Serving: 4
If you are going to make more than 2 servings, store the cooked egg in a 170F warm oven after cooking one serving before moving on cooking another one.  This will

keep all of them warm when it is served.  Of course, you can serve it in breakfast, brunch, lunch and dinner.


Ingredients
2 Cups Pre-washed Spinach (divided)
1 Dozen Of Eggs (divided)
2 Slices Individually Wrapped American White or Cheddar Cheese (divided; any deli sliced cheese will do, too)
4 tablespoon Extra Virgin Olive Oil
Salt and Pepper to taste

Whisk 3 eggs, salt and pepper together in a mixing bowl
Preheat a skillet at medium high heat with a tablespoon of extra virgin olive oil
Add ½ cup of spinach into the skillet and cook until it is wilted, about 30-45 seconds
Add eggs and let it cook; about 2-3 minutes
When it starts to solidify, add half slice of cheese on top
Use spatula to fold the half of the egg over on top of the cheese
Cook to desired doneness and transfer to plate

Repeat from step 1 for the rest of the ingredients and serve with toasts

You May Also Be Interested In:

Return from Spinach Cheese and Egg Recipe page to Breakfast Recipes page

Return to Easy Dinner Ideas Homepage