Hong Kong Starbucks Spinach Quiche
A Savory Pastry
Now Served It At Home
I LOVE this Starbucks spinach quiche recipe.  I was so thrilled that I finally nailed it, even the look with the crisscross pattern on top of the pie. 

Total Time: 65-70 Minutes
Prep Time: 20 Minutes  
Inactive Cook Time: 45-50 Minutes  
Serving: 4-6


Before diving into the details, I want to express my gratitude to my mother-in-law for being a loyal fan and supportive tester of my spinach pie, spinach quiche, whatever you want to call it.
Many people think that I nail my new recipes the very first time. Over 98% of time, I do. But once in a while, it takes me almost like forever to get them right.

I think this is THE recipe that took me many, many trial and error to nail it. I learn a great lesson here. Persistence will lead you to success.  Don't let failure to scare you from moving forward.

I love Starbucks coffee. In Hong Kong, they used to have this spinach quiche. I always thought that it was more like a pie instead of quiche.

Therefore, throughout all these years, I have been making spinach pie and wondered why I couldn't make it the way how Starbucks did it until lately.

The traditional Starbucks spinach quiche used fillo dough to make the pie crispy and light.

But to stick to my principle to make an easy dinner in no time, I used store bought pie crust. That's the only difference between the real Starbucks spinach quiche and this recipe.

As of the time of writing this recipe, I still haven't come up an idea of how to use the leftover pie crust.  I was raised to not to throw food away.  I hope that I will figure it out in the near future.  If you have some good idea, please share with us by filling out the Contact Me form.  I would greatly appreciate it.

For now, I hope you will grab a cup of Starbucks coffee, like I always do, while enjoying this quiche.  (If you don't like Starbucks coffee, that's ok, too.  You still can enjoy this delicious recipe the way you want.)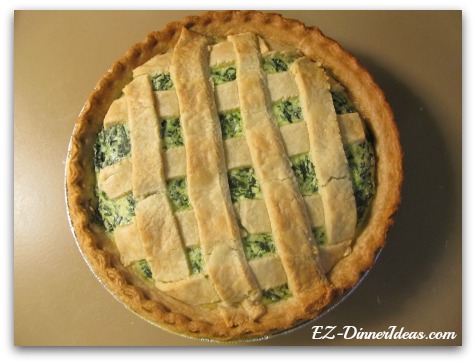 Starbucks Spinach Quiche Recipe and Instructions
Ingredients
1 Box frozen spinach (thawed and squeezed out all the liquid)
1 pound ricotta cheese
2 store-bought 9" deep-dish pie crusts (Use a good brand, like Marie Callender's Deep Dish Pie Shells.  It will make it easier for you to make this pie.  The presentation definitely is better, too.)
1 egg (beaten)
1/2 teaspoon Salt
1/4 teaspoon peppers

Take out a pie crust thawed in room temperature for 15-20 minutes (depending on the room temperature. Sometimes, it may take shorter or longer time to thaw).
Use a butter knife to cut around the bottom ring of the crust.

Cut it into stripes about 1/3" wide.

Above the bottom ring you just cut out, cut around the crust about the same width (use the stripes here to stretch across the diameter of the quiche).

Arrange the rack about 4 inches or the second last position from the bottom of the oven.
Preheat oven at 325F.
Combine ricotta cheese, spinach, egg, salt and pepper in a mixing bowl and transfer to another frozen pie crust.
Use a spatula to level the filling evenly in the pie crust.

Use the butter knife helps you to lift up the cut out stripes.
Strategically put the stripes on top of the filling to make a crisscross pattern.

Bake it for 45-50 minutes until the knife inserted at the center and come out clean (there may be a few tiny bits of cheese sticking on the knife. But it's ok. As long as the filling coated on the knife does not look like raw eggs or runny egg york).
Rest for 5 minutes before serving.
Starbucks Spinach Quiche Steps with Photos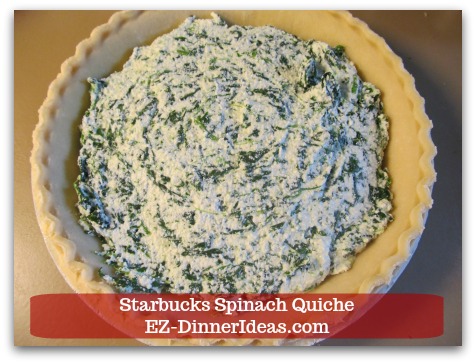 In one of the two pie crusts, add spinach, ricotta cheese and egg filling.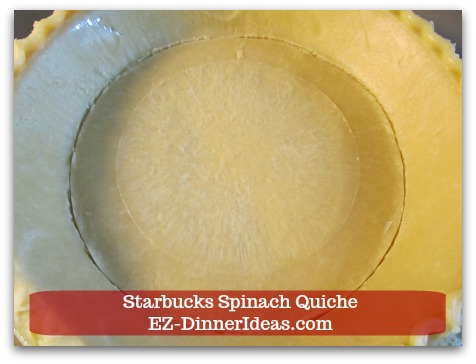 Use a butter knife to cut around the bottom ring of the other pie crust.
Cut it into stripes about 1/3" wide.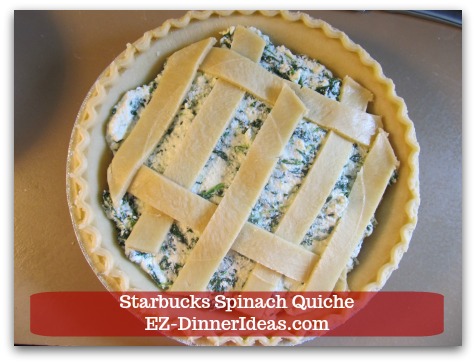 Use butter knife to help lifting up the stripes and use them to cover the top of the pie.
If there is not enough to cover the top of the pie, cut another ring and use the dough from there.
Feel free to use egg wash (optional) to brush on pie crust before baking.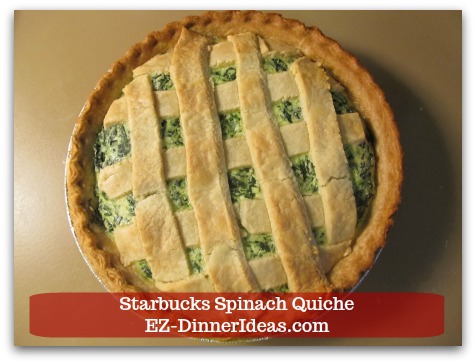 Bake in 325F for 45-50 minutes until knife inserted in the center and comes out clean.
Let rest for 5 minutes and enjoy!
---

You May Also Be Interested In:

---
Home > Restaurant Remakes Recipes > Starbucks Spinach Quiche