Very Healthy Chocolate Overnight Oats
Way...Better Than Just Eating
Dark Chocolate
Very Healthy Chocolate Overnight Oats...Chocolate lovers, be ready for this irresistible breakfast idea. 

Prep Time: 2 Minutes   Cook Time: ZERO   Serving: 1
Have you tried any overnight oats?  It is like the latest trend that you see it almost everywhere now.  You can even buy a ready-to-make one from the grocery stores.  But I love to make my own.  It is easy and I can make several different flavors in one shot.  That will get my entire week done with different flavor almost every day.

But there is one overnight oat always stands out.  I love to put peanut butter and Nutella in it.  Well, as you know, Nutella fills with sugar and other artificial stuff.  "There got to be a way to make it better right?"  I have asked this same question to myself for a long, long time.

Then, it was just like a switch one day.  The idea came through.  I tried it out and worked perfectly that I am seriously hooked with this recipe.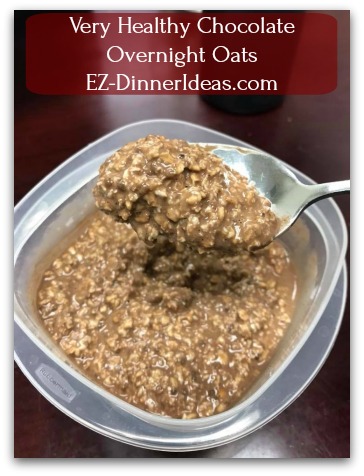 Very Healthy Chocolate Overnight Oats Recipe

Ingredients
1 Cup Old Fashion Oatmeal (a.k.a. Rolled Oats) or Quick Cooking Oats
1/2 tsp Chia Seeds
1 tbsp Brown Sugar/Honey
1 (heaping) tsp Baking Cocoa Powder
1 1/4 Cup Almond Milk, Coconut Milk, Regular Milk or any milk of your choice
1 pinch of Salt
1 tbsp Dark Chocolate Morsels (optional)

Combine all ingredients in a food container or a mason jar
Stir well and chill in the fridge overnight and serve
(You can add the chocolate morsels before serving)
Recipe Ingredients and Tools


You May Also Be Interested In:

Home > Breakfast Recipes > Very Healthy Chocolate Overnight Oat