5 Spice Beef Rice and Sautéed Broccoli
 with Garlic

This 5 spice beef rice dinner idea will make quite an impression on your friends and family.  It won't hurt to double the quantity.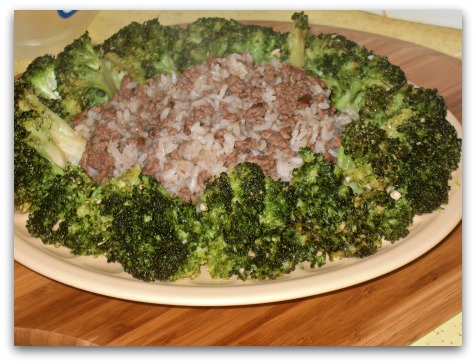 Prep Time: 30 Minutes   Cook Time: 20 Minutes (for steamed rice);  25 Minutes (for the rest of the dish) Serving: 4-6
Ingredients
2 pounds 85% Lean Ground Beef
4 Cups Cooked Rice (must be completely cool overnight)
2 - 2½ pounds Broccoli Crowns (cut into florets)
1tablespoon Minced Garlic  (I always have a jar of All Natural minced garlic for time saving)



Seasonings

1 tablespoon Chinese 5 Spice Powder
2 teaspoon Salt (divided)
½ Cups of Water (divided)
4 tablespoon Canola or Vegetable Oil (divided)



Frontier Five Spice Powder
Preheat a big, deep saucepan at medium high heat
Add beef and use a spatula to break it up
Let the meat brown; about 8-10 minutes
Meanwhile, preheat another big, deep saucepan at medium high heat.

Add 2tablespoons oil, garlic, broccoli, ½ teaspoon of salt and ¼ cup of water.  Stir to combine.
Turn down the heat to medium, cover and let the broccoli cook for about 5-8 minutes until crisp tender
Back to the 5 spice beef rice, after the meat is brown, add 5 spice powder, rice, ¼ cup of water and 1½ teaspoon of salt
Stir to combine and use the spatula to break down the rice

You may occasionally drizzle some more oil if the rice starts sticking to the bottom of the pan.  Add 1 tablespoon at a time.  It may need more or less than what this recipe calls for, depending on your pan.
Stir regularly until the rice is totally mixed well with all the ingredients, about 10-15 minutes
While waiting, transfer the broccoli on a serving plate by placing the florets on the edge of the plate, just like the picture shows (It is not only for presentation, but also for the broccoli to absorb the 5 spice flavor)
Transfer rice on top and serve

Tips
I love the combination of the 5 spice and beef.  You can definitely replace it with ground chicken or turkey.  I tried to use either one of them before.  It may need a little more oil if you use the poultry.
Using freshly cooked rice will make this dish mushy.  You can feel the big difference of the texture.
---
Serve This With: 

---
You May Also Be Interested In:

Rice Recipes (coming soon)

Return from 5 Spice Beef Rice Recipe page to Beef Recipes page

Return to Easy Dinner Ideas Homepage