Ground Beef Spinach Recipe
Ground Beef Spinach Recipe

Beef Spinach Tofu Soup is an Upgraded Traditional Chinese Soup Packed With Fiber And Nutrition
Ground beef spinach recipe is a quick soup that is perfect for instant gratification of your Chinese food craving.

Total Time: 15-20 Minutes
Prep Time: 5 Minutes  
Active Cook Time: 10-15 Minutes  
Serving: 2-4


This beef spinach tofu soup was a twisted or upgraded version (depends on how you look at it.  Wait till you hear the story) made by my mom, also a traditional Chinese soup.  

My mom used to make this soup claiming that it has some kind of health benefits.  She didn't make it on a regular basis.  But to me, it was often enough to "suffer" from consuming it.  The main ingredient is fresh cilantro.  If you like that herb, wait till you hear the amount added in the original recipe.  Yep, it is the same amount of fresh spinach as I put into this twisted/upgraded version. 
Well, you can imagine how strong the smell (can't even call it fragrance) and taste it is.  Of all my mom's cooking, this is the one that I must say, "I hate it".  My mom is an awesome cook and very inspirational.  Because of her, I am the reason here to write and create all these recipes.  For dishes that I hate to such level, it is awfully bad.
But why did I create a recipe similar to that traditional soup?  Huh....good question.

Well, when your mom is not here every day to do "mean" things to you, you are homesick.  When she was there with me every day, I couldn't wait to move out of the house.  Sounds familiar to you?  Anyway, I miss her so much and I always love to make her dishes to ease my pain and longing to see her.  Even though something she cooks that I hate, I must make it.  It makes me feel like she is standing next to me.

But this is an upgraded version which is super healthy and light.  It would be great as an appetizer, like Chinese Hot and Sour Soup.  But there are plenty of fiber in it to fill you up if you decide to just have it for dinner which I did several times with this "twisted" soup recipe.

CHEF NOTES
As mentioned earlier, my mom adds fresh cilantro instead of spinach into her original recipe. We all know that cilantro is a "controversial" ingredient. You either love it or hate it. If you are a big fan of cilantro, by all means, use it in this ground beef spinach recipe. My recommended quantity will be a bunch which is about 1 cup if it is chopped up.
If you are curious of how this soup tastes like by adding cilantro, I would recommend to use a tablespoon of fresh or 1/2 teaspoon of dry cilantro to try it out. If you find out it needs more, you can always add a little by little until it reaches to your liking.
Another ingredient used in this upgraded version of recipe is the broth. Typical Chinese soup always starts out with water. It relies on the long cooking process or seasonings to give the soup great flavor. So, if broth or stock is not handy in the pantry, just use water.
Yes, you can absolutely replace fresh spinach with the frozen one. One box of frozen spinach (about 10oz) is good amount.  Make sure you squeeze out all the extra liquid before adding the spinach into the soup.
You can also double the quantity to make a bigger pot of soup.
---

Recipe Ingredients and Tools

---

Ground Beef Spinach Recipe and Directions
Ingredients
1 Bag (11 oz pre-washed) Spinach
1 lb Lean Ground Beef
4 cups Beef Broth (Beef stock will give this soup a very nice and dark color.   But either is fine.)
1 LB Extra Firm Tofu (diced; about 1/2 inch each side)
1 tsp Extra Virgin Olive Oil
1 splash Superior Lite Soy Sauce
Salt and Pepper to taste

Directions
Preheat a soup pot at medium high heat with extra virgin olive oil.
Brown beef in the pot and break it into small pieces with a spatula, about 8-10 minutes.
Add broth and bring soup mixture to a boil.
Stir in tofu and spinach.
When spinach is all wilted and soup is boiling, add soy sauce, salt and pepper to taste and serve immediately.
---
Ground Beef Spinach Recipe Steps with Photos
Brown Beef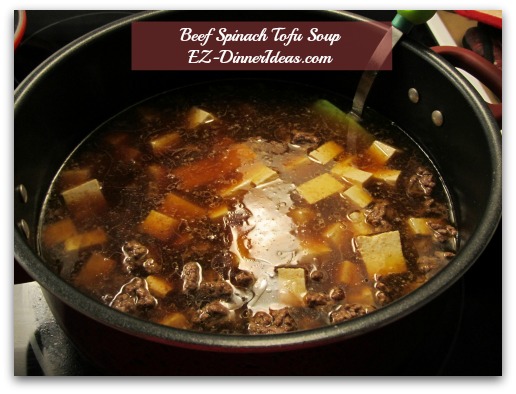 When broth is boiling, add tofu
When soup is boiling again, add spinach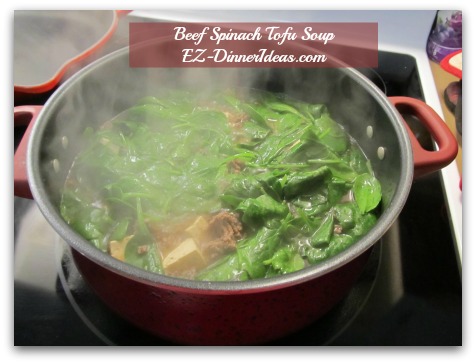 Press spinach into the soup and wilt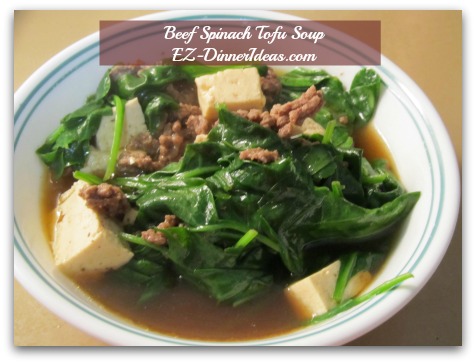 Salt and pepper to taste and serve immediately
---

You May Also Be Interested In:

---
Home > Beef Recipes > Ground Beef Spinach Recipe | Beef Spinach Tofu Soup