Delmonico Italian Steakhouse Mushrooms
Delmonico Italian Steakhouse Mushrooms
A Healthy and Restaurant Remakes Recipes
Hmmm?  Delmonico Italian Steakhouse mushrooms recipe...which one I am referring to?  There are tons of them called about the same name.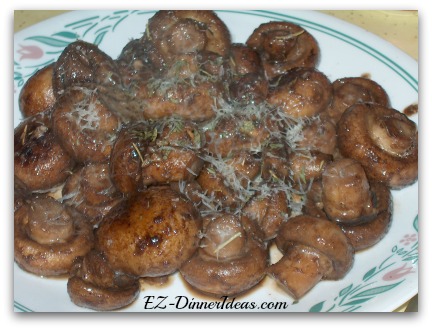 Prep Time: 5 Minutes   Cook Time: 15 Minutes   Serving: 2
I actually refer to the one in upstate NY.  It is my mother-in-law all time favorite place.  And I love this side dish.  To me, it is the best in the area.  At first, I thought that it would take me a while to figure out how to nail this recipe.  I even surprised myself that it is as easy as this.
Ingredients
10oz (283g) Whole Baby Portobello Mushrooms
1 Clove Garlic (minced)
½ teaspoon Onion Powder
¼ teaspoon Dried Thyme
¼ teaspoon Dried Parsley Flakes (optional)
1 teaspoon Grated Parmesan Cheese (optional)

Seasonings
½ teaspoon Salt
¼ teaspoon Black Pepper
2 tablespoon Extra Virgin Olive Oil
If there is a lot of dirt on the mushrooms, wipe them with a damp paper towel
Preheat a big skillet at medium high heat
Add oil, garlic and mushrooms
Stir to coat
Let mushrooms cook for about 2-3 minutes
Stir in thyme and onion powder
Turn down to medium heat
Cook until mushrooms are brown; about 8-10 minutes (depends on the size of the mushrooms)
Stir regularly in between
Add salt and pepper to taste
Transfer to a serving bowl
Add parsley and Parmesan on top and serve

Tips
Can be doubled
The bigger the batch, the longer it takes to cook the mushrooms.
Garlic powder will do, too.

You May Also Be Interested In:

Return from Delmonico Italian Steakhouse Mushrooms Recipe page to Restaurant Remakes Recipes page

Return to Easy Dinner Ideas Homepage