Lazy Bum Fruit Salad
Busy Or Not
A Super Easy Recipe To Keep
Your Healthy Diet In Check
Called Lazy Bum Fruit Salad...But it doesn't mean that you are lazy because you make this healthy recipe.  It is perfect for busy people, like you, trying your best to eat healthy while juggling several tasks at the same time.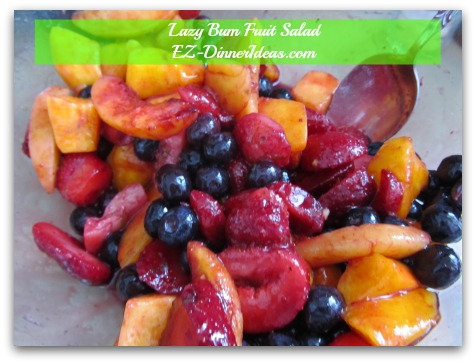 Prep Time: 3 Minutes   Cook Time: ZERO   Serving: 4

This idea came up to me not long after my little one signed up to be in the school musical play.  His role just lasted for 30 seconds.  But he was required to be in the practice at least twice. 
On top of being the play and living 30 minutes of drive away from school, it was tough.  Why?  Because by the time I picked him up after work, it was too late to drive back home, have dinner and drive back to school.  So, I had to find a place to have dinner.  In between, I got to make sure that he completed his homework or prepared for any tests at school. 
When we were finally home, it was at least 8pm.  Got into shower and be ready for bed.  It was like getting out of bed to go to school and work.  Went back home at night and sleep.

Those few days reminded me the time when I used to work full time in the office and part time teaching piano.  Believe me, if you need to get out of the house at 7am and won't be back after 9pm on a daily basis, you would be too tired to do anything.  After a while, I felt like I was a robot.  But back then, my mom would take good care of my meals.  Now, being a mother, I got to take care of myself and my little one. 

Anyway, after the play was finally over, I was super exhausted that I just wanted to prepare something to eat, but not to suck up more of my energy to make it.

When you make a fresh fruit salad, how long does it usually take for you cutting up all the fruits?  Depending on your fruit choices, it mostly ranges from 20-30 minutes, right?

Thanks to the technology.  There are different varieties of frozen fruit nowadays, such as mandarin oranges, cherries, grapes, berries, pineapple, mangoes, bananas and so forth.  (Side note: Bananas are only good if you plan to make smoothie.  Any fruit oxidizes is not a good choice to make this lazy bum fruit salad.  It turns color by the time it is thawed.)

Of course, you have more options with fresh fruit.  But in a case like I described earlier, you only put in very minimal work to it.  Then, you get quite a great salad.  With a little bit of lime zest and juice, it just brings the entire bowl of salad alive. 

I chose using frozen fruit because there is no syrup or other addictive which is one of the advantages of eating healthy with the help of frozen fruit. 


Recipe Tips

Add berries at the bottom. So, when they are thawing in room temperature, the juice will not dye any bright color fruit.
One thing that I do want you to caution about....If you plan on adding any berries into this lazy bum fruit salad, make sure to have them at the bottom layer.  It is because when the fruit is thawing, there will be juice released.  You don't want your other bright color fruit dyed to red or purple before eating.  Nothing is wrong with it.  But we know that we love to eat with our eyes.  It is for the purpose of its presentation.

Feel free to double this recipe as well.
Add a dollop of whipped cream or yogurt on top make this a very refreshing and healthy dessert.
Lazy Bum Fruit Salad Recipes

Lazy Bum Fruit Salad Recipe

Ingredients
1 bag (14 oz) Frozen Fruit Mix (it could be a mix of peaches, strawberries, mangoes, pineapple and/or grapes)
1 bag (16 oz) Frozen Blueberries
1 bag (14 oz) Frozen Peaches
1/2 bag (7 oz) Frozen Mangoes
1 Lime (zest and juice)
1/4 cup Maple Syrup

Transfer all frozen fruit into a mixing bowl (put all berries at the bottom layer)
Let fruit thaw in room temperature (depending on room temperature.  It may take up to 4-8 hours)
Add lime zest and juice, then maple syrup
Stir to combine and let rest for 10-15 minutes and serve
Recipe Ingredients and Tools


You May Also Be Interested In:

Return from Lazy Bum Fruit Salad Recipe page to Easy Side Dish Recipes page

Return to Easy Dinner Ideas Homepage