One-Pot Pantry Tomato Olive Pasta
A One-Pot Vegetarian Meal
Ready In 30 Minutes
One-pot pantry tomato olive pasta....To name this recipe was quite challenging because you can have a pantry pasta in many ways.  

I even considered to call it 6-can pasta which has the same problem.

At the end, I decided to use the name with the most obvious ingredients in the dish.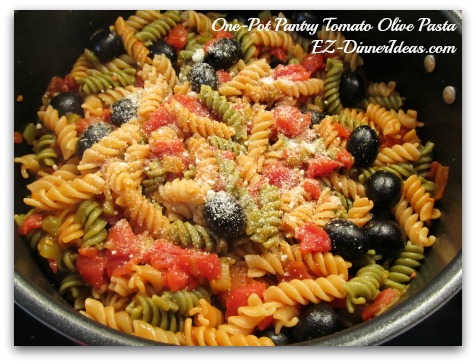 Prep Time: ZERO   Cook Time: 20-25 Minutes   Serving: 4
Like, Share & Comment
If you like any recipes on this website, please like, share and comment.  This will help other people like you to find them here.  Thank you very much for your support!

Ingredients
1 can (2 cups) chicken or vegetable broth
1 can (28 oz) Diced tomatoes with juice
1 can (4.25 oz) green chilies
1 can (6 oz) whole black olives; drained
2 can (4 oz each) sliced mushrooms; drained
1 box (1 lb) Rotini Primavera (or any short pasta)
2 tablespoons Extra Virgin Olive Oil
1 clove Minced Garlic
1/2 cup Water
Grated Parmesan Cheese (optional)
Salt and pepper to taste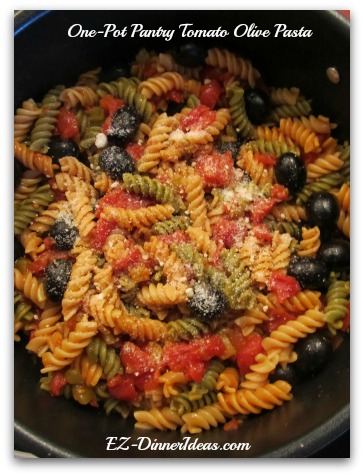 In a big pot, combine broth, diced tomatoes with juice, water and green chili and bring the mixture to a boil
Add extra virgin olive oil and pasta, quick stir and turn down the heat to simmer and cover with lid, cook for 14 minutes until liquid is absorbed and pasta cooked to al dente
Add mushrooms, olives, garlic, salt and pepper and stir to combine
Serve along with Parmesan cheese
You May Also Be Interested In:

Return from One-Pot Pantry Tomato Olive Pasta Recipe page to Pasta Recipes page

Return to Easy Dinner Ideas Homepage