One Pot Pasta Vegetarian

Olive Roasted Red Pepper Spinach Spaghetti
Spooky Bleeding Eyeball Spaghetti
Which Name Would You Call It?
Not only it's a one pot pasta vegetarian, but also a 100% pantry staple recipe.  I created this olive roasted red pepper spinach spaghetti originally for Halloween.  But...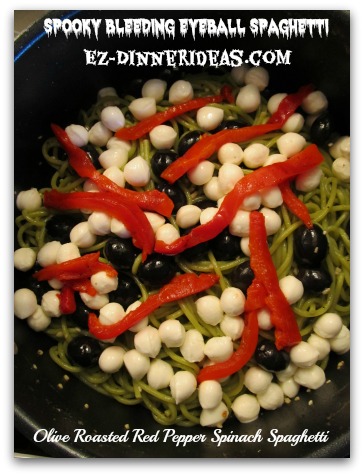 Total Time: 30-35 Minutes
Prep Time: 5 Minutes  
Active Cook Time: 25-30 Minutes  
Serving: 3-4


...I purposefully stayed away from creating a dish that looks too scary to eat.  It is mainly because of my experiences with my family and myself.  It is just too hard to stomach it when you see something that triggers you to think of the real stuff. 
At the end, I still want to give it a name that matches the Halloween theme.  So, I called it, Spooky Bleeding Eyeball Spaghetti around Halloween time.
Then, after a while, I realized, "Hey!  This is a great pantry recipe.  It doesn't have to be in Halloween.  People can make it on any day at any time.  Plus, it is all vegetarian one-pot meal.  Why not?"

Anyway, other than the look is a bit of "Halloweeny", the smell of strong garlic definitely will keep the vampires away.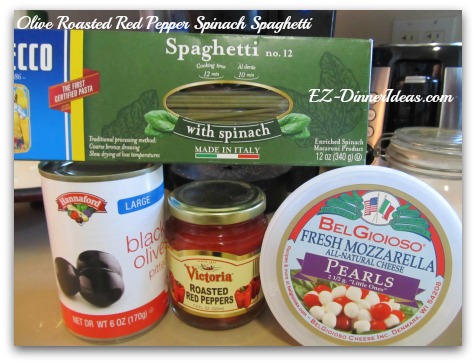 Olive Roasted Red Pepper Spinach Spaghetti - 4 ingredients make this one-pot pantry vegetarian pasta meal

One Pot Pasta Vegetarian Recipe and Instructions

Ingredients
1 box (12 oz) Spinach Spaghetti
1 can (6 oz) Pitted Black Olives (drained)
1 Jar (7.5 oz) Roasted Red Pepper (drained; thinly sliced)
1 tub (8 oz) Fresh Mozzarella Pearls (drained)
1 pot Water
1 tsp Salt
1 tbsp Canola Oil


Dressing

2 tbsp Extra Virgin Olive Oil
2 minced garlic
1 pinch crushed red pepper
1/2 tsp Italian seasoning
Salt and pepper to taste

Bring a pot of water to a boil
Add 1 tsp salt, 1 tbsp canola oil and spaghetti
Quick stir and cook until al dente, drain and put pasta aside
In the same pot, heat extra virgin olive oil at medium high heat and add garlic, crushed red pepper, Italian seasoning, salt and pepper to taste
Stir in pasta and toss to coat
Add olives and mozzarella pearls
Strategically lay thinly sliced roasted red pepper on top and serve immediately

Recipe Ingredients and Tools


You May Also Be Interested In:

Home > Pasta Recipe > One Pot Pasta Vegetarian | Olive Roasted Red Pepper Spinach Spaghetti