Guilt-Free Comfort Food
Ingredients From Freezer and Pantry
Slow Cooker Vegetable Stew
Slow cooker vegetable stew, I bet slow cooker lover like you will love it. All ingredients are from your pantry or freezer. It is great for a chilly winter night.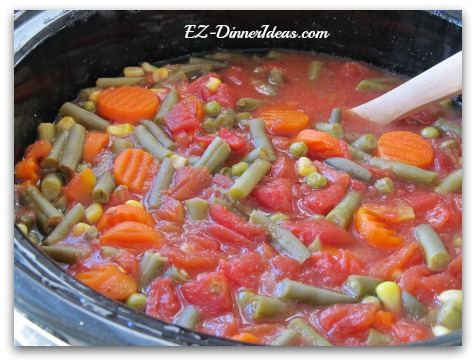 Prep Time: ZERO   Inactive Cook Time: 4 Hours  Serving: 4-6

I call it stew because there is very little liquid in it and every spoonful is packed with vegetables.

You will be surprised how little money you need to buy all these healthy ingredients to cook this stew and feed a big crowd.

If you have any frozen meatballs left from the One-Pot Swedish Meatballs Fettuccine or Slow Cooking California Blend Vegetable Soup, feel free to add some in this soup.
I personally love to serve this soup with Hawaiian sweet roll with butter.
Ingredients
2 Can (28 ounces) Diced tomatoes with juice
1 pound Frozen Cut Green Beans
1 pound Frozen Crinkle Cut Carrots
1/2 pound Frozen Corns
1/4 pound Frozen Green Peas
2 Dried Bay Leaves
4 cups Water
1 tablespoon Tomato Paste (I use the one in the tube, Amore brand tomato paste, so that you don't need to worry about what to do with the leftover)
1 tablespoon Garlic powder
2 teaspoon Onion powder
(If you have garlic and/onion on hand, feel free to replace the garlic and onion powder with 2 gloves of minced garlic and a small chopped onion. This recipe is created for using the ingredients in your pantry and freezer)
2 teaspoon Italian seasoning
12-18 Frozen Meatballs (optional)
Salt and pepper to taste

Add all the ingredients into the slow cooker
Cook it in high for 4 hours or low for 8 hours
Taste and adjust seasonings and serve



You May Also Be Interested In:

California Blend Vegetable Soup

Spaghetti Sauce Vegetable Soup

Return from Slow Cooker Vegetable Stew Recipe page to Soup Recipes page

Return to Easy Dinner Ideas Homepage