Vegan Italian Seasoned Spaghetti Squash
Vegan Italian Seasoned Spaghetti Squash
Tasty, Guilt-Free, Filling
And Feeling Great Recipe
Vegan Italian Seasoned Spaghetti Squash....Talking about healthy and clean eating, not even an ingredient is a dairy product.  What do you think?  It is filling and feeling great right after this dinner.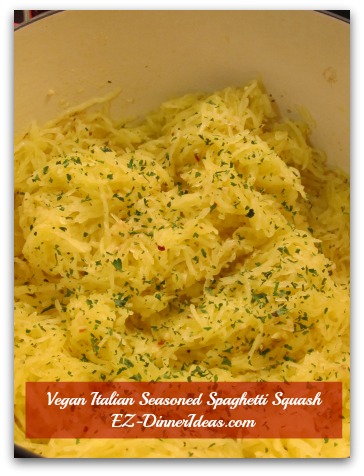 Prep Time: 20 Minutes  Active Cook Time: 10 Minutes
Inactive Cook Time: 60-80 Minutes  Serving: 4
How often do you come across a filling dish and still feeling awesome after enjoying it?  Very rare, right.  That is this recipe all about. 
This is the second spaghetti squash recipe I wrote.  If you saw the first one, you knew that I was addicted to or crave for spaghetti squash lately.  So, I tried to dress up the squash with different flavors.
How To Cook A Spaghetti Squash In The Oven?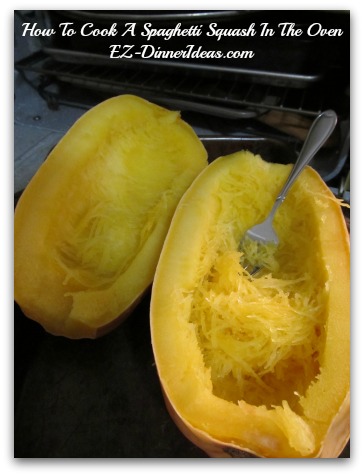 How To Cook A Spaghetti Squash In The Oven? This is the least maintenance way to get the spaghetti squash perfectly cooked for your meal.
This tip makes this recipe super low maintenance.  It literally just pops the spaghetti squash into the oven.  You sit down, relax and wait.  Yep, that's how easy it is.  Of course, if you don't have time to sit down, it is some free time for you to get other things done as well.

Click here to see the step-by-step illustrations of how to cook a spaghetti squash in the oven.

Vegan Italian Seasoned Spaghetti Squash Recipe

Ingredients
3.5-4 LBs Spaghetti Squash

Dressing
1/4 Cup Extra Virgin Olive Oil (Everything tastes better with butter.  You can either replace it with butter or half butter and half extra virgin olive oil)
3 Cloves Minced Garlic
1 tsp Italian Seasoning
1 pinch Crushed Red Pepper
1 tsp Salt
1/2 tsp Black Pepper

Preheat oven at 375F
Use a fork to poke several times on the spaghetti squash to let the steam out (it could be difficult to poke the squash.  As long as the tips of a fork slightly get under the skin is good enough)
Transfer to a casserole dish or roasting pan (for your safety, stay away from regular baking sheet.  After sitting in the oven for a while, the squash still has the tendency to roll around.  To avoid it to roll it off and burn yourself, please use a roasting pan)
Bake it in the oven for an hour until a pairing knife can cut into the squash without any resistance
If not, bake it again for another 10 minutes again until the pairing knife can go through the squash easily.  Repeat this step until the squash is cooked through
Let it sit in room temperature for 10 minutes and cut it into halves and spoon out and discard the seeds (it is still hot to touch.  I use glove to help in the process and worked out great.)
Then, use a fork to rake the flesh from the skin and transfer to a bowl
While waiting for the spaghetti squash cooling in room temperature, in a Dutch oven, combine all the ingredients of the dressing at medium high heat
Stir in the flesh of spaghetti squash and adjust seasonings and serve immediately

Recipe Ingredients and Tools


Enameled Cast Iron Dutch Oven

You May Also Be Interested In:

Return from Vegan Italian Seasoned Spaghetti Squash Recipe page to Vegetarian Recipes page

Return to Easy Dinner Ideas Homepage