What To Do With All The
Spices and Dried Herbs?
Everything-in-Your-Spice-Rack Chicken

Everything-in-your-spice-rack chicken recipe can use up your spices in no time.
Did you receive a spice rack as a gift with several bottles of spices and dried herbs that you don't know what to do with them?

Or, did you buy spices here and there because the recipes called for them?  As a result, you got tons of leftover and try to find a way to get rid of them.

I don't have fresh herbs on hand all the time. 'Cos I don't use them often enough. Next thing I want is to see them belong to the garbage can. But I love dried herbs and spices. I got many bottles of them in my spice rack. This is the dish that I use
almost all of them.

You do NOT have to have all the spices or dried herbs listed below.  If you only have 3 to 5 of them, this dish will still come out delicious.  Also, with fewer spices and/or dried herbs, you need to increase the quantity from three-quarter of a
teaspoon to a teaspoon for each.  

I have several friends made this everything-in-your-spice-rack chicken recipe at home.  All of them said, "That's the best chicken I ever had."  I can guarantee that you will love this chicken and cook it again and again all the time.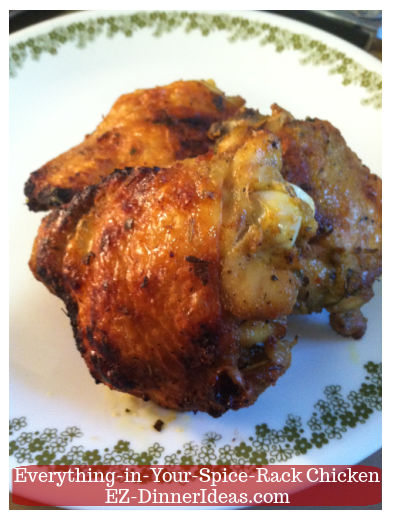 Prep Time: 10 Minutes   Cook Time: 90 Minutes   Serving: 4
Ingredients
4.5 - 5 pounds Bone-In; Skin-On Chicken Quarters (padded dry)
1 pound Baby Carrots/Crinkle Cut Frozen (Thawed) Carrots

Seasonings
1 ½ teaspoon Salt
½ teaspoon Black Pepper
1 teaspoon Garlic Powder
½ teaspoon Onion Powder
½ teaspoon Dried Thyme
½ teaspoon Dried Rosemary
½ teaspoon Dried Oregano
½ teaspoon Ground Sage
1 teaspoon Dried Parsley Flakes
½ teaspoon Dried Basil
1 Dried Bay Leaf
1 pinch Crushed Red Pepper Flakes
¼ cup Extra Virgin Olive Oil
Cooking spray

Combine all the seasonings together in a big mixing bowl
Whisk in the extra virgin olive oil
Add the chicken and rub the marinade on the meat with your hands and coat well
Chill it in the fridge overnight
Preheat oven at 425F
Line aluminum foil on baking sheet
Coat with cooking spray
Line the chicken skin side down; single layer
Bake/roast in the oven in the middle rack for 40 minutes
Turn chicken over
Toss the carrots into the chicken grease
Roast for another 40-50 minutes until chicken is thoroughly cooked
Take out the chicken and let rest for 10 minutes and serve

Tips
I use the garlic powder instead of fresh garlic so that it will avoid the burned garlic

If you have a convection oven, I will encourage you to use it and cut down the cooking time into half. Some ovens call that function as "speed bake".

You can use the same marinade to cook your favorite vegetables, fish and toss with short pasta.
When dark meat is on sales, double the quantity of all the ingredients and seasonings.  You can feed a crowd for $10.  Not bad, huh?
Leftover of Everything-In-Your-Spice-Rack Chicken

Shred the chicken and discard skin and bones to make Chicken Pasta with Sage Sauce and pair it with Simply Sauteed Broccoli.
These 2 dishes may need to cook simultaneously.  But get the pot of water for the pasta going first.  While waiting, you can start working on the broccoli.
---
Serve This With: 

Savoy Cabbage Salad Ginger Vinaigrette
---

You May Also Be Interested In:

Return from Everything-in-Your-Spice-Rack Chicken Recipe page to Chicken Recipes page

Return to Easy Dinner Ideas Homepage