Tomato Bread?  
Spanish Pan con Tomate?
Does it matter?
As Long As It's Delicious
This tomato bread recipe was inspired by a dish I tried many years ago in a Spanish restaurant in Hong Kong. It is very similar to the Spanish Pan on Tomate recipe.

The difference between the traditional Spanish recipe and this is that I kept the tomatoes in shape instead of purée.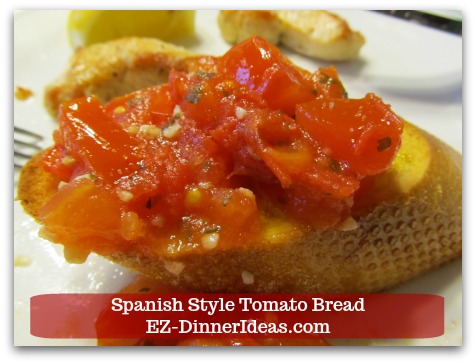 Prep Time: 10 Minutes   Cook Time: 5 Minutes   Serving: 4-6
Ingredients
1 loaf baguette (slice about 1" thick; I used Vienna baguette on the day I took this pic)
5 Vine tomatoes (seeded and dice)
1 cup Extra Virgin Olive Oil
1 Clove Minced Garlic
½ teaspoon Dried Parsley
1 pinch of salt

Preheat oven at 450F
Single layer baguette on a baking sheet
Toast baguette in oven for 5 minutes
Preheat extra virgin olive oil in a medium skillet at medium heat
Add garlic and let it infuse the oil about a minute
Don't burn the garlic (If the oil is too hot, take the skillet away from the heat source)

Add tomatoes and salt
Cook about 2-3 minutes
Add parsley
Quick stir and serve with baguette

You May Also Be Interested In:

Return from Tomato Bread Recipe page to Side Dish Recipes page

Return to Easy Dinner Ideas Homepage