Tomato Bread?  
Spanish Pan con Tomate?
Does it matter?
As Long As It's Delicious
This tomato bread recipe was inspired by a dish I tried many years ago in a Spanish restaurant in Hong Kong. It is very similar to the Spanish Pan on Tomate recipe.

The difference between the traditional Spanish recipe and this is that I kept the tomatoes in shape instead of purée.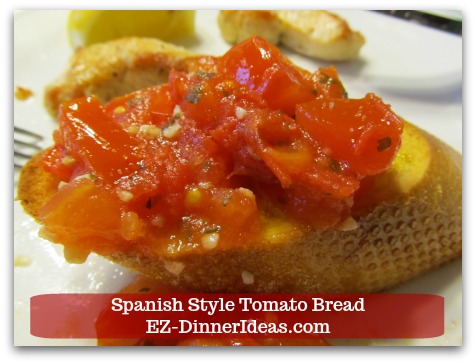 Prep Time: 10 Minutes   Cook Time: 5 Minutes   Serving: 4-6
Like, Share & Comment
If you like any recipes on this website, please like, share and comment.  This will help other people like you to find them here.  Thank you very much for your support!

Ingredients
1 loaf baguette (slice about 1" thick; I used Vienna baguette on the day I took this pic)
5 Vine tomatoes (seeded and dice)
1 cup Extra Virgin Olive Oil
1 Clove Minced Garlic
½ teaspoon Dried Parsley
1 pinch of salt

Preheat oven at 450F
Single layer baguette on a baking sheet
Toast baguette in oven for 5 minutes
Preheat extra virgin olive oil in a medium skillet at medium heat
Add garlic and let it infuse the oil about a minute
Don't burn the garlic (If the oil is too hot, take the skillet away from the heat source)

Add tomatoes and salt
Cook about 2-3 minutes
Add parsley
Quick stir and serve with baguette
You May Also Be Interested In:

Return from Tomato Bread Recipe page to Side Dish Recipes page

Return to Easy Dinner Ideas Homepage