30-Minute Chili Cheese Dog Pasta Casserole
Meat Lovers' Haven
30-Minute Chili Cheese Dog Pasta Casserole, this recipe came into mind because carb-craving came haunting me after a long period of healthy eating.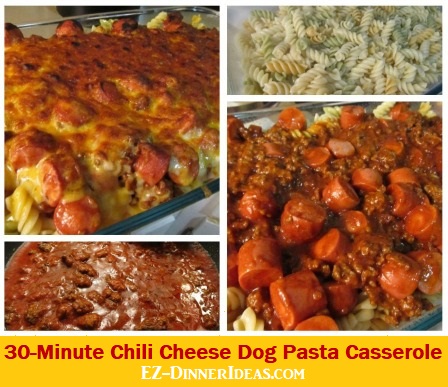 Prep Time: 3-5 Minutes   Cook Time: 25-30 Minutes   Serving: 4-6
I have been trying to eat healthy all these years.  What I learn is that there are cravings in our regular routine and life. Stopping everything to switch over to a complete diet will lead to failure.

So, satisfying your craving without going overboard helps you to reach your success relatively easier.  That was just my experience talk.  But I also know that there are other people following strict instructions and reached their goals. 

The point is...different ways work differently with different people.  You just need to find one that works best for you through which you enjoy your journey instead of dragging it.
Tips
I used vegetable base pasta.  You can use whole grain or whole wheat pasta.  The chili is very flavorful.  It is hardly to tell that you use different kind of pasta other than the regular ones.
30-Minute Chili Cheese Dog Pasta Casserole Recipe

Ingredients
1 lb Short Pasta (preferably with lines and/or spirals)
1 lb 90% Lean Ground Beef
1 pack (12-16oz) Hot Dogs (cut in bite size)
1 pack Chili Seasoning Mix
2 Cans (8 oz each) Tomato Sauce
2 cups Shredded Mac and Cheese Mix
1 pot of water
1 tsp Salt
1 tbsp Canola Oil
No-stick Cooking Spray

Bring a pot of water to boil
Add salt, oil and pasta
Quick stir and cook until al dente
While waiting, preheat broiler and a big non-stick skillet on the stove top at high heat
Add ground beef into skillet and use spatula to cut it into bite size; brown about 5 minutes
Stir in chili seasoning mix and tomato sauce
Add hot dogs and simmer for about 3-5 minutes
Drain pasta and transfer to a casserole dish coated with no-stick cooking spray
Add chili hot dogs on top of pasta
Top with cheese and cook under broiler for 2-3 minutes and serve immediately
Recipe Ingredients and Tools

---
Serve This With: 

---

You May Also Be Interested In:

Return from 30-Minute Chili Cheese Dog Pasta Casserole Recipe page to Pasta Recipes page

Return to Easy Dinner Ideas Homepage