Easy Beef Stir-Fry
One Easy Dinner
Serves Meat Eaters...
And Vegetarians, Too???
Once you learn this easy beef stir-fry recipe, you can apply the same method to other Asian beef dishes and pair with other ingredients. You will have endless easy dinner ideas.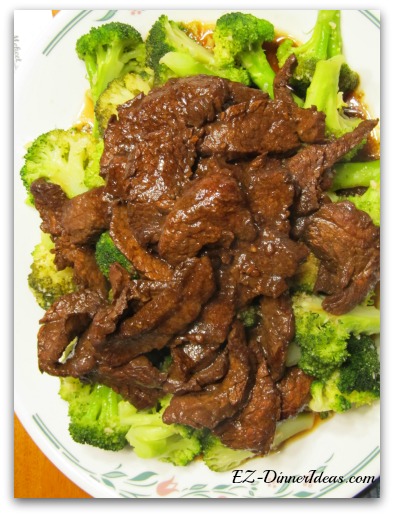 Prep Time: 8-10 Minutes Cook Time: 5-8 Minutes Serving: 4-6
(just for preparing the meat; does NOT count the part of preparing the broccoli)

Here, I am going to pair it with broccoli.

Does Chinese broccoli and beef sound too difficult? I can assure you that you will think it differently after making this meal.  In fact, it is even better than buying take-out from the restaurant.

Best of all, you spend less money and feed more mouths. And you get all the credits and compliments. Nothing feels better than that, huh?

I am pairing this easy beef stir-fry with my other recipe, simply sautéed broccoli. Follow the instructions to cook the vegetables. Then, assemble the beef and the vegetables together to make a good looking meal.

To make it more filling, serve with rice or noodles.

You and I know this very well.  There is always one or 2 family members don't eat certain food. My family is the perfect example. There are several of them don't eat beef due to the religious reason. One is a vegetarian.

So, if there are vegetarians in your family, you can leave the vegetables and meat in separate dishes. Then, everybody's happy.
Tips for Everything On The Table At The Same Time

In order to serve everything on the table at the same time, (in this case) i.e. broccoli, beef and rice, check out the cook time of each recipe.
Whichever takes the longest cook time, start working on that one first. In this broccoli and beef dinner, the meat takes the least time. So, you work with the meat last.
Why Flank Steak?

Flank steak is a very tender piece of meat. It takes a very short time to cook through. Adding the superior dark soy sauce to the meat while it is raw, it literally does the
browning process for you before it is even cooked.

Do NOT add any salt on raw beef, it will toughen the meat. Enjoy!

Ingredients

1.25-1.5 pounds Flank Steak (thinly sliced about 1/4" thick against the grain)
1 tsp Grated Ginger
1 big Clove of Garlic (minced)
1 1/2 tablespoons Superior Dark Soy Sauce
3 tablespoons Canola Oil (or any high heating temperature oil)
1/4 cup Oyster Sauce


Thinly sliced the steak and transfer to a mixing bowl
Add soy sauce and toss to coat
Add oil and toss to coat again
Heat a big skillet at high heat (as high as you can get) and add beef and sauce mixture
Let the meat brown about 2 minutes and turn it over and brown the other side for another minute

Add ginger, garlic and oyster sauce
Toss to combine and serve immediately

To assemble, transfer the simply sautéed broccoli on a serving plate. Then, add the beef and sauce on top. Serve the rice on the side.

More Dinner Ideas with Easy Beef Stir-fry

Pair this easy beef recipes with one or more ingredients below:

Green beans
Thai rice noodles
Eggs sunny side up
Steamed rice
Lo mien (use Fettuccine to substitute)

You May Also Be Interested In:

Return from Easy Beef Stir-Fry Recipe page to Beef Recipes page

Return to Easy Dinner Ideas Homepage